2022-2023 Metrorail Impacts
Rail service in Alexandria will be impacted during portions of 2022 and 2023 due to a large Metro project. The City of Alexandria is working with Metro to mitigate disruption and help residents and visitors make travel plans during this period.
Page updated on
May 17, 2023 at 4:27 PM
From September 2022 through spring of 2023, Metro will suspend Yellow Line service between the Pentagon and L'Enfant Plaza stations for its Yellow Line Tunnel and Bridge Rehabilitation project.
The City of Alexandria is working with Metro to mitigate disruption and help residents and visitors make travel plans during these periods. Read below for more information on the project, and available travel alternatives during the service period. 
Yellow Line Tunnel and Bridge Rehabilitation Project
On September 10, 2022 Metro began its planned rehabilitation of the Yellow Line tunnel and bridge that connect the line's Virginia and DC stations. This project involves an 8-month continuous shutdown of the Yellow Line, between the Pentagon and L'Enfant Plaza stations. Although Yellow Line service between the two stations will be suspended, the stations themselves will remain open. Metro estimates that the project will be completed in the spring of 2023. To learn more, read Metro's March announcement of the Yellow Line Tunnel and Bridge project. 
Rail, Shuttle, and Bus Service Changes (Nov. 6 - Spring 2023)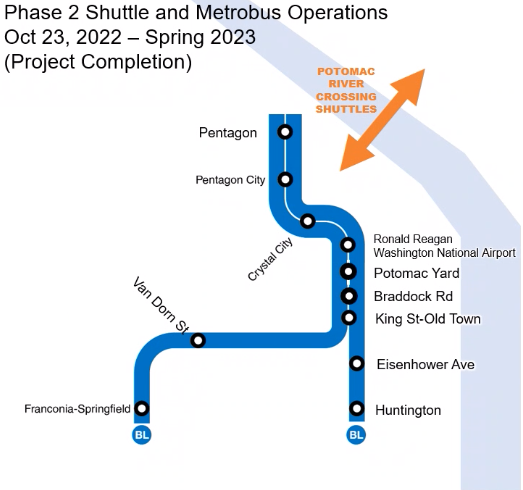 RAIL
All stations will reopen, and service will resume south of Ronald Reagan Washington National Airport Station 
All Yellow Line stations will be served by the Blue or Green lines 
Blue Line trains will operate every 12 minutes between Largo Town Center and Franconia-Springfield stations and every 12 minutes between Huntington and New Carrollton stations (every 15 minutes after 9:30 p.m.) 
Normal Orange and Silver Line service
Green Line trains will operate every eight minutes (every 10 minutes after 9:30 p.m.)  
Note: If 7000-series trains remain out of service, trains will operate less frequently 
Other options available include:
16Y Metrobus Columbia Pike-Farragut Square Line (between Barcroft and McPherson Square with frequency enhancements) 
Metroway 
Virginia Railway Express: Service is available at Franconia-Springfield, King St-Old Town (VRE Station Alexandria), Crystal City, and L'Enfant Plaza stations. 
See below for additional travel alternatives; for trip planning assistance, visit Metro's Trip Planner.
Alternative Travel Options in Alexandria
BUS 
DASH and King Street Trolley
Alexandria Transit Company's DASH bus system provides safe, reliable, and courteous bus service within the City of Alexandria! DASH connects with Metrobus, Metrorail, Virginia Railway Express, and all local bus systems.
Metrobus
Bus service operated by the Washington Metropolitan Area Transit Authority (WMATA) servicing Washington, D.C., Maryland, and Virginia. 
Fairfax Connector
Local bus system that provides service within Fairfax County, and connects to Metrobus, Metrorail stations, Virginia Railway Express, and other local bus systems.
OmniRide
PRTC provides commuter bus service along the I-95 and I-66 corridors to points north and local bus services in Prince William County and the cities of Manassas and Manassas Park.
Best Bus
Bus service that offers routes from Franconia-Springfield to Dupont Circle and Union Station.
Greyhound
Bus service that offers a route from Franconia-Springfield to Union Station.
BICYCLES AND SCOOTERS
Alexandria Bikeways Network Map
This map includes on and off-street bikeways, Capital Bikeshare stations, safety tips, useful phone numbers and resources, and more. 
Capital Bikeshare Stations
With Capital Bikeshare, you can choose from nearly 400 stations in the region, and return a bike to any station near your destination.
Dockless Mobility (eBikes/Scooters)
Private companies operate shared mobility devices (such as dockless bicycles and scooters available for rent) in Alexandria as part of a pilot program.
Metro Bicycle Policy
Bicycles are welcome on Metrorail during all hours; however, they are not allowed on crowded railcars.
VRE Bicycle Policy
Collapsible bicycles are permitted on all trains. Full-size bicycles will only be allowed on the last three northbound, the mid-day, and the last three southbound trains on each line.
RAIL OPTIONS
VRE
Rail system that provides commuter-oriented rail service from the Northern Virginia suburbs to Alexandria, Crystal City, and downtown Washington, D.C., along the I-66 and I-95 corridors.  
Amtrak
Service that connects to Union Station.  
CARPOOLS AND VANPOOLS
Enterprise
Service that allows you to share a ride to work with coworkers who live nearby. Enterprise provides a recent-model SUV, crossover, or van. Everyone splits the costs and driving duties, saving you valuable time and money.
OmniMatch
A free, personalized ride-matching service for carpoolers and vanpoolers. Through the use of an extensive regional database, OmniMatch links commuters who have similar work hours, origination, and destination points.
Waze Carpool
An app that allows carpoolers to choose riders & drivers based on profiles, star ratings, distance, and price. 
Vanpool Alliance
A public-private partnership to support vanpool riders and providers in northern Virginia. 
Slug Lines
Drivers volunteer to pick up riders for free to meet the three-person requirement on HOV-3 lanes; riders volunteer to ride with the drivers for a free ride.
WATER TAXI
Potomac Riverboat Company
Water commute connecting Alexandria to DC via the Potomac River. 
WALK
Frequently Asked Questions
Why don't shuttles running between Braddock Road, National Airport and Pentagon City use the transitway?
There are several reasons:
First, the transitway has specialized signals and operational concerns that require specific operator training and cannot be easily replicated for all shuttle operators, which are a much larger operator pool. In the case of current shuttles and operators, many are in this area from other states. 
Second, in Alexandria, the signal timing at the congested intersection of East Glebe and Route 1 allows very little time for buses to exit the transitway traveling eastbound onto East Glebe Road en route to Crystal City. While we were able to modify the timing to better accommodate buses, the sheer volume of shuttles (40+ shuttles are in operation and in many cases they are arriving bunched) compared to normal transitway operations creates a choke point at this location that ultimately limits capacity and would hinder the effectiveness of the shuttle service;
Third, the mainline lanes of Route 1 provide a more direct route to the Airport (and Pentagon City) for the shuttle bus operators. Potomac Avenue is designated an alternative should an incident or event cause unusual congestion on the mainline lanes of Route 1. 
It is important to note that the transitway simply was not designed for the unusual circumstances created by the shuttle operation to ferry passengers that normally ride Metrorail. In multiple field observations and travel time reports, it appears the current configuration for shuttles provides the safest, fastest and most efficient route. It also allows Metroway to operate efficiently. 
Our teams continue to monitor and we do have contingency plans in place.