King Street Retail Corridor Maintenance
Page updated on
January 16, 2022 at 12:19 PM
Old Town Clean Team
Did you know that the City of Alexandria has an Old Town Clean Team that works tirelessly to make the King Street corridor a clean, inviting place to visit? If you see City workers out on King Street emptying cans or cleaning sidewalks, please say hello!
King Street Retail Corridor Maintenance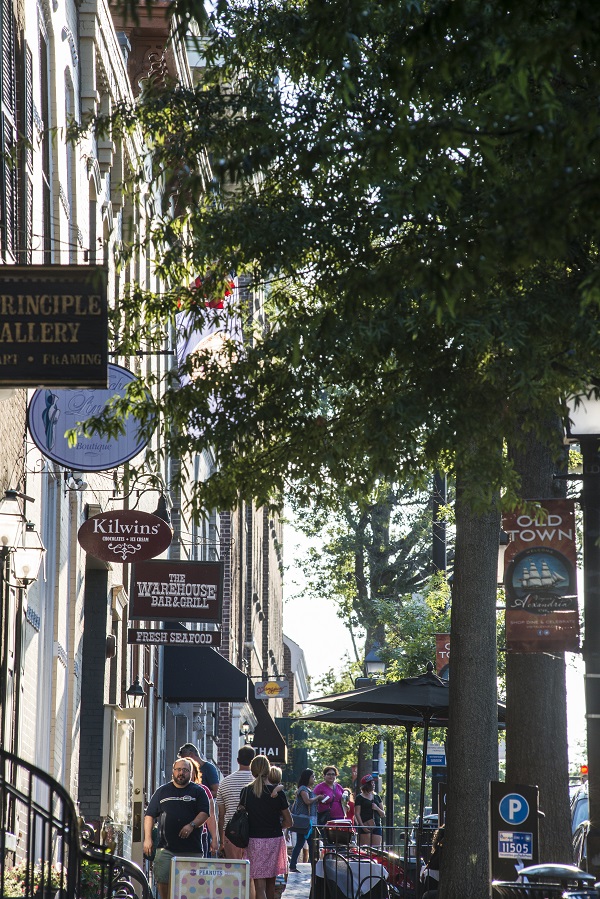 What is it?
The beautification of King Street from the Potomac River to the King Street Metro Station.
What does it include?
The King Street Retail Corridor Maintenance Plan includes cleaning the sidewalks, streets, and light poles along the corridor.  Staff are on King Street daily clearing sidewalks, sweeping the streets, emptying the trash and recycling canisters, collecting leaves, and performing other necessary tasks to maintain a clean and welcoming appearance.  The table included below provides more detailed information regarding these tasks and their frequency.
The Plan also includes repairing the sidewalk, curb, light poles, tree wells, and other structures along the corridor. If you see an item in need of repair please report it online.
Who is responsible?
City employees from Transportation & Environmental Services, Recreation, Parks and Cultural Activities, and General Services work hard to keep the corridor clean but everyone can help. Please remember to dispose of any trash and recycling in any of canisters provided along the corridor.  If you notice a problem, please report it online.
King Street Corridor Service Levels
      Activity      
Frequency
Standard

1. Empty trash and recycling receptacles

Twice daily
No overflowing cans, clean inside and around can

2. Sidewalk cleaning - hand and mechanized

Daily
Free of dirt, litter, and debris
3. Litter pickup
Daily
No visible litter in area
 
4. Street sweeping
Daily
No sand or dirt in the street
5. Graffiti and posters
24 hour removal
Clear and clean of graffiti and unauthorized posters
6a. Snow removal - sidewalks
As needed
Free of snow and ice for pedestrian and vehicular traffic
6b. Snow removal - streets
As needed
Free of snow and ice for pedestrian and vehicular traffic
7. Sidewalk repair
Report within 24 hours
No damaged pavement or brick pavers
8a. Street lights - fixtures
Report within 24 hours
No damaged poles or fixtures, all lights operational
8b. Street lights - poles
Report within 24 hours
No damaged poles or fixtures, all lights operational
9a. Street markings - street
As needed
All street markings visible to pedestrians and vehicles
9b. Street markings - curb
As needed
All street markings visible to pedestrians and vehicles
10. Street banners
Seasonal
(Report within 24 hours)
No damaged or faded banners
11. Traffic lights
Report within 24 hours
All signals are operational
12. Vending boxes
Annual effort
Consolidate boxes to central locations
13. Weed control
Seasonal
No visible weeds along corridor
 
14. Tree box maintenance
Annual effort
Modify/repair all tree boxes to same standard