Sewer and Hydrant Maintenance
The Sewer and Hydrant Maintenance section of the Department of Transportation & Environmental Services is responsible for many of the "hidden" services that keep Alexandria running.
Page updated on
March 19, 2023 at 3:23 PM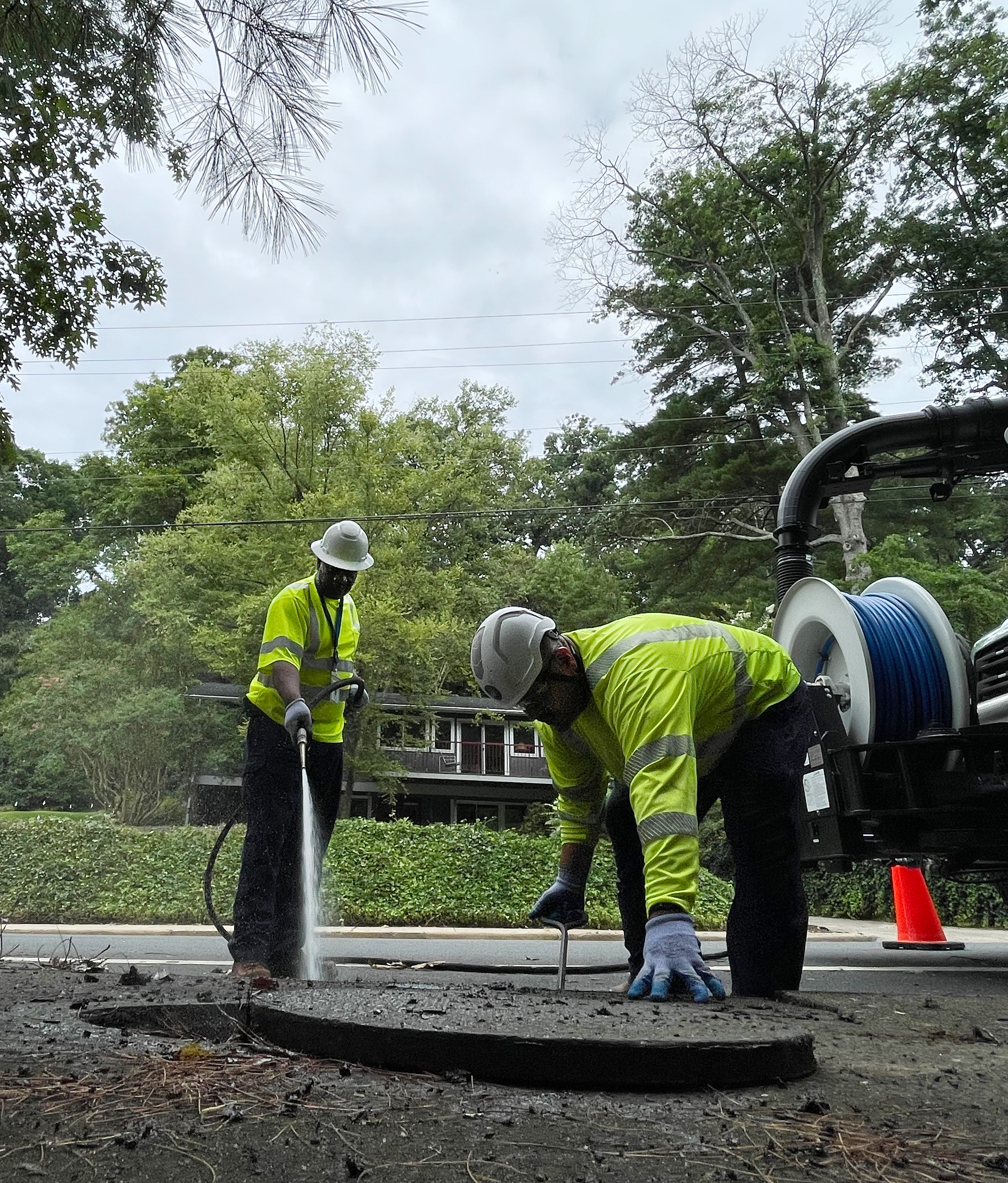 Sewer Maintenance
The Sewer Maintenance section is responsible for maintaining many of the "hidden" services that we have all come to rely on as part of our daily lives, whether at work or play. Sewer Maintenance is responsible for inspecting and repairing storm and sanitary sewers, opening stoppages and replacing sewer mains as needed on a routine basis. The City's sewer and drain collection system consists of separated and combined sewers.
The Sewer section maintains 189 miles of storm sewers, 240 miles of sanitary sewers and six (6) miles of combined sewers. Other functions of the Sewer Section are hydrant maintenance and repair, maintenance and inspection of Best Management Practices (BMPs), and catch basin maintenance and repair.  The team uses a combination of Vactor Trucks, Jet Trucks, Flush Trucks, and CCTV Vans to inspect, maintain, and clear pipes of any obstructions. The ultimate goal is to reduce the flooding by decreasing mainline blockage, minimizing the infiltration and inflow of stormwater in the sanitary system, and evaluating the structural integrity of the entire sewer system. This team also assists with the development and management such as combined sewer overflow monitoring.
Stormwater Management
The Sewer Maintenance Section maintains 189 miles of storm water mains.  Stormwater mains transport stormwater to a receiving body of water such as a river, lake or ocean.  The City's stormwater mains discharge to the Potomac River.  The Sewer Section also works with the Department of Environment Protection (EPA), Department of Environmental Quality (DEQ), and local community groups to improve the water quality of the Potomac River.
Combined Sewer Overflows 
The City owns and operates a combined sewer system (CSS) that discharges combined sewer overflows under wet weather conditions to waters of the Commonwealth of Virginia.  The City is authorized to discharge wet weather overflows from its CSS under the Virginia Pollutant Discharge Elimination System (VPDES) Permit No. VA0087068 (permit) issued by the Commonwealth of Virginia Department of Environmental Quality (VDEQ).  During significant rain storms combined sewer systems may fill up beyond their capacity with a mixture of sanitary waste and rain water.  A combined sewer overflow (CSO) acts like a relief valve allowing sewerage to discharge into waterways instead of backing up into the homes and businesses, and into the streets.
A combined sewer is a sewage system that collects and disposes of both sanitary sewage and storm water runoff into sewage treatment works.  Is it called combined because in some more modern sewage systems, sanitary sewage and storm water runoff are not handled by one system but rather by two distinct pipes.  The purpose of this system is twofold.  One, it safely disposes of pollutants swept by a storm that are found on the ground, like pesticides, oil, and grease into treatment facilities.  This system is also responsible for collecting domestic and industrial sewage.  Under normal circumstances, the sewage is moved to a sewage plant and then safely disposed in a body of water.  During particular rainfall events, the capacity of the CSS may be exceeded and this excess flow, which is a mixture of stormwater and sanitary wastes, is discharged directly to Hunting Creek, Hooffs Run, or the Potomac River (Oronoco Bay) through the City's four permitted CSO outfall Structures.  The following outfalls are regulated under the City's VPDES Permit as point source discharges of combined sanitary sewage and stormwater overflow from the City's CSS.
001 - Pendleton Street CSO
002 - Royal Street CSO
003 - Duke Street CSO
004 - Hooffs Run CSO 
The City continues to practice and extensive program of sewer preventative maintenance.  Focusing or preventative maintenance has helped the City reduce the need for corrective and emergency maintenance.  The City's current preventive maintenance program includes the following activities:  
Monthly Problem Area Grease Flushing
Flushing of the sanitary sewers, storm sewers, and combined sewers in the CSS
Internal Sewer CCTV Inspections
Inlet and Catch Basin Cleaning
Sweeping and Cleaning of the Streets
The activities performed under the City's preventative maintenance program help maintain the capacity of the CSS in addition to maximizing the storage of the collection system.  See more information on the City's combined sewer system.
---
Property Owner Responsibilities
Residents are important partners in the City's work to maintain Alexandria's sewer connections and prevent backups. 
Sewer laterals are pipes that carry sanitary sewage from buildings to the City's sewer mains.  
For sewer laterals installed before July 1, 1955, it is the responsibility of the individual property owner to maintain and repair laterals from the curb to the property.
For sewer laterals installed on or after July 1, 1955, it is the responsibility of the individual property owner to maintain and repair everything from the infrastructure to the actual sewer main.  
Stormwater laterals are pipes that carry stormwater from buildings or land to the City's stormwater mains. These pipes are typically between four inches and twelve inches in diameter and are made of concrete, clay, plastic or cast iron.  The maintenance and repair of stormwater services are the responsibility of the individual property owners.
Preventative Maintenance Program
The City's Sanitary Sewer Maintenance Program consists of inspections of the sewer pipes and manholes with the City wastewater collection system.  This initiative investigates the City sanitary sewer system in order to protect public health and the environment, ensure compliance with state and federal requirements and ultimately renew aging infrastructure.
PWS is using robotic technology with closed-circuit television (CCTV) cameras to determine which sewer lines need to be rehabilitated or repaired.  This technology is used to investigate emergency overflows, maintenance problems, identify infiltration and inflow problems and flooding issues and to provide information to prioritize projects and sanitary sewer replacements.
Hydrant Maintenance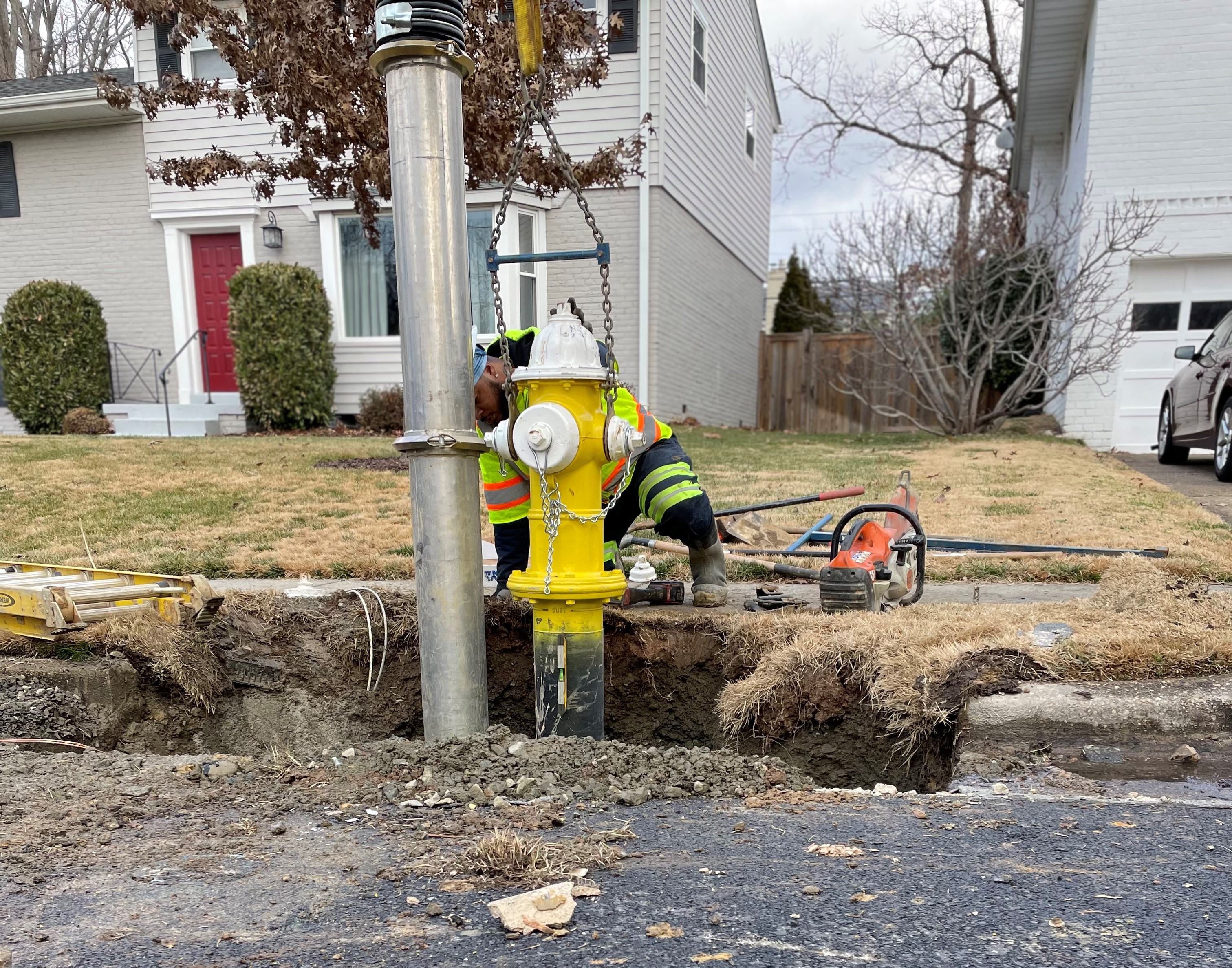 The Sewer Maintenance section performs maintenance on all public fire hydrants, including painting and repairs. See the Frequently Asked Questions section below for information on reporting water main breaks, and maintaining private hydrants within the City.
How do I report a hydrant issue?

If the hydrant is damaged, leaking, running, missing a valve cover, or leaning, please use Alex311 to report the issue.
If you believe a damaged hydrant is creating an emergency situation, please call 911. 
Are there fire hydrant problems that are causing me to lose water pressure?
Leaking fire hydrants can cause low water pressure in some instances. If you believe that a leaking public hydrant may be affecting water pressure in your home, please report the hydrant using Alex311.
Who is responsible for maintaining private fire hydrants?
Private hydrants in the City are to be maintained and tested by the homeowners' association (HOA), condominium, or apartment complex where they are located. Testing must be conducted by a private contractor hired by one of the aforementioned entities.
Private hydrant maintenance includes painting of hydrants. All private hydrants should be painted with Rust-Oleum OIL- BASED "SAFETY YELLOW" K7744 on the body (lower barrel and upper barrel) and top bonnet. Both hose nozzle caps should be painted with the Rust-Oleum "GLOSS WHITE" K7792.
Why are there different colored fire hydrants in Alexandria?
All public and private hydrants in Alexandria are yellow and white. There are a few hydrants in Old Town, located on King Street and the 300 block of Cameron Street that are painted black and white.
Who performs the testing of public fire hydrants?
All testing is performed by Virginia American Water, the Alexandria Fire Department, or the Department of Transportation & Environmental Services at different times throughout the year.
How do I report a water main break?
To report a water main break or water emergency, contact Virginia American Water at 1-800-272-1325 or use their online reporting form. If you're not sure if your water issue should be addressed by Virginia American Water or the City, you can also report the problem to Alex311 (311 or 703.746.4311).
Are Virginia American Water and the City of Alexandria part of the same organization?
The City's Department of Transportation & Environmental Services and Virginia American Water coordinate and work together on certain issues related to Alexandria's water, but they are two separate entities with different roles.
The City is responsible for maintaining all public hydrants. Virginia American Water is a utility company, responsible for maintaining all water mains and water service connections to residential homes and other properties; this includes issues of low water pressure, leaking water meters, water main breaks, and other water service-related issues.
Can you recommend a plumber?
This City cannot recommend specific contractors, but consumers should check references, compare prices, and consult reliable sources for plumber recommendations.