What You Can Do to Protect Water Quality
Our everyday activities impact stormwater quality. Learn what you can do to get involved and help out around your home, yard, or business to help improve water quality in our local streams, the Potomac River, and the Chesapeake Bay.
Page updated on
November 16, 2023 at 11:53 AM
Get Involved
Be our eyes and ears and report illegal dumping in storm drains, streams, or open spaces via Alex311
Participate in stream and neighborhood cleanups, local stream restoration, invasive species removal, and planting projects
Start a storm drain marking program in your neighborhood
Join or support a local environmental group or "friends of" group
Educate your family, friends, and neighbors about the importance of protecting local water resources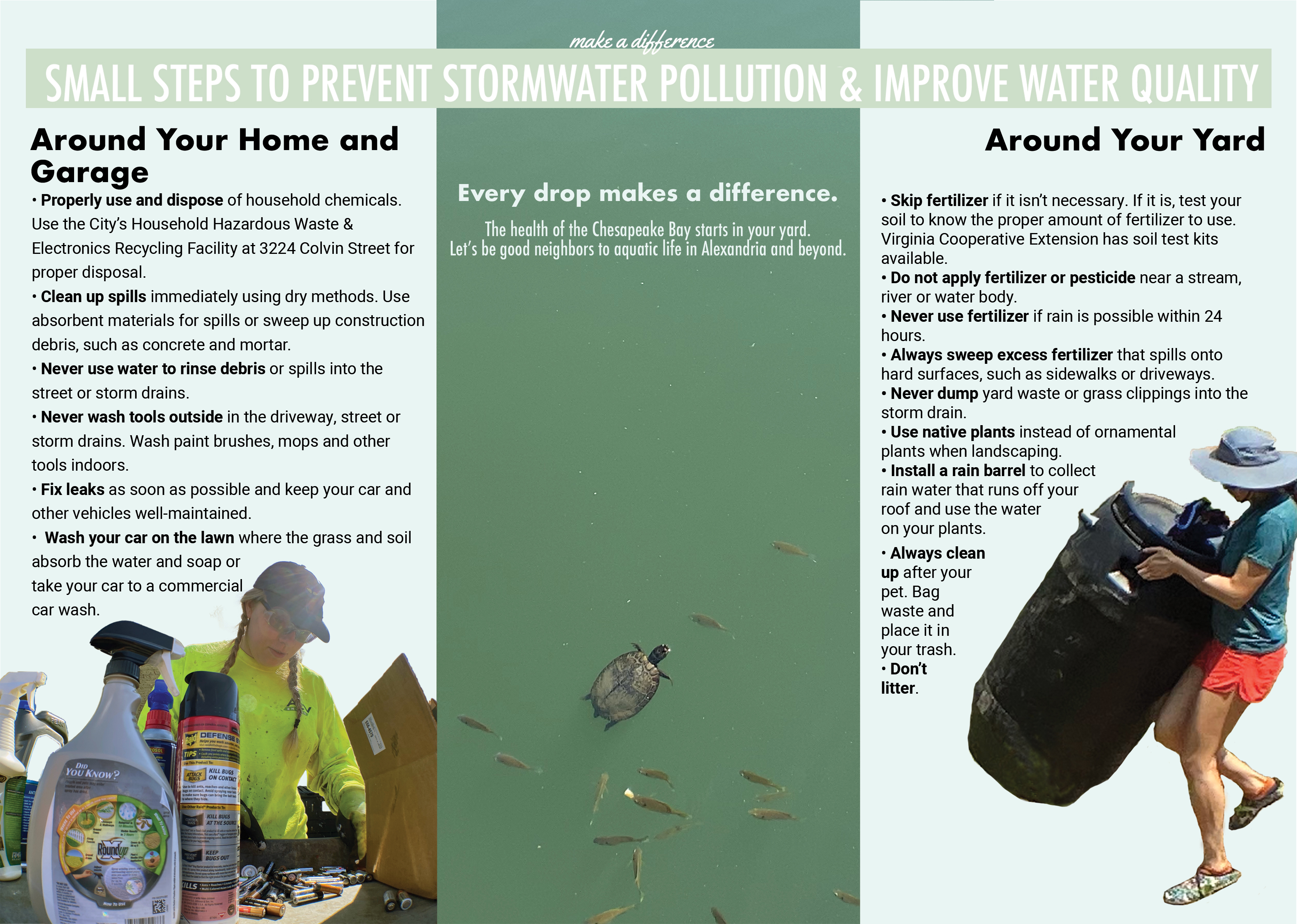 Around Your Home and Yard
Test your soil.  Know how much fertilizer to use and don't over fertilize. Or better yet, don't fertilize at all if it isn't necessary!  
Never fertilize or use pesticides if it is going to rain within 24 hours.  Fertilizers and pesticides can end up in streams and harm aquatic life.
Select slow release or insoluble fertilizers, and always read and follow the instructions on the fertilizer and pesticide packaging. 
Ask your lawn care company to fertilize with care.
Don't blow grass clippings and leaves in the street or down a storm drain, mulch grass clippings instead.  Leaves and lawn clippings washed into the streams decompose, creating food for algae in the water.  
Plant a tree.  Trees use nutrients and can prevent those nutrients from entering our streams.  Their roots also hold the soil in place, which helps prevent erosion.
Landscape using plants on slopes, especially if you live near stream banks, to help prevent erosion.
Don't connect downspouts to the storm sewer system or onto paved surfaces.  Instead, allow your downspouts to drain onto your lawn. 
Prior to draining pool water , remove any chlorine and bromine with removal agents or allow the water to sit for at least 10 days, test the pH, and remove solids from the water. Draining to the sanitary sewer or a slow release to a grassy surface is best.
When watering, avoid watering onto paved surfaces.
Use plants that are native to the area and more resistant to drought.
Use a rain barrel to capture roof runoff during storms and use that water to irrigate your lawn.  Please visit the rain barrel page to learn more about rain barrels. 
Don't dump oil or other materials into the storm drain and get your car serviced responsibly .
Drop off your household hazardous waste and not in your garbage or in storm drains. Learn more about the household hazardous waste drop off center .
Restaurants and Food Services Best Management Practices for stormwater
Choose lawn care companies that practice best management practices for stormwater
Pet Care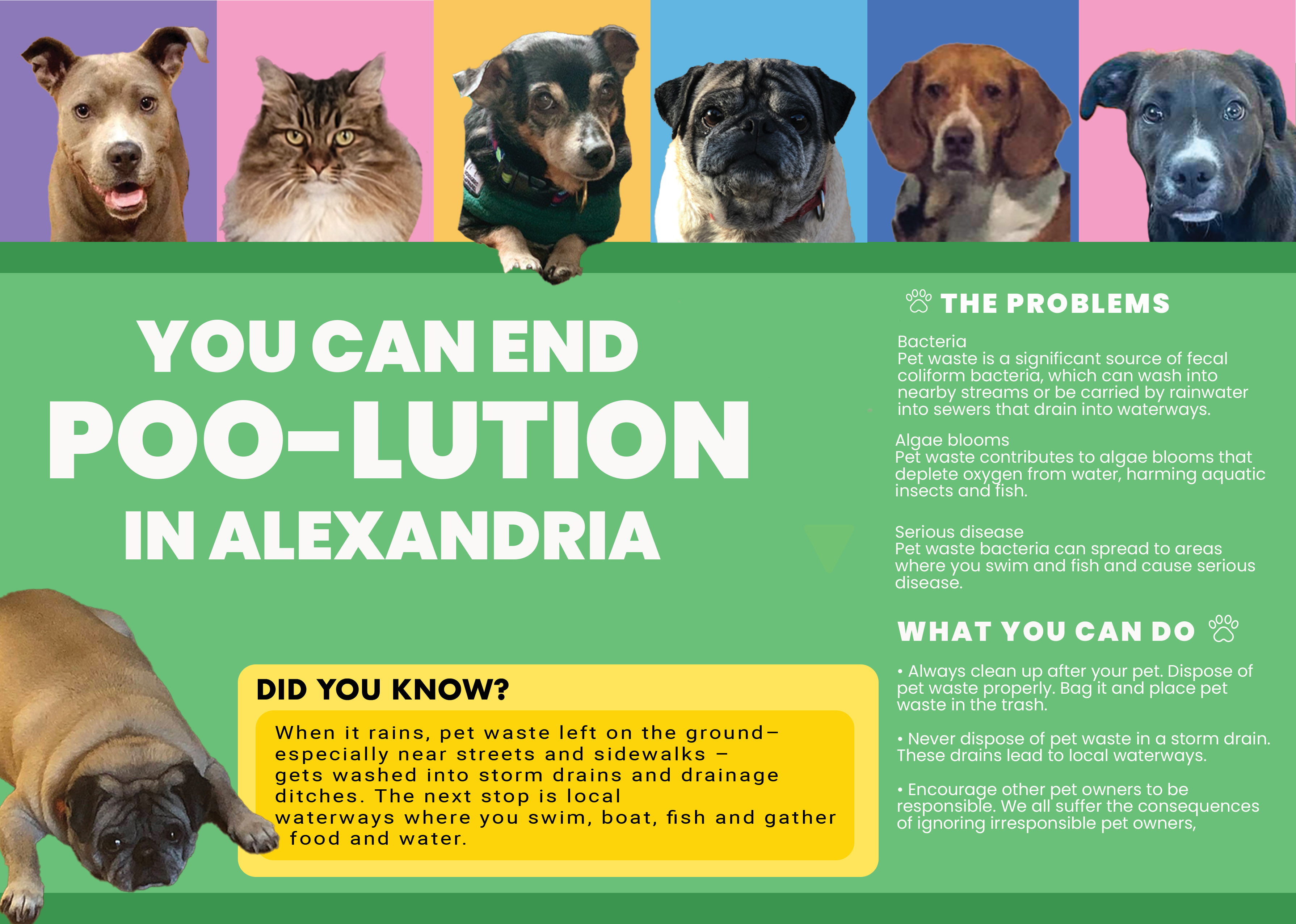 Youth Resources
Download the field guide (114 pages) and the field journal (114 pages), both developed by and used with permission by Fairfax County, Virginia. The field guide includes educational information on plants and animals and the field journal includes activities to help youth learn more about stormwater and the environment as well as space for their unique observations. Please contact the Watershed Education and Outreach section at watersheds@fairfaxcounty.gov or call 703-324-5500, TTY 711 for more information.
Visit the One Water Partnership webpage for fun, family-focused activities about water resources.