Recycling at Home
The City provides weekly recycling collection to approximately 20,200 homes. These customers pay for recycling collection, as well as, recycling bins through a Solid Waste User fee paid on each tax assessment bill.
Page updated on
June 20, 2023 at 9:39 AM
City Residential Recycling Collection
Recycling is an everyday way to fight climate change. Recycling saves natural resources, energy and money.  
The City provides "single stream" recycling collection services through a contract with Bates Trucking. Recycling is collected once a week on a designated collection day, Monday through Thursday. 
Recycling Program Information
Do I receive City Recycling Service?
Alexandria residents living in detached, single-family homes, duplexes, and some townhouses with four or fewer units are required users of this fee-based service. Commercial properties and condominium complexes are not required users, but may participate at the City's discretion for a fee.
To determine if you are eligible for City recycling service, visit: realestate.alexandriava.gov, then click on search properties and enter your address, then click on tax history.  You should be able to see a Refuse Fee assessed for each tax year.    
Recycling Collection Schedule
Schedule of Collection 
Trash and recycling are collected once weekly, Monday through Thursday. Please refer to the  Refuse Map to determine your collection day.
Recycling Set Out Time  
Set out refuse and recycling containers no earlier than 5 p.m. the day prior to collection, and no later than 6 a.m. on collection day:
Holiday "Slide" - If a City recognized holiday is observed on Monday, Tuesday, Wednesday, or Thursday, refuse and recycling collection 'slides' to one day later that week (except for Thanksgiving when refuse and recycling crews provide a Thursday collection on schedule). View the Holiday Collection Calendar. 
Inclement Weather - If there is a delay for inclement weather, residents will be notified through the City Website and eNews.
Where to Set Out Recycling
Recycling Set Out Placement 
All residents should set their recycling containers (both carts and bins) in the same location where they receive trash service. 
Please ensure that your trash and recycling containers do not block sidewalks, driveways, etc.
Recycling Containers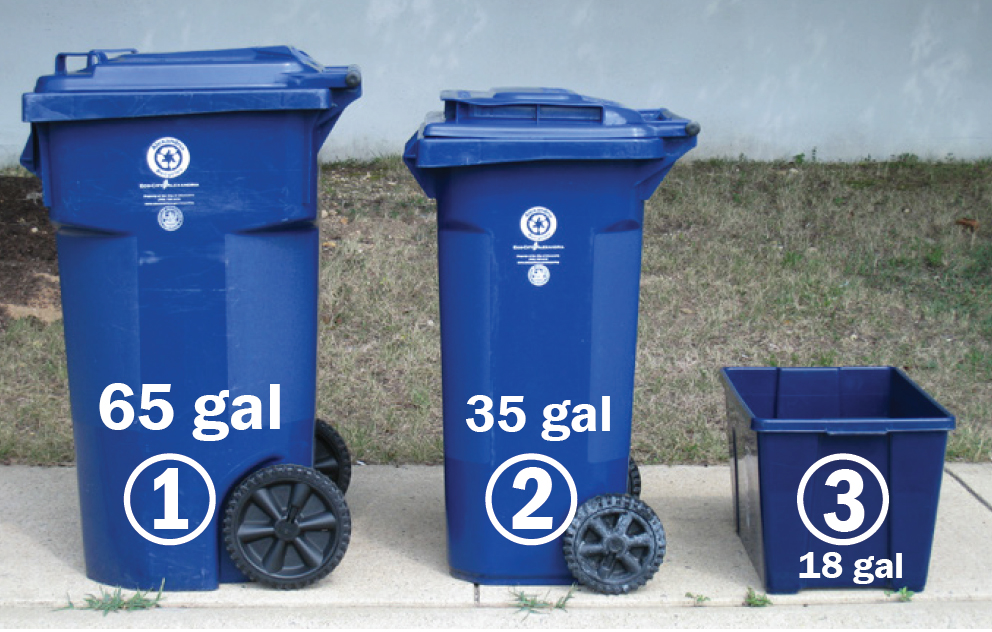 The Resource Recovery Division now uses a variable size recycling container system for its residential recycling program. The wheeled and lidded carts provide more capacity and make it easier for residents to transport their recycling to the curb or alley for collection. 
Recycling Container Sizes

| | | | |
| --- | --- | --- | --- |
|                |   18-gal Bin    |   35-gal Cart    |  65-gal Cart   |
| Height | 14.25" | 38.5" | 42.2" |
| Width | 23" | 22.76" | 25.98" |
| Depth | 16" | 22.36" | 26.81" |
|   |   |   |   |
To place a ticket regarding a recycling container, please visit Alex311. If you need further assistance, call 311 or 703.746.4311.
Note: The recycling container is property of the City of Alexandria and assigned to each property. Please do not relocate the recycling containers or remove them from their assigned property. 
Recycling Container Exchange
To place a ticket regarding a recycling container, please visit Alex311. If you need further assistance, call 311 or 703.746.4311.
Your recycling container exchange will usually occur on your recycling collection day.
Please ensure that your current recycling container is accessible to the crews on your recycling collection day. 
**Note:  ONLY City Trash and Recycling Customers (those who pay the Refuse Fee) are eligible for the City-issued recycling containers.  To determine if you are eligible visit: realestate.alexandriava.gov, then click on search properties and enter your address, then click on tax history.  You should be able to see a Refuse Fee assessed for each tax year.    
Missed Pickup
Your preparation of material for collection is critical for us to recover resources, ensure safe collection, and leave the area neat and clean. If your material is not collected by the end of the day, check for an oops tag that explains why the City could not collect.
COMMON PROBLEMS INCLUDE
Collection container, bag, or item is too heavy
Items such as carpet or lumber longer than 4 feet
Contains unacceptable items such as construction debris, dirt, brick, and stones (residents should call a private hauler to dispose of these items)
Dangerous or messy liquids such as gasoline and undried paint
Trash mixed with recycling
No oops tag? Request a "Missed Collection" ticket on Alex311. If you need further assistance, call 311 or 703.746.4311.
How to Prepare Recyclable Materials
Simple Recycling Guidelines 
Place all recycled materials loosely into your recycling cart or bin.  Do not bag your recycling inside your cart or bin.
Empty and rinse all beverage and food containers.
Remove newspapers from plastic bags before recycling.
Empty and place small cardboard boxes into your recycling container.  Larger cardboard boxes may be flattened and placed next to recycling container for weekly collection.
Clearly set your recycling apart from your trash to avoid confusion at collection
Not enough space in your recycling container? 
Do not use plastic garbage or grocery bags to hold recyclable materials.

Paper grocery bags or cardboard boxes may be used to hold temporary overflows of recycling for weekly collection. 

Request a larger recycling container.  The City has 18 gallon bins as well as 35 and 65 gallon carts available. 
Use the  Recycling Drop-off Centers for large volumes of recycled materials.
Acceptable Materials
The City's Residential Recycling Program Accepts:
Mixed Paper -  White / Color paper, office paper, newspaper, junk mail, magazines, phone books, paperback books, paper board boxes including cereal / tissue / cracker boxes, etc. 
     Note:  Please remove the newspaper from any plastic bags before recycling.  
Cardboard  - Clean, unwaxed cardboard may be recycled in your cart along with all other acceptable recyclables.  Larger cardboard boxes should be broken down to fit inside the cart or set beside the cart for recycling collection.  Please remove any Styrofoam, plastic packaging or other contents! 

Clean and empty pizza boxes are acceptable. Remember to remove any sauce cups, waxy paper, and food waste. 
Any cardboard boxes containing trash will be collected along with the regular trash collection and not recycled.

Gable Top Cartons and Juice containers -  Refrigerated Milk and Juice cartons  
Plastic Bottles, Jugs, Jars, Tubs, Pails, and Buckets - 

Lids are acceptable for all plastic, glass and metal containers. Simply leave them on the container after emptying containers when recycling.
Remember - the number on the bottom alone does not necessarily determine its recyclability.   

Metal Food & Beverage Containers Only -  Learn how to recycle your small metal items below. 
 
View the City's "Yes/No List" for information on what is recyclable in the residential recycling collection program. 
The markets for recycled materials are constantly changing.  As these markets change so does the recyclability of various commodities.  Please review our Residential Yes/No List for changes to the currently acceptable recycled materials. 
Unacceptable Materials
Plastic Bags, Wrap, & Film -  Disposable plastic shopping bags and other plastic films are best recycled in dedicated collection points such as grocery and department stores.

Please do not put recyclables in plastic bags. 
Place your recyclables loosely in your City recycling bin or cart.  This helps with the sorting of recyclables at our local processing facility.

Non-food & beverage metal containers (i.e. metal blinds, pots & pans, etc.) These items can be recycled at the  Covanta facility located on Eisenhower Ave..
Wire clothes-hangers -  Wire hangers are "springy" and can pose an eye hazard to workers as well as damage sorting machines at the MRF

Return hangers to your favorite dry cleaners for reuse or recycle them at the Covanta metals recycling  box noted above.

Glass Bottles & Jars  

Note:  Effective January 15, 2020, glass is no longer accepted in the curbside blue recycling bin. Glass can be recycled through the City's new glass purple bin program. Learn more about  glass recycling and drop-off locations.  

Coated Paper (paper cups, political signs, wax cooking paper, waxed cardboard, plastic-coated paper)
Ceramic Cups and Glasses, Window Glass, Pyrex
Styrofoam and Packing Peanuts  
Tanglers - (Garden hoses, cables, chains)
Clothes, linens, and other textiles - (please donate these materials)
Plastic cups, trays and containers:  While all plastics are potentially recyclable, the market dictates which types of plastics are currently acceptable.  Plastic items that are typically non-recyclable include:

Clam shell
Plastic fruit or salad containers
Styrofoam cups and trays

Small / large propane tanks (i.e. camping stove propane tanks). 
Helium Tanks  
Other Hazardous Waste and Electronic Waste: Please visit the City's permanent Household Hazardous Waste and Electronics Center 
Requesting Walk-Out Services
Walk-Out Services 
For elderly and physically-challenged residents, collection crews will remove trash and recycling from containers at the door.  Residents can request this service by mailing a completed Backdoor Request Form to:
Resource Recovery Division
RE: Walk-Out Service Request
2900B Business Center Drive, Alexandria, VA 22314
If you have further questions, please call: 703.746.4410. 
Recycling Program Funding