Code Administration
The Department of Code Administration works in concert with stakeholders (residents, tenants, business owners, building owners, architects, engineers, builders, tradesmen, contractors, and developers) as part of the safe building team.
Page updated on
August 16, 2023 at 8:22 AM
Compliance for Tall Grass & Weeds
Section 5-9-3 of the Code of the City of Alexandria requires that owners of property located within the City shall cut grass and weeds that are in excess of 12 inches in height on the property.
1st Violation: $100 fine. Fines increase if the violation is not brought into compliance along with the code.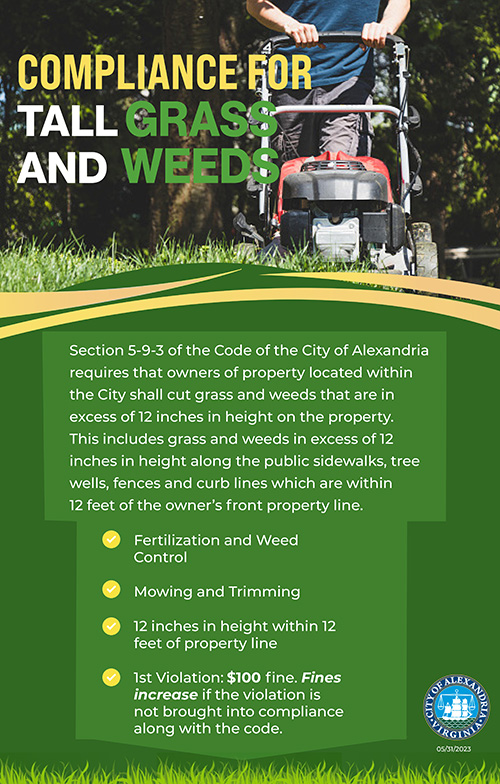 Building Safety Month is an important time for us to share the significance of what we as Code Officials do, in partnership with architects, engineers, developers, contractors, homeowners and business owners.  Having a BSM Kick-Off Event offers us the opportunity to invite these professionals to partner with us in recognizing the Month of May as Building Safety Month. What better way to help educate the public on the importance of what you do daily, ensuring code compliance throughout the State of Virginia. We hope your plans for hosting an event will bring closer partnerships with the public and the professionals we serve every day!  Remember: Building Safety, IT STARTS WITH YOU!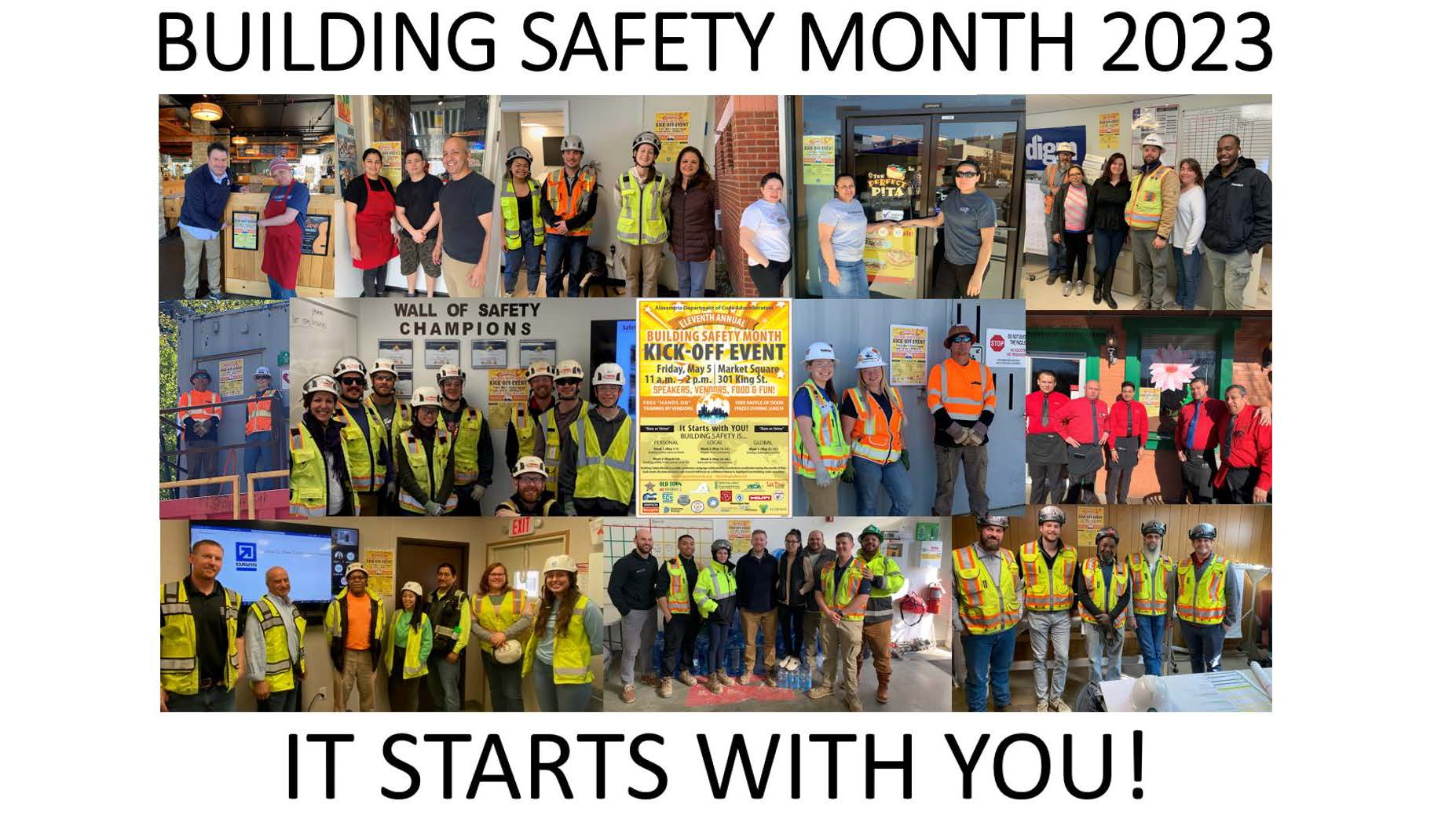 The Permit Center has moved!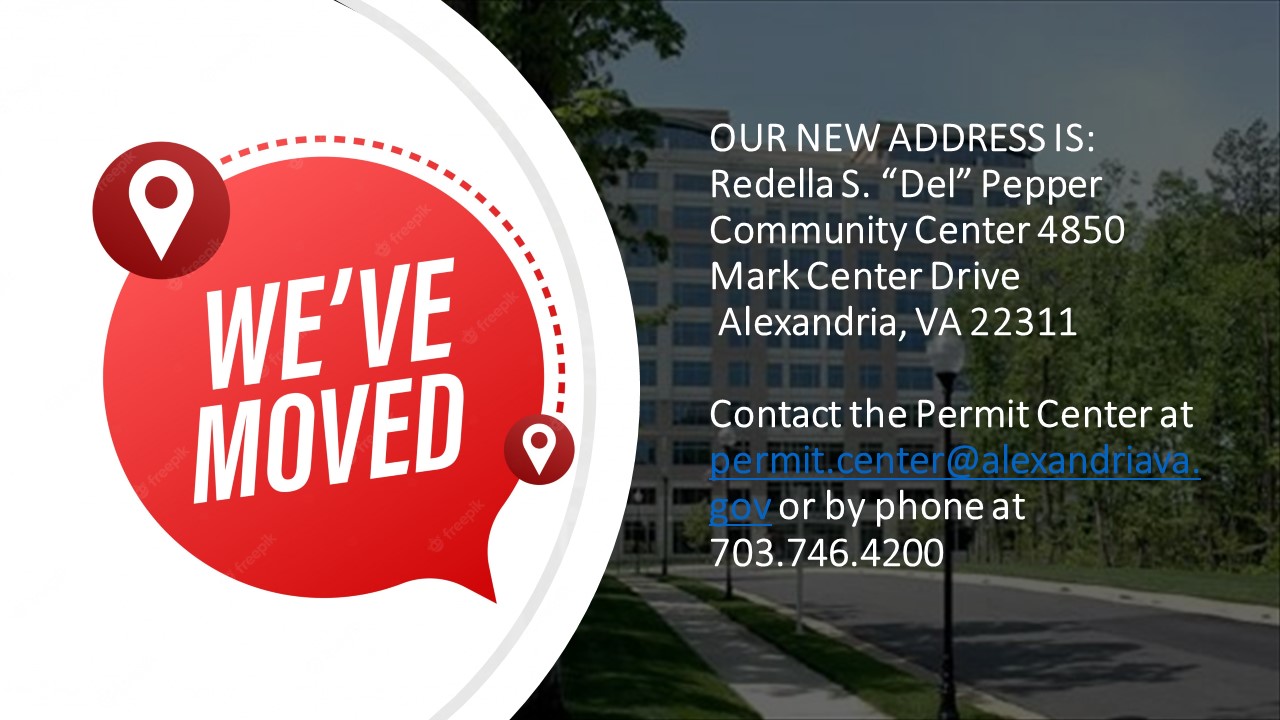 Alexandria Permit and Land Use Management Portal (APEX)
APEX allows you, our customers, to apply for permits and development plan reviews, to attach supporting documents and to submit payment from computers or mobile devices, eliminating the need to make trips to City Hall. 
Additional features of APEX include:
Electronic application, plan submission and review for permits and land use applications.

Improved communication between staff and customers.

Real-time status tracking for permit and land use applications.

Advanced search capabilities.

Online inspection scheduling, tracking and updates.

Online payments.
All customers should register on the portal. We are encouraging all customers to utilize the portal, not only to apply for permits, but also as a tool to process permit related payments. When visiting the Permit Center, customers will simply login to their Alexandria Permit and Land Use Management Portal account via kiosk to complete their payment transaction. The payment will post immediately and the receipt will be sent via email to the customer.
Registration instructions for the Alexandria Permit and Land Use Management Portal
For more information about the City's permitting process, using the new APEX system, or Permit Center hours of operation, visit alexandriava.gov/Permits.
About the Department
Welcome to the Alexandria Department of Code Administration, where we work in concert with other City agencies and our stakeholders (residents, tenants, business owners, building owners, architects, engineers, builders, tradesmen, contractors, and developers) as part of the safe building team. Our objective is to assist stakeholders with compliance related to Virginia's Uniform Statewide Building and Maintenance Codes (USBC), and the City Code nuisance and development provisions. This is accomplished through permit processing, plan review; timely and consistent inspections, and education regarding the requirements of the referenced codes.  The department contains the five divisions of Permit Center, Property Maintenance Inspections, New Construction Inspections, Plan Review Services, and Administrative Services. 
June 1, 2017 Permit Center Fee Schedule Changes
Code Administration Summary of Fee Changes Effective June 1, 2017
Public Notification Memo regarding Fee Changes June 1, 2017
Alexandria Code Administration Guiding Principles
Guiding Principles
When checking for daily inspection information, please check the Daily Inspection Viewer Website by 8:00 a.m. the day of the inspection as the information is updated up until this time
The 2015 Virginia Uniform Statewide Building Code (USBC) is effective September4, 2018.  Additional information can be found at:
2015 Virginia Uniform Statewide Construction Code (VA USBC)  
Standing Modification - Minimum Thickness of Galvanized Duct Walls for Single Family Dwellings 
Same Day Service Ends at 4:15pm. Please be sure to have all plans and applications submitted prior to 4:15pm Monday through Friday for same day services.
Scheduling and Obtaining Inspection Results
The Department of Code Administration offers immediate access to inspection results through our new permitting and land use management system customer service portal, APEX. Click on the icon below to get started. Once on the page click on the step by step document entitled "How to request inspections". 
Gas Permit Policy for Residential Additions & Alterations
Code Administration conducted a survey of the surrounding jurisdictions' plan review requirements for residential fuel gas permits.  The results found that a majority of localities did not require a fuel gas riser diagram prior to permit issuance for residential gas pressures less than 2 psi.  Therefore, to stay consistent across local boundaries, the City of Alexandria will no longer require 1 & 2 family dwelling building (single family, townhomes and duplexes) applicants to submit a residential gas riser diagram for additions and alterations to an existing residential fuel gas system with gas pressure less than 2 psi.    
Please note - a residential gas riser diagram is still required for new residential homes and accessory structures.  Furthermore, there is no change in the plan review requirements for commercial fuel gas permits – a fuel gas riser diagram is required.  
NOTICE:  Code Administration's fire protection systems (FPS) walk-thru services are now available on a scheduled basis.  Please contact Paul Mitchell - mail to: paul.mitchell@alexandriava.gov or 703.746.4194 - to schedule an appointment.  
Tell us how we are doing! As we make improvements to assist our customers with the permitting process, your feedback is important to us. Please fill out our Customer Service Survey and let us know what we can do to improve the permitting experience.