Permit Center
The City's multi-department Permit Center allows residents, businesses, contractors, and visitors to obtain construction related permits at one central location. The permit center includes staff members from Code Administration, Finance, Planning & Zoning, and Transportation & Environmental Services; and also offers small business and residential facilitators to assist homeowners and small businesses through the construction permitting process.
Page updated on
January 5, 2023 at 8:27 AM
The Permit Center is Moving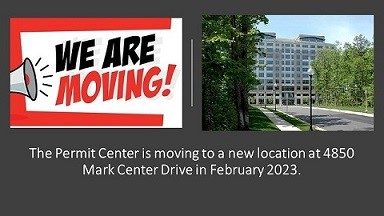 Operational Updates Due to COVID-19 Pandemic
Some services may be modified or suspended due to the pandemic.  Please see below for service impacts by division, we will continue to monitor and update this information as needed.
Permit Center
Open to the public for in-person service Monday through Friday from 8:00am until 4:30pm.
The City of Alexandria Permit Center is now located on the fourth floor, room 4200.
Currently, we are asking for customers to only submit applications electronically through APEX.
The Alexandria Permitting and Land Use System (APEX) is available 24 hours a day from your computer or mobile device.
Customer assistance is still available by email Permit.Center@alexandriava.gov or by calling 703.746.4200. A support team able to respond to inquiries within 24 hours or one business day.

The City of Alexandria Permit Center will be conducting online workshops for the recently upgraded Alexandria Permitting and Land Use Management (APEX) system through December 27, 2022. Sessions will be held every other Monday from 1:00pm - 2:00pm using a Microsoft Teams platform. These workshops will help you to navigate Alexandria's 24-hour permitting system. 

After the workshop you will be able to use APEX to:

We will also spotlight the Document Library for a wealth of resources to help you navigate the APEX Customer Self Service (CSS) portal. Tutorial material is available to read or watch on short videos.

To attend a workshop please RSVP to the Permit Center at 703.746.4200 or via email at permit.center@alexandriava.gov. 

Set up an account
View permit information and records.             
Apply for permits.
View permit application status and reviews.
Schedule, cancel and view inspection results.
Pay invoices.
Submit, view, print permits, plans & documents.
Plan Review Services
We are continuing to perform plan reviews as scheduled.
Team Plan Reviews are no longer performed in-person, but are now performed fully electronically.
New Construction Inspections
In-person residential inspections for occupied dwellings (single-family and multi-family) are suspended, however these are still being performed virtually by video call. 
All other inspections are still taking place as scheduled with inspectors maintaining social distancing. Inspectors are instructed to leave the area if they do not feel the area is safe. Those inspections will be rescheduled when the area is safe to enter.
Property Maintenance Inspections
Residential rental inspections and interior, complaint-based investigations in occupied dwellings are operating normally, however some complaint inspections can still be performed by video call.
Proactive Exterior inspections will be performed to ensure sanitary trash disposal, timely trash service and rodent control surveys will continue.
Staff will continue to service overgrown grass and weeds complaints over 12" on private properties, with extended compliance periods for abatement.
Unsafe/unfit investigations of occupied structures will continue with some interior inspection access modifications. 
Permit Center Hours of Operation
Closes at 2 p.m. on the first Monday of every month.
Open regularly Monday - Friday, 8 a.m.- 5 p.m. (except City Holidays)
SAME DAY SERVICE ENDS AT 4:15 P.M. 
Please be sure to have all plans and applications submitted prior to 4:15 p.m., Monday through Friday for same day services.
The new APEX Permitting & Land Use System makes it easier for customers to apply for and obtain permits and approvals electronically. APEX offers electronic application, plan submission and review for permits and land use applications; online payments; real-time status tracking for permit and land use applications; online inspection scheduling, tracking and updates; advanced search capabilities; and easy, effective communication with customers.
Find out whether a permit is required, what type of permit is needed, and what requirements are necessary for a building permit.
To apply for a permit, you can submit your application in person, or if you're seeking a sign, electrical, mechanical, or plumbing permit, you can submit it online.
Determine what it will cost to submit a permit application, and what forms of payment are accepted.
You can check the Daily Inspection Viewer to learn about daily scheduled inspections and related updates. On this page there is step by step documentation of how to schedule an inspection through the new permitting and land use management system, APEX. If you are familiar with the system, click on the APEX icon below to be directed to the site. If for some reason APEX is unavailable, feel free to call the Permit Center main line at 703.746.4200 for scheduling assistance during regular business hours.
Some City permits are not issued by the Department of Code Administration. Check here to view the list of permits that are required by other departments, and download information about how to obtain them.
To check on the status of a permit application or inspection, make sure you have the project address or permit number available, and you can look up the plan review status and inspection history online.