In Memoriam 2020: Benjamin Thomas August 8, 1899
Due to the Covid-19 pandemic, the August 8, 2020 City-wide remembrance in memory of Benjamin Thomas, who was lynched in Alexandria on this day in 1899, is being conducted virtually on this In Memoriam page.
Page updated on
May 6, 2022 at 9:52 AM
In Memoriam: Benjamin Thomas August 8, 1899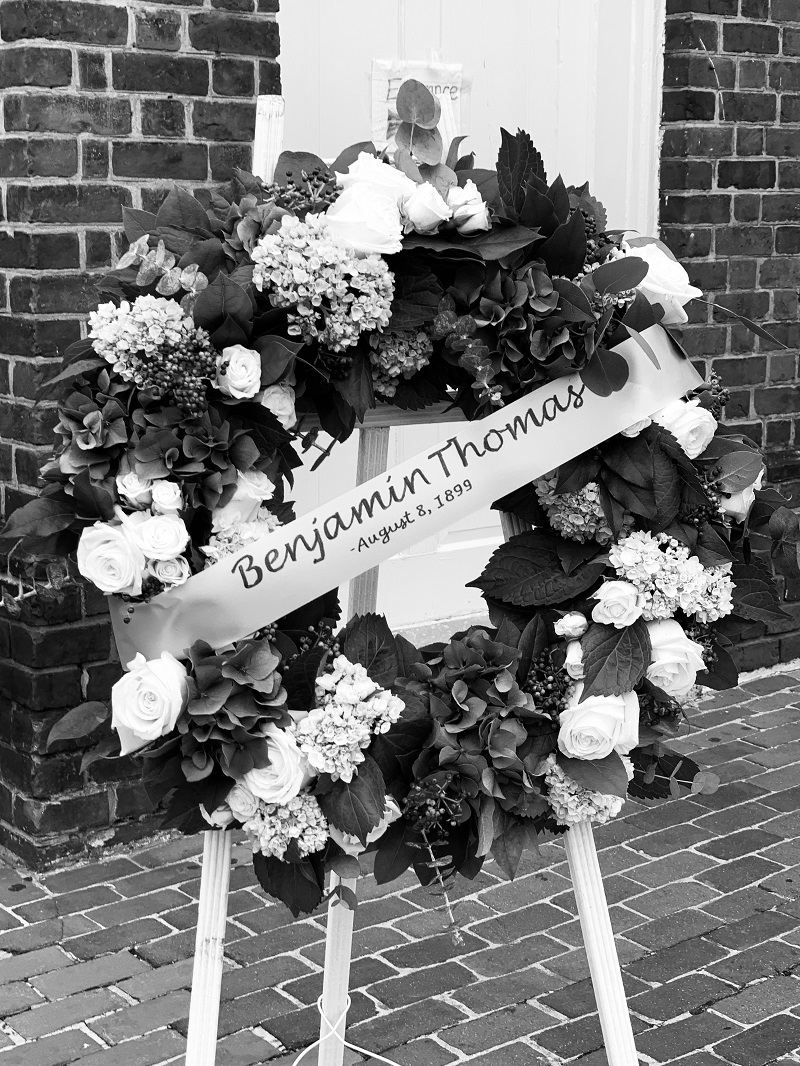 The City of Alexandria is committed to the accurate dissemination of its history. The murder of Benjamin Thomas is recognized as a terrible chapter in Alexandria's past. To fight injustice and to keep the memory of Alexandria's lynching victims alive, you are invited to participate in the Alexandria Community Remembrance Project.
As part of this community reflection, please share your thoughts, artwork, or creative writing after viewing the information on this In Memoriam page. Email your work to HistoricAlexandria@alexandriava.gov. Selections will be posted below in the digital guestbook.
 
A Mental Health Note
Simone Jacobs and Arnecia Moody are licensed clinical social workers (LCSW) who practice within the Washington DC Metro area. They have advised and provided support to the Alexandria Community Remembrance Project since its launch in 2019. Their joint statement provides assistance with racial trauma and dealing with difficult history. Ms. Jacobs and Ms. Moody stress not feeling alone as you and your family navigate through these challenging times. Read their statement.
Wreath sponsored by Del Ray Citizens Association, created by Helen Olivia.
Remembrance Ceremony
Justin Wilson, Mayor of Alexandria, and Dana Lawhorne, Sheriff, remember the tragic lynching of Benjamin Thomas, a 16-year-old Alexandria resident, which took place on August 8, 1899. They place a wreath on the corner where the lynching took place and say the names of the 15 African American men who bravely and courageously stood up to try and defend Benjamin Thomas, risking their own safety and their own freedom. The Mayor and Sheriff are successors to two individuals, the Mayor of the City and the City Sergeant, who played unfortunate roles in the history of this tragic event. 
In Honor of Benjamin Thomas
Proclamation
Alexandria Mayor Justin Wilson presents a Proclamation in honor of lynching victim Benjamin Thomas who was murdered on August 8, 1899. This Proclamation acknowledges both of Alexandria 's lynching victims and is a formal apology from The City of Alexandria for past racial injustice.   
A Video Statement from Sheriff Lawhorne
Watch a statement from Sheriff Dana Lawhorne, on the Lynching of Benjamin Thomas.
A Song and Prayer in Honor of Benjamin Thomas
Steal Away (a traditional Negro spiritual)
Minister Kabanya Vinson, Shiloh Baptist Church's Minister of Music, sings a traditional Negro spiritual called "Steal Away," believed to have been written around 1862. This spiritual, would have been familiar to African Americans in the 19thcentury.  The piece has double meaning. The lyrics "steal away to Jesus" may have represented a plan or desire to escape the bondage of slavery. In the case of Benjamin Thomas, a wish from the congregation that in death Thomas is finally released from the torture of the murderous mob.
The definition of the phrase "Steal Away" is to exit or escape from a person, place, or thing in a hurried pace.

Some people believe or understand this song to simply be used as a song of worship or longing to be with their god. However, it has been proven that Negro Spirituals were used to relay messages among slaves in order to reach freedom.

 

As you begin to dive into the lyrics of the song, I would like you to imagine the time period the song was created in, who sang the songs, and what circumstances this song was sung in. 

The translation provided below is a personal interpretation, and is not presented without bias. Please use the provided scholarly sources at the end of the post if translations are needed for a school or work-related project

-- Min. Kabanya Vinson
Original Lyrics
Translation
Chorus

Steal away(2x)
Steal away to Jesus
Steal away
Steal away home
I ain't got long to stay here

Chorus 
Quickly(2x)
Quickly, let's get to safety
Quickly
Quickly get home
There isn't much time left

Verse 1

My Lord he calls me
He calls me by the thunder
The trumpet sounds within' a my soul
I ain't got long to stay here 

Verse 1
Our leader signals it's time to go
He signals mightily
Freedom rings within my soul
I can't stay in bondage much longer

Verse 2
Green trees a bendin'
Poor sinner stands a tremblin'
The trumpet sounds within' a my soul
I ain't got long to stay here

Verse 2

The miracle of escape is manifesting
Master has no control, won't be long before he's repenting
Freedom rings within my soul
I won't be in bondage much longer
Eulogy
Reverend Dr. Taft Quincey Heatley, Lead Pastor of Shiloh Baptist Church, gives a eulogy in honor of Benjamin Thomas. Alexandria's historic Shiloh Baptist Church has an important connection to the lynching on August 8, 1899. The memorial service for Benjamin Thomas was held in this church on August 28, 1899. Rev. Heatley's eulogy conveys the community sadness at the loss of a 16-year-old boy to racial terror violence. African American Churches were a not only a place of worship for Black families in the 19th century. These Churches were often the only places where African Americans could speak freely about the injustices they faced and find solace in a community which supported them. 
A Poem for Benjamin Thomas
A Tale of Two Names: For Benjamin
© An Original Poem by KaNikki Jakarta, the First Black Poet Laureate of Alexandria, Virginia
You were Benjamin Thomas
also known as Benjamin Thompson
lynched in Alexandria, Virginia on August 8, 1899
due to a varied crime
during a time
when the newspapers didn't care enough to print your name right
That night,
the story seems a bit blurry
between blurred lines of testimony of what really took place
Your history is traced
121 years
and still unclear
Did Lillian walk by your house or come to your door to borrow an ax?
Did she flee in an outcry after an attack?
Was she with her younger brother or was she alone?
Did Lillian indeed come to your home?
I've read enough black history of lynching's and tragedies
to know that even with a testimony and blatant discrepancies…
justice would not be the outcome
Accuser's accusations could have a black person hung
Who cares if these stories where accurate? Who cares about the truth?
when the mission of the accuser is to kill the black youth
they painted you as a horrible person,
shot you in the heart and hung you from a lamp post in an attempt to burn out your light
but there were protesters of Black people willing to fight for your life
the writers stated that when they learned of this accusation, the White community was enraged
no writings about your mind state or anything that you said while you were encage
Breaking into the jail and taking your life was a white mob's intent
while falsehoods spread that the Black community was willing to kill White residents
There was one man named Albert Green
who was jailed when he tried to intervene
The journalist wrote that they didn't think you would be lynched
especially since Lillian and her parents were the only witnesses
how frightening it must have been listening and wondering why
and having to sit silently with no chance to testify
I'm not sure if you were 16 or 20 in your final days
because the writers also didn't care to verify your age
to them you were just another black boy
killed two years after they murdered Joseph McCoy
I'm certain that living in this city; Joseph's murder was a tragedy of which you knew
and never in yourself imagination you would think this would also happen to you
Throughout the city, the Black community demanded your protection
and was willing to help in your defense
And here we are 12 decades later to hold up your name in remembrance
You didn't deserve to die this way; leaving your mother heart broken and in grief
Unfortunately your story doesn't leave us in utter disbelief
You deserved to be the person to create your own legacy
Yet, you are another fallen ancestor in our tragic history
We will pour libations and hold you in the light
and say your names as Thomas and Thompson in an attend to get it right
We will make people aware of injustice that was done to you
and say you lived until you were murdered and leave that to be true
These sad murder stories are a part of the city of Alexandria's DNA
and affect what Alexandria was and continue to affect Alexandria today
We celebrate your life and create a memorial for you, Benjamin
and mourn at the loss of who you could have been
A Poem in Response to the Lynching (written in 1899)

Printed in the Colored American (Washington, D.C.), August 26, 1899, page 4. Reverend Lott was an early organizer of the Afro-American League in the District of Columbia and lived at 818 North Columbus Street. Alexandria City Directory, 1899.
"TAKE HIM OUT!"
By Reverend A. A. Lott
(Inspired by the Alexandria,, Va., Lynching)
What means this howling, hideous shout
"Take him out! Take him out!"
What can be all this noise about,
"Take him out! Take him out!"
The midnight shriek reached the sky,
All over town both far and nigh, 
The sound shocks every passer by,
"Take him out! Take him out!"
Is this for crime that some one did,
That fiends should keep the secret bid,
And enter doors the laws forbid,
     Crying-
"Take him out! Take him out!"
What means this running through the street,
As though upon a swift retreat, 
And crying as they stamp their feet,
"Take him out! Take him out!"
Look! How they rush with furious glare,
While at the jail they wildly stare;
Shooting their pistols in the air,
     Shouting-
"Take him out! Take him out!"
See! They have him in their grasp,
The rope around his neck is fast,
They drag him through the street at last,
     Crying-
"Take him out! Take him out!"
The victim pleads but all in vain,
Their fury he could not restrain,
With murder stamped upon their brain,
     Crying-
"Take him out! Take him out!"
Upon a lamp post now hard by,
The furious mob did swing him high,
And left him all alone to die, 
     Without Crying-
"Take him out! Take him out!
The blood that stained the rugged street, 
Where horses tread with noisy feet,
Still cries to heaven for Justice sweet,
     Upon the cryers-
"Take him out! Take him out!"
O! Land of Liberty and might,
Can Justice look on such a sight,
As on that memorable night,
     When they-
Took him out! Took him out!
Eternal King! Almighty God,
Send not Thy judgment hence abroad.
Keep back Thy terrible, chastening Rod,
     From those who-
Took him out! Took him out!
Say Their Names
On August 8th, the City of Alexandria remembers Benjamin Thomas, a 16-year-old Alexandrian who was lynched by a mob comprised of City residents. 
We ask you to remember these 15 heroic African American men who tried to save the life of Benjamin Thomas in 1899. 
Today (I / We) say the names of the following African American citizens who risked their safety to try to save the life of a 16-year-old boy from lynching.
We say their names to remember…to never forget…to know there are people who will stand on the right side of history, even at great personal cost. Today we say their names...
James Alexander
Robert Buckner
Allen Carter
Thomas Elzie
Edward Gibson
Albert Green
John Haskins
Alfred Mason
Harry McDonald
John Nelson
Edward Payne
James Turley
Richard Washington
William Washington
John Wilson
They live on in our hearts as we strive to make Alexandria a welcoming and inclusive city.
Today, we also remember Benjamin Thomas and all African Americans who died at the hands of racial terror hate mobs.  We keep their memory alive in our hearts as we vow to fight against racism and injustice.
The Lynching of Benjamin Thomas: A Narrative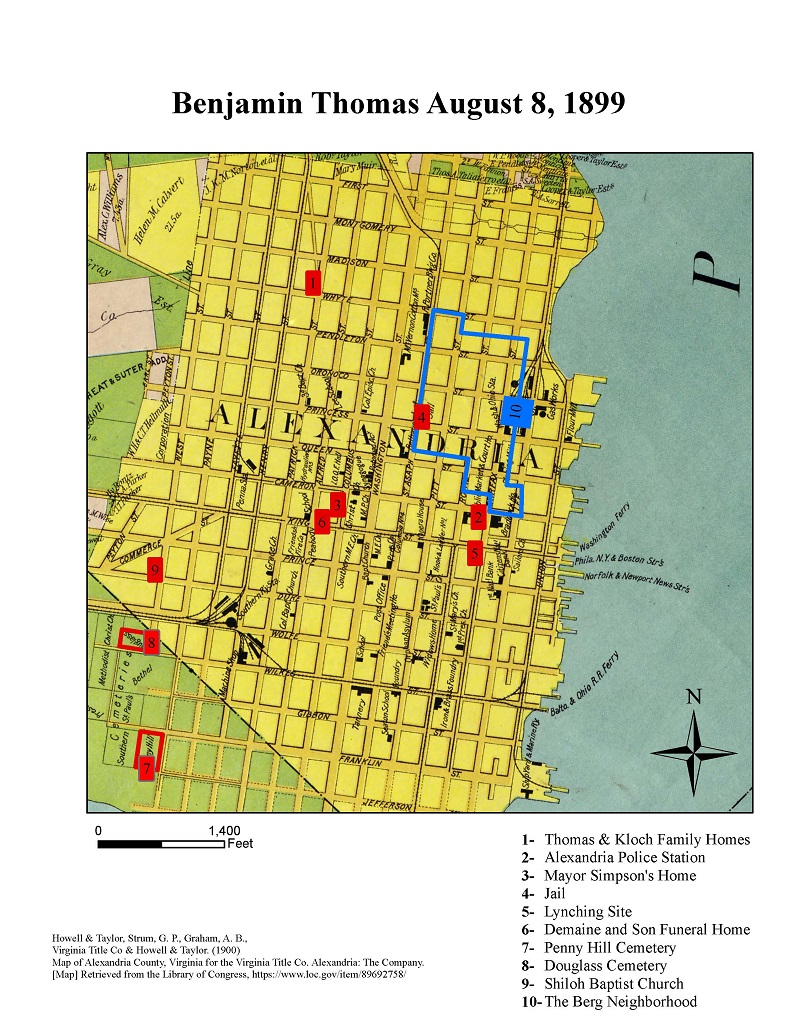 Around midnight on August 8,1899, a 16-year-old African American teenager named Benjamin Thomas was lynched in Alexandria, Virginia. A white terror mob comprised of Alexandria citizens attacked the city jail on St. Asaph Street, and Benjamin Thomas was dragged half a mile to the southwest corner of King and Fairfax streets, opposite Market Square. The full account of this hate crime was methodically researched by the 13-member Research Committee of the Alexandria Community Remembrance Project.
The Lynching of Benjamin Thomas, August 8, 1899
Location of the Events of August 8, 1899
Leadbeater Corner, site of the lynching
"It is a dismantled post at the southwest corner of King and Fairfax Streets... The lamp was removed and the iron post permitted to stand when the electric lighting system was installed several years ago. On this post is a United States letter box." Times (Washington, D.C.), August 10, 1899, page 3. (Courtesy Alexandria Library Local History/Special Collections)
Old Alexandria Jail
Not dated but likely very early 20th century. This is the view from North St Asaph at Princess looking northeast. The façade of the jail and the jail wall remain. (Courtesy, Alexandria Library Local History/Special Collections)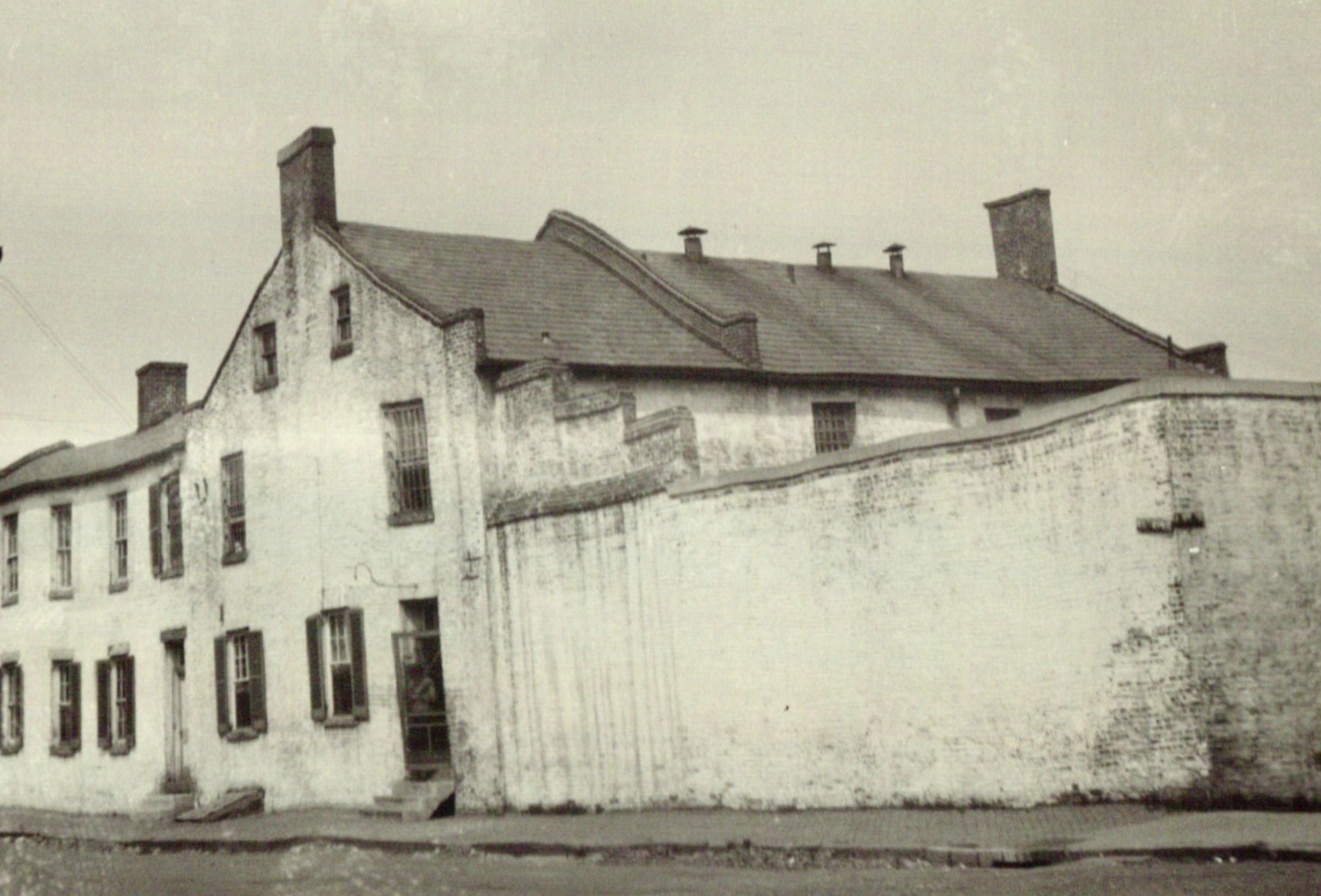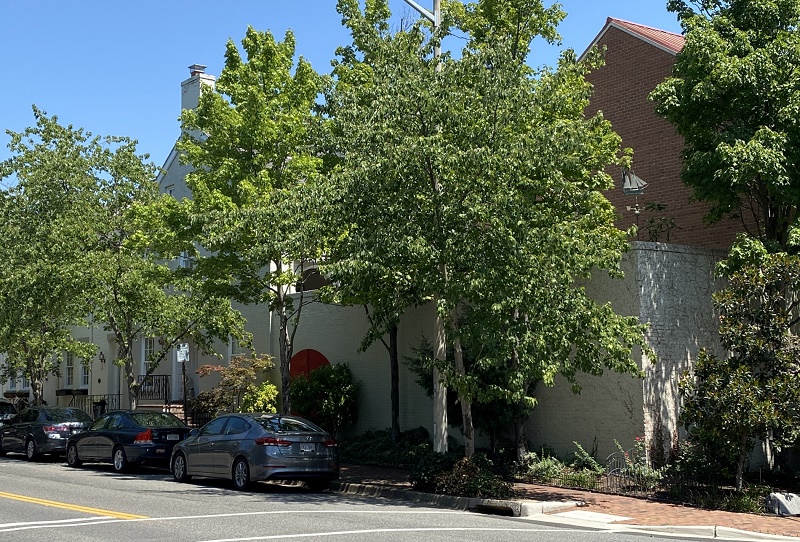 Statements by State and Local Officials and Staff
Senator Tim Kaine
Senator Tim Kaine
United States Senate
I commend the City of Alexandria for your impressive efforts to acknowledge the dark history of lynching and to memorialize the victims, Benjamin Thomas and Joseph McCoy, of Alexandria's past. We must continually come to terms with the failures of our communities and nation, in order to work for a better and more equitable future.
In June of 2005, the Senate passed a resolution that apologized to the victims of lynching and their descendants for its failure to enact anti-lynching legislation. Although the federal government has not passed a bill against lynching, various states, including Virginia, passed laws to increase the punishment for these heinous crimes. In the Senate, I was proud to cosponsor and support the passage of the Justice for Victims of Lynching Act of 2019, which would make lynching a federal hate crime for the first time in American history. This landmark bill is also incorporated into the Justice in Policing Act of 2020, the first comprehensive legislative approach to ending police brutality and changing the culture of law enforcement departments by holding police accountable in court for misconduct, increasing transparency through better data collection, and improving police practices and training.
We must continue this work. The stained legacy of this egregious period in American history must never repeat itself, and perpetrators of these crimes should face stiff penalties. Your commitment to the accurate dissemination of history, no matter how horrific, is crucial to this effort. I am proud to serve as your senator and do this work with you.
Congressman Don Beyer
Congressman Don Beyer
United States Congress
This statement was submitted for the Congressional Record.
Madam Speaker, I rise today in memory of Benjamin Thomas, a young African American man who was lynched by an angry white mob just down the road from this Capitol in Alexandria, Virginia one hundred and twenty-one years ago. He was accused of assaulting a young white girl but was never given the chance to defend himself. During the evening of August 8, 1899, Thomas was pulled out of a city jail by a large crowd. He was bound with a rope and dragged six blocks to a lamppost on the on the corner of King and Fairfax Street. He was then stripped of his clothes and hanged. Before dispersing, the mob proceeded to shoot his body several times. No one was ever charged for this heinous crime
The lynching of Benjamin Thomas is only one of 86 documented lynchings committed in Virginia between 1880 and 1930. These acts of premeditated violence were deliberate attempts by whites to terrorize and control black populations across the state. While the local black community of Alexandria was outraged in the wake of Thomas' death, fear of additional white violence prevented any further action. This was often the case, as members of these mobs rarely faced any consequences for their actions, or worse were implicitly or explicitly supported by members of law enforcement.
It is incumbent on all of us, particularly those born into privilege, to remember this shameful episode of our history and others like it. In doing so, we are better able to see the continuous chain of racially motivated violence against black Americans that spans our nation's history. We can truly honor the memory of Benjamin Thomas along with the countless number of named and unnamed victims of racial violence by seeking justice for all Americans and working to build a more inclusive society.
Adam P. Ebbin, State Senator
Adam P. Ebbin, State Senator
Senate of Virginia
In the shadow of Alexandria City Hall, one hundred and twenty-one years ago; Benjamin Thomas, a son of Alexandria, a freeman and son of slaves, a sixteen-year-old, was murdered by nearly 2,000 white Alexandrians in an extrajudicial lynching. So torturous and savage was this child's assassination by the white mob that his mother could not bear to see his body. The only semblance of an obituary ran in the Baltimore Sun under the title: "A Negro Lynched."
The story of Benjamin Thomas should not have been written by his murderers. His story should not feel like a repeating newsreel. We owe a great debt to Benjamin -- one we should think of when we walk by Market Square, where he breathed his last. A society that faces its dreadful past and refuses to let it come again onto our shores. We cannot simply write his story, we must rewrite the systems, laws, and prejudices which led to his tragic lynching, and the incalculable deaths and suffering of so many more, and do so in his honor.
Mark Levine, Delegate
Delegate Mark Levine
Virginia House of Delegates
We remember
Because the dead have dignity.
We remember
Because the living have responsibility,
We remember
Because some injustice can never be undone,
And we remember
So that we pursue justice
In the memory
Of those
Whose memory
Calls out for justice and
Calls out for us
To remember.
Rest In Peace,
Benjamin Thomas.
And if our unrest is unpeaceful
At the memory of your life
And your death,
Then let our unrest
Propel us not to rest
Until justice rolls down like waters, 
And righteousness like an ever-flowing stream.
Dana Lawhorne, Sheriff
Dana Lawhorne, Sheriff
City of Alexandria
Video of Sheriff Lawhorne's statement. 
In 1899, an African American teen entrusted to the custody of the City Sergeant, the equivalent of today's Sheriff, was abducted from the Alexandria jail and lynched. A mob kidnapped 16-year-old Benjamin Thomas and terrorized him as they dragged him several blocks from the jail at Princess and North St. Asaph to the corner of King and South Fairfax, where they hanged him and shot him until he was dead. No one was ever charged with his horrific murder. 
As the Sheriff of Alexandria, I sincerely apologize for the failure of the City Sergeant, the jail staff, and other law enforcement officers to protect Benjamin Thomas. I am deeply sorry that those sworn to protect life failed to do so, and I apologize for the actions and inactions of our predecessors which allowed this lynching to occur. Furthermore, I apologize for a code of silence that kept this crime from being adequately investigated and prevented those responsible from being brought to justice.
To ensure that their in-custody murders are not forgotten, I pledge to make the research reports into the lynching of Benjamin Thomas, and of Joseph McCoy who was lynched two years earlier, part of the mandatory training of all who serve with the Alexandria Sheriff's Office.
I recognize that trauma connected to these acts of terror can impact families and communities over multiple generations. I hope that through the efforts of local groups working with the Equal Justice Initiative, Alexandria can continue to expose such injustices and join together in the healing process.
Thank you.
Bryan L. Porter, Commonwealth's Attorney
Bryan L. Porter, Commonwealth's Attorney
City of Alexandria, Virginia
121 years ago, on a busy street corner right across from City Hall, a 16-year old African American, Benjamin Thomas, was lynched by a rabid, lawless mob. Today, countless visitors tread over the exact spot where this young man took his last fearful breaths, unaware of the inhumanity and horror he suffered.
In order to change the future, we must admit and confront the past. We cannot remain oblivious to the fact our City, which today prides itself on inclusivity and progress, was within recent memory capable of racially motivated mob violence. A reluctance to have honest conversations about past acts of racism detracts from our ability to foster a more just society today.
For these reasons, I am thankful the City is officially remembering this extreme act of extrajudicial violence. I join with the Alexandria community in pausing to reflect on this solemn occasion. I sincerely pray that by considering a broken and violent past we are reminded we have much more work to do with regard to racial equity. By recalling the stolen life of Benjamin Thomas, we can take a collective step toward a better future.
J. Greg Parks, Clerk of the Court
J. Greg Parks, Clerk of the Court
Alexandria Circuit Court
When I moved to Alexandria nearly a decade ago one of the things that most attracted me to the city was its history.  I knew about its connection to our founding fathers, to the Civil War and even, after my first winter here, and the Scottish Parade, to the Scottish merchant, James Alexander for whom our city is named. I was a history major in college, and I pride myself in finding and knowing the history of where I live. Alexandria's history is also full of stories that too often have been left untold. Alexandria had lunch counter sit-ins to protest Jim Crow laws. We had the largest market for enslaved human beings anywhere outside the deep south. And near the courthouse, almost in view of the very building holding our founding documents with their promises of equality, we had lynchings.
As the Clerk of the Circuit Court, I am the custodian of the permanent records of Alexandria's court system going back to revolutionary times. These records include such items as marriage licenses, military discharges, wills and trusts, and all records of the transfer of property in the city. It is those records that show, in elegant handwritten script, Alexandria's history of oppression and inequality.  For they show the transfer of human beings as property. That legacy continued long after our mainstream history showed its end with the adoption of the 13th, 14th and 15th Amendments to the Constitution ending slavery, guaranteeing equal protection of the laws, and guaranteeing the right to vote. The tragic and horrifying story of sixteen year old Benjamin Thomas' murder shows clearly that little had changed in the intervening years between our country's extending the promises of our founding to our citizens of African heritage after the Civil War, and that hot summer day in August of 1899.
Fortunately, 121 years later, things continue to change for the better. The recent removal of the confederate statue in the middle of south Washington Street and the movement to remove from our high school a name synonymous with resistance to racial integration, both show that Alexandrians continue to move forward from the legacy of inequality. With the remembrance of Benjamin Thomas and the other victims of hate and racism, we can dedicate ourselves to know our history, both the glorious and the repugnant, to learn from it, and to make a better Alexandria.  I am proud to be part of that Alexandria, as both a citizen and a public official.  I will pause and remember Benjamin Thomas on August 8, and I will rededicate myself to ensuring that his life shines a light to the present day to remind us to keep pushing forward to make a more just and equal Alexandria.
Justin M. Wilson, Mayor
Justin M. Wilson, Mayor
Alexandria City Council
One hundred and twenty-one years ago, The Evening Star reported that my predecessor Mayor George Simpson stood on the steps of the Alexandria Jail on N. Saint Asaph and Princess Streets. Behind him, young Benjamin Thomas was in a jail cell, moments away from becoming a victim of one of Alexandria's extra-judicial lynchings. Mayor Simpson was surrounded by a growing crowd and he urged them to wait a day to allow the grand jury to indict Benjamin. The Mayor promised that if an indictment did not occur, he would personally lead a lynching of Benjamin the following day.  
While some might admire Mayor Simpson's ignored and fleeting call for "momentary justice," I prefer to recognize James Alexander, Robert Buckner, Allen Carter, Thomas Elzie, Edward Gibson, Albert Green, John Haskins, Alfred Mason, Harry McDonald, John Nelson, Edward Payne, James Turley, Richard Washington, William Washington, and John Wilson. These 15 courageous African American men gathered earlier in the day in an attempt to defend Benjamin from death at the hands of vigilantes and instead were arrested and fined for their efforts.   
We remember Benjamin's murder to shed light on an important chapter of our history as well as recommit ourselves to the work we have ahead. While over a century in our past, it should be sobering that such a large portion of our population was capable of participation in such an affront to justice. Benjamin's death serves as an ever-present reminder of the often-thin line between justice and injustice and the imperative for good women and men to always stand up for justice, even in the face of modern-day "mobs."  
Elizabeth Bennett-Parker, Vice-Mayor
Elizabeth Bennett-Parker, Vice Mayor
Alexandria City Council
121 years ago, an angry mob of 2,000 Alexandria community members killed a man named Benjamin Thomas. He was lynched on a lamppost at Fairfax Street near King Street – under the shadow of City Hall. He had been accused of attempted criminal assault of a white girl, but was never tried for this alleged crime. No one was ever charged in his murder.
This is not the only unjust death of a Black man in our city's history and the racism that led to his death still exists in our daily lives: in our institutions, in our laws, and within ourselves. Black and brown communities across our city, our commonwealth, and our country are disproportionately affected by COVID-19, unemployment, higher arrest rates, and maternal mortality rates, to name just a few examples. 
It is not enough to write a statement and remember the thousands of lives lost to racism once or twice a year when the anniversary of their death comes around. It is not enough to let this outrage die stale in the confines of the internet. We must integrate these stories into our daily rhetoric, into conversations with work colleagues, family calls, and check-ins with friends and we must work to ensure that we are creating a stronger, more inclusive, and antiracist community.
I thank everyone involved with the Alexandria Community Remembrance Project who are working to ensure that the deaths of Benjamin Thomas and Joseph McCoy are never forgotten and to continue to fight injustice. To get involved, please visit the Project's web page. 
Mark Jinks, City Manager
Mark Jinks, City Manager
City of Alexandria
It struck me in reading the detailed history of the lynching of Benjamin Thomas how the government of the City of Alexandria totally and completely failed in its duty to protect. One of the first responsibilities of a local government is the duty to protect its residents. That means protecting every resident, it means a presumption of innocence for each person, and it means that equal justice is achieved for all. The City of Alexandria government failed Mr. Thomas: first in explicitly intimidating and not allowing the Black men of the community to protect Mr. Thomas; second allowing a white crowd to murder and lynch him; and then donning a racist blindfold claiming that individuals in the mob could not be identified for prosecution. While it is incomprehensible that such a heinous crime of lynching could occur today, it is comprehensible that there is racial injustice today in City policies, systems and practices that does not fully protect all residents. Our City government has a duty to address these injustices.
Michael L. Brown, Ph.D., Chief, Alexandria Police Department
Michael L. Brown, Ph. D., Chief
Alexandria Police Department
The Alexandria Police Department was created 150 years ago and one of its blemishes in this long history occurred on August 8, 1899.  This was the day that Mr. Benjamin Thomas, an African American, was lynched on a lamppost at the intersection of South Fairfax and King Streets in the City of Alexandria.  This tragedy was executed by members of our community and occurred without any intervention by the City's law enforcement.
The City and its Police Department has evolved since this terrible event.   That said, all Alexandrians and those who serve this community must remember our history and the hard lessons they teach us.  This will assist us all in ensuring that our City will move forward as community that cherishes respect for all and trust in one another.
Corey Smedley, Chief, Alexandria Fire & EMS
Corey Smedley, Chief
Alexandria Fire & EMS
As the first African American Fire & EMS Chief for the City of Alexandria, I am acutely aware of the fact that my current position is only possible because of the sacrifices and the blood shed by those before me. In and out of uniform, I am subject to the confines of systemic racism and society's perception of who I am. Acknowledging the lynching of Benjamin Thomas, more than 120 years later, is an important step in confronting Alexandria's history and the racial terror that occurred. More significantly, we must make it a priority to honor Thomas' life by acknowledging our country's faults. And we can begin doing that by using common EMS procedures:  identifying the wounds, doing our part to care for those wounds, and making a conscious effort to move forward to a higher level of care and healing.
Jaqueline Tucker, Race and Social Equity Officer
Jaqueline Tucker, Race and Social Equity Officer
City of Alexandria
Today, we remember the tragic loss of Benjamin Thomas' life 120 years ago at the hands of an Alexandria mob. In many ways, Benjamin Thomas' life and subsequent lynching is a historic reminder of the racism, oppression, violence and denial of justice that has taken place and continues in our own city today. Burying such horrific events of our past impedes all progress for our community. It is important for us to face our past and acknowledge the many ways that these social forces still prevail, systemically and interpersonally.  In order to truly honor the life of Benjamin Thomas, we must appreciate his humanity and reject the denial of humanity for so many others occurring at this time. The City of Alexandria is committed to facing past misdeeds and addressing the legacies of institutional violence and racism that this tragic event reveals.
Social Justice Reading List
About the Reading List
In honor of Benjamin Thomas, City of Alexandria Library staff have curated a list of social justice reading for adults and for youth. We hope you will find these selections educational and moving. These titles - both fiction and nonfiction - provide context for discussion of race, class, violence and American society.
Readings for Teens
Anderson, Carol – We Are Not Yet Equal: Understanding Our Racial Divide
Farish, Terry – The Good Braider
Hope Perez, Ashley – Out of Darkness
Jewel, Tiffany – This Book is Anti-Racist
Johnson, Maureen – How I Resist
Jones, Kimberly – I'm Not Dying with You Tonight
Lewis, John – March series
Magoon, Kekla – How It Went Down
Magoon, Kekla – Light It Up
Morris, Brittney – Slay
Oshiro, Mark – Anger is a Gift
Reynolds, Jason and Ibram X. Kendi – Stamped: Racism, Antiracism, and You
Reynolds, Jayson – All American Boys
Stone, Nic – Dear Martin
Thomas, Angie – The Hate U Give
Watson, Renee – Piecing Me Together
Readings for Adults
Alexander, Michelle – The New Jim Crow: Mass Incarceration in the Age of Colorblindness
Blackmon, Douglas – Slavery By Another Name: The Re-Enslavement of Black Americans from the Civil War to World War II
Coates, Ta'Nehesi – Between the World and Me
Coates, Ta'Nehesi – We Were Eight Years in Power: An American Tragedy
Cushway, Philip – Of Poetry & Protest: From Emmitt Till to Trayvon Martin
Cooper, Brittney – Eloquent Rage: A Black Feminist Discovers Her Superpower
DiAngelo, Robin – White Fragility: Why It's So Hard for White People to Talk about Race
Emdin, Christopher – For White Folks Who Teach in the 'Hood... and the Rest of Y'all Too
Harris-Perry, Melissa – Sister Citizen: Shame, Stereotypes, and Black Women in America
Kendall, Mikki – Hood Feminism: Notes from the Women that a Movement Forgot
Kendi, Ibram X. – How to Be An Antiracist
Khan-Cullors, Patrisse – When They Call You Terrorist: A Black Lives Matter Memoir
Oluo, Ijeoma – So You Want to Talk about Race
Cushway, Philip – Of Poetry & Protest: From Emmitt Till to Trayvon Martin
Pinckney, Darryl – Blackballed: The Black Vote and US Democracy
Rothstein, Richard – The Color of Law: A Forgotten History of How Our Government Segregated America
Smith, Danez – Don't Call Us Dead
Ward, Jessmyn – Men We Reaped: A Memoir
Whitehead, Colson – The Nickel Boys
Wilder, Craig – Ebony & Ivory: Race, Slavery, and the Troubled History of America's Universities
Readings for Children
Alexander, Kwame –The Undefeated
Anderson, Beth – Lizzie Demands a Seat! Elizabeth Jennings Fights for Streetcar Rights
Bausum, Anne – The March Against Fear
Bland, Bob – The Little Book of Little Activists
Bolden, Tony – Changing the Equation: 50+ Black Women in STEM
Braun, Eric – Protest Movements: Then and Now
Browne, Mahogany L. – Black Girl Magic: A Poem
Byers, Grace – I Am Enough
Bynum, Betty K. – I'm a Pretty Little Black Girl
Cabrera, Cozbi A. – My Hair is a Garden
Celano, Marianne – Something Happened in Our Town: A Child's Story about Racial Injustice
Cherry, Matthew A. – Hair Love
Chung, Arree – Mixed: A Colorful Story
Clark-Robinson, Monica – Let the Children March
Colbert, Brandy – The Only Black Girls in Town
Craft, Jerry – New Kid
Curtis, Christopher Paul – The Watsons Go to Birmingham 1963
Curtis, Christopher Paul – But, Not Buddy
Digg, Taye – Chocolate Me
Digg, Taye – Mixed Me!
Draper, Sharon M. – Stella by Starlight
Draper, Sharon M. – Blended
Farrell, Mary Cronk – Standing Up Against Hate: How Black Women in the Army Helped Change WWII
Harrison, Vashti – Little Leaders: Bold Women in Black History
Harrison, Vashti – Little Legends: Exceptional Black Men in History
Higginbotham, Anastasia – Not My Idea: A Book about Whiteness
Hudson, Wade – We Rise, We Resist, We Raise Our Voices
Johnson, Chelsea – Intersection Allies: We Make Room for All
Kluger, Jeffrey – Raise Your Voice: 12 Protests that Shaped America
Latham, Irene – Can I Touch Your Hair? Poems of Race, Mistakes, and Friendship
Latour, Francie – Auntie Luce's Talking Paintings
Lester, Julius – Let's Talk About Race
Maldonado, Torrey – What Lane?
Manushkin, Fran – Happy in Our Skin
Mendez, Yamile Saied – Where Are You From
Moyer, Naomi M. – Black Women Who Dared
Moyle, Eunice – Be the Change: The Future Is in Your Hands
Nyong'o, Lupita – Sulwe
Obama, Barack – Of Thee I Sing: A Letter to My Daughters
O'Brien, Anne Sibley – I'm New Here
Paul, Caroline – You are Mighty: A Guide to Changing the World
Penfold, Alexandria – All Are Welcome
Pinkney, Andrea Davis – Let It Shine: Stories of Black Women Freedom Fighters
Ramee, Lisa – A Good Kind of Trouble
Ramsey, Calvin A. – Ruth and the Green Book
Rhodes, Jewell Parker – Black Brother, Black Brother
Rhodes, Jewell Parker – Ghost Boys
Rippon, Jo – Rise Up! The Art of Protest
Rogers, Amy B. – What's Racism
Rotner, Shelley – All Kinds of People
Saunders, Claire – The Power Book
Shabazz, Ilyasah – Betty before X
Taylor, Mildred D. – Roll of Thunder Hear My Cry
Weatherford, Carole Boston – Schomburg: The Man Who Built a Library
Williams-Garcia, Rita – One Crazy Summer
Wilson, Jamia – Young, Gifted, and Black
Woodson, Jacqueline – The Other Side
Woodson, Jacqueline – Brown Girl Dreaming
Woodson, Jacqueline – Harbor Me
Woodson, Jacqueline – The Day You Begin
Readings Related to Teaching Children about Race, Racism, Slavery, and Racial Terror Lynching
Digital Guest Book
About the Digital Guest Book
As part of this community reflection, share your thoughts, artwork, or creative writing after viewing the information on this In Memoriam page. Email your work to historicalexandria@alexandriava.gov. Selections will be posted on this web page.
Martha Harris
We are all part of this history which affects us all today. I thank those who tell the story and continue to fight for justice.
Mike Jenkins, Arlington
I lived in Old Town Alexandria for some time more than 30 years ago. I lived on the same street as Benjamin Thomas 5 blocks down. I never heard of his lynching. How truly awful, 16 years old. How awful for his mother and father as well. Thank you for sharing his story and keeping his and Joseph McCoy's memories alive.
Richard E. Merritt
I want to express my gratitude to all those involved with the Alexandria Community Remembrance Project on the production of the powerful and unforgettable Remembrance of Benjamin Thomas. I want to especially single out the members of the Research Committee that produced the amazing and extremely informative narrative of the lynching of Benjamin Thomas.
Bryan Stevenson, the founder of the Equal Justice Initiative, once wrote: "Racial healing cannot take place until the country faces the truth about its history." And I can never forget the quote by Maya Angelou I saw painted on the building that houses Stevenson's Legacy Museum in Montgomery during my visit last year: "History, despite its wrenching pain, cannot be unlived, but if faced with courage, need not be lived again."
The Memoriam for Benjamin Thomas (like the one last year for Joseph McCoy) are two great strides in helping our community come to grips with the "truth about our history" and moves us a few steps closer toward reconciliation.
Mary Zoeter, Alexandria
I commend the Remembrance Project for its meticulous work in presenting the horror of the lynching of Benjamin Thomas. How good it would be to say that Americans have learned from Thomas' death and that such atrocities are no longer happening today; however, this is not the case. As I read the narrative of Thomas' death, I bemoaned the fact that it eerily recalls today's events – with lying politicians and a continuous string of unjust deaths on the part of officers of the law.
The sheriff spoke of the "Code of Silence" surrounding the police. Alas, this code still exists. It is very easy for our politicians to engage in inspiring rhetoric, but many of us want to see concrete action to make the lives of Black people better.