Visit Museums and Historic Sites
Alexandria is a desirable location to live, work and play. The City owns many of the premier historic sites in Alexandria and it is charged with the conservation, interpretation and promotion of these links to the past. Plan your visit to Historic Alexandria with the resources below.
Page updated on
November 1, 2023 at 9:52 AM
About Historic Alexandria
Plan Your Visit
Below is all the information you need to plan a visit to the Historic Alexandria museums - address and phone numbers, hours, admission fees, special programs and more. The Historic Alexandria museums are free for City of Alexandria residents.
More City of Alexandria Sites
Visit the African American Heritage Park, Contrabands and Freedmen Cemetery Memorial, Alexandria Union Station, and the garden spaces at the Murray-Dick-Fawcett House and Lloyd House.
The Lloyd House administrative office and the Archives and Records Center are open by appointment.
Visiting Alexandria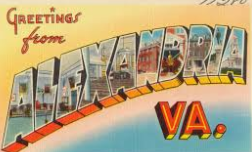 Explore centuries of human history. Visit the museums to see a 13,000-year-old Clovis point, an 18th-century apothecary, a restored Civil War fort, a 1940s segregated library, and more.
As you walk along Alexandria's historic streets, look for Wayfinding and Heritage Trail signs to learn about Alexandria's past, or use our self-guided tours.
Alexandria was named a Top 3 Best Small City in the U.S. 2019 by the Condé Nast Traveler Readers' Choice Awards, the #1 Best Value U.S. Travel Destination 2018 by Money magazine, and one of the South's Prettiest Cities 2018 by Southern Living. The National Trust for Historic Preservation selected Alexandria as one of the 2011 Dozen Distinctive Destinations. Alexandria was chosen for its urban charm that blends an extraordinary early American past with modern flair and its citizens' strong commitment to protecting and celebrating their history.
The Alexandria Convention and Visitor Association provides information on historic sites, hotels, restaurants, shops, parking and more. When in Alexandria, stop by the Alexandria Visitors Center at Ramsay House at 221 King Street, or call 703.746.3313 for information. Purchase a Key to the City Pass ($20 for a $60 value, including access to all of the museums).
The Historic Alexandria Museum Store, at the Alexandria History Museum at The Lyceum, offers great gift ideas a wide variety of Alexandria-related merchandise and the very best selections from all the Historic Alexandria museum stores. Your purchases support programming at Historic Alexandria's museums. Purchase event tickets, donate to your favorite museum, become a member, and buy selected merchandise online at The Alexandria Shop.
Key to the City Pass

The best way to unlock Alexandria's rich culture and history is with the Alexandria Visitor Center's Key to the City museum pass. From Alexandria's co-founders to the nation's first president and from the Civil War to civil rights, learn about our remarkable history and walk amongst original 18th-and 19th-century architecture preserved by a city dedicated to honoring its past.
For only $20 — a $60 value — the Key to the City museum pass includes:
Access to 9 historic sites
40% off for the following:
George Washington's Mount Vernon admission
City Cruises anchored by Hornblower roundtrip water taxi pass
10% off coupon for museum store purchases valid at 11 sites
Suggestions of 3 additional free historic sites
Walk Alexandria's Historic Streets
Wayfinding Signs
Look for Wayfinding signs on and around King Street, for pedestrian-oriented maps and interpretive panels conveying the city's rich history. Signs start near the King Street Metro and continue down to the Alexandria waterfront. 
Alexandria Heritage Trail
Historic markers, located in many locations around town, inform residents and visitors alike about many facets of Alexandria's history. More than 50 Heritage Trail signs have been placed in different parts of the city, on the 23-mile Alexandria Heritage Trail and beyond. 
Self-Guided Tours
Explore Historic Alexandria with self-guided tours. Walk or bike with the guidance of brochures, maps and cue-sheets, podcasts and apps.
More Historic Attractions in Alexandria
Alexandria also has many fine museums and historic sites that are not City-owned. Information on these historic attractions, including address, hours and admission fees can be found at the links below, at the Alexandria Visitors Center at Ramsay House, and online at VisitAlexandriaVa.com.