In Memoriam 2021: Joseph McCoy April 23, 1897
The City of Alexandria's Community Remembrance Project invites Alexandrians to join in the remembrance of Joseph McCoy, a black teenage resident who was killed by a lynch mob at the corner of Lee and Cameron Streets in 1897.
Page updated on
May 6, 2022 at 9:52 AM
In Memoriam: Joseph McCoy April 23, 1897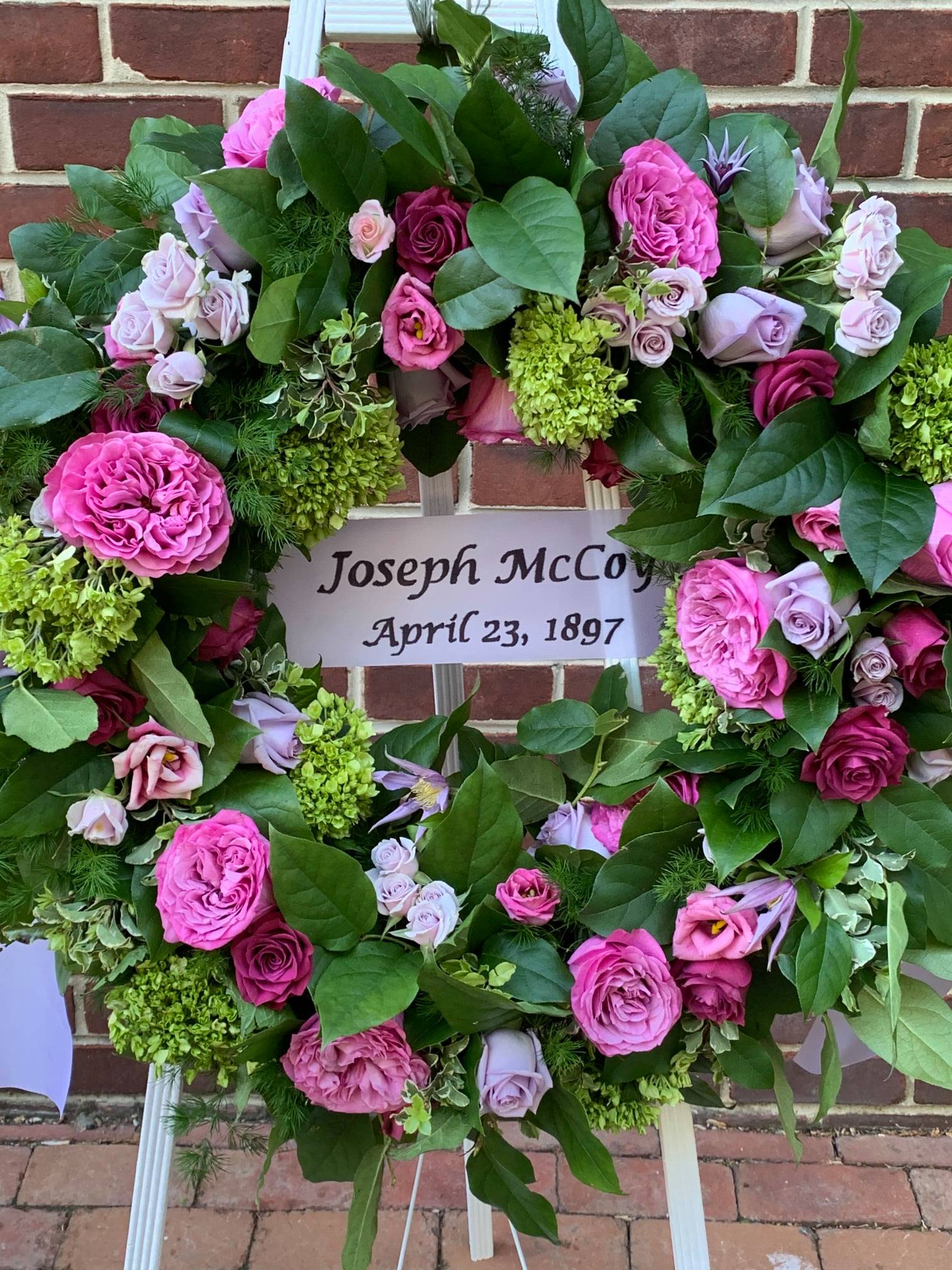 The City of Alexandria's Community Remembrance Project invites Alexandrians to join in the remembrance of Joseph McCoy, a black teenage resident who was killed by a lynch mob at the corner of Lee and Cameron Streets in 1897. This weekend, learn more about Joseph McCoy, pay your respects at the lynching location, and view the newly installed remembrance marker. City Hall will be illuminated in purple, the color of mourning, throughout the weekend. It is our hope that this April 23, 2021 memorialization will provide belated accountability, reconciliation, honor, and respect for Joseph McCoy.
The City of Alexandria is committed to the accurate dissemination of its history. The murder of Joseph McCoy is recognized as a terrible chapter in Alexandria's past. To fight injustice and to keep the memory of Alexandria's lynching victims alive, you are invited to participate in the Alexandria Community Remembrance Project. 
The 2021 memorial includes this In Memoriam page.  Also view the 2020 In Memoriam page and read the ACRP Newsletter, April 2021 for more information.
Memorial Events
Lynching Remembrance
Friday, April 23 at 8 a.m.
Southeast corner of North Lee and Cameron Streets.
A recording of the remembrance ceremony is posted here.
 
Lecture
A White Historian Confronts Lynching
A free lecture with historian Susan Strasser and Poet Marcia Cole
Saturday, April 24 at 1 p.m.  
Please note this events will not be recorded. 
This lecture is part of the Community Remembrance Project Lecture Series with historian Susan Strasser sponsored by the Alexandria Community Remembrance Project.  Susan Strasser is an award-winning historian and a Distinguished Lecturer for the Organization of American Historians. She has been praised by the New Yorker for "retrieving what history discards: The taken-for-granted minutiae of everyday life."  A reading list is provided for this event.
 
Illumination of Alexandria City Hall
City Hall was illuminated in purple, the color of mourning, throughout the weekend.
In Honor of Joseph McCoy
Proclamation
Read the proclamation in honor of lynching victim Joseph McCoy who was murdered on April 23, 1897. This Proclamation acknowledges both of Alexandria 's lynching victims and is a formal apology from The City of Alexandria for past racial injustice. 
A Poem for Joseph McCoy
Feeling in Blanks ... For Joseph McCoy
© KaNikki Jakarta, Poet Laureate of Alexandria, Virginia April 17, 2020 
Black Boy
Born to Ann and Samuel as Reconstruction ended
And the era of Jim Crow started
Left many family members broken hearted 
Before his life as a man officially began
A sorrowful trend amongst black families
Tugging on heart strings to rejoice or weep
when black boys are birthed
A blessing and a curse on a family tree
Because we're never sure if someone will kill you
And write you down in history untrue
After accusing you of crimes like 
Assaulting someone white
Talking back to someone white
Looking at someone white
Whistling at someone white
Despite putting up a fight or screaming a denial
You might get a trial
But it will be unjust 
Although you initially denied it all
I think you thought it was best to confess…
This is not a history that belongs to you alone
And if you would have grown
Just a bit older
You may have cried on someone's shoulder 
Two years later over another black boy named Benjamin Thompson 
Who shares this story too
I wish I could talk to you
I would ask you what really took place
I wish I could look upon your face 
to hear your story
The way that you would have it told
The way that circumstances would unfold
On April 23, 1897
Truth is, I want to pen your story
But the newspapers don't show
What happened all of those years ago
But this is what I know…
You were born Joseph McCoy
You had four siblings and you were the youngest boy
And before you were ever thought to be
Your grandmother Cecilia McCoy was born free
More than a half century
Before you were lynched 
Hanged from a lamppost and shot multiple times
No family members would claim your body
And no one was ever charged with a crime
But, this is not the part of your story that I would want to tell
I don't want to recap the horrible night a mob of 500 retrieved you from jail
I don't want to write about your how your funeral was held 
Instead, 
I would like to highlight 
That despite the fact you didn't celebrate your 21st birthday
Today, 
123 Years Later
You are celebrated
You are remembered 
A legend, a light
Shining bright 
even in your absence 
An ancestor whose story far surpassed the details of your death
A part of history that will let in peace be the way you rest
No one remembers the names of the people who took your life
They don't get glory for spreading bitterness and strife
But you
Joseph McCoy
A black boy
Born to Ann and Samuel as Reconstruction ended
And the era of Jim Crow started
Whose death left many family members broken hearted 
Before his life as a man officially began
A horrific trend 
In black history
Another tragedy
But your history will be one remembered alongside 
Others who were also lynched, shot, or hanged
But we will remember your name
Because your history is within my pen now
Within my words now
A black writer
Who decided to write about you in a positive way
But still today
We are left with the question 
Who could you have grown to be? 
If they would not have killed you
A New Historic Marker

Below is the text for the new historic marker installed at the site of the lynching, at the southeast corner of Cameron and Lee Streets. 
On a lamppost at this corner on April 23, 1897, Black Alexandria teenager Joseph H. McCoy was lynched. McCoy's white employer, Richard Lacy, alleged that McCoy had sexually assaulted his daughter. Similar accusations were routinely used against Black males to ensure domination and provoke racial terror within the African American community. McCoy was arrested without a warrant and held prisoner at the police station, located at present-day City Hall.
After multiple attacks on the station by hundreds of white men, the mob broke through McCoy's cell door and dragged him one block to this location. They shot him several times, bludgeoned him with an ax, and hanged him. The Alexandria Gazette reported that "other indignities were heaped upon his quivering remains." Such historically coded language suggested dismemberment, including castration, that was often inflicted on Black males who were lynched, especially in cases involving a perceived indignity to a white female.
Virginia Governor Charles O'Ferrall launched an investigation into the lynching. He laid blame on Alexandria Mayor Luther Thompson for failing to respond to repeated attacks despite knowing the mob intended to lynch McCoy. No officials or law enforcement officers were held accountable and no members of the white mob were ever arrested for McCoy's murder. Several Black men, however, were arrested based on rumors of retaliation. 
Upon viewing her nephew's body, McCoy's aunt declared, "As the people killed him, they will have to bury him." At the funeral, Rev. William Gaines of Roberts Chapel proclaimed, "I trust that the time will soon come when all people will realize the fact that the same judgment which they measure to others will be measured to them at the bar of God."
Joseph H. McCoy was buried in a pauper's grave at Penny Hill Cemetery.
The Lynching of Joseph H McCoy: A Narrative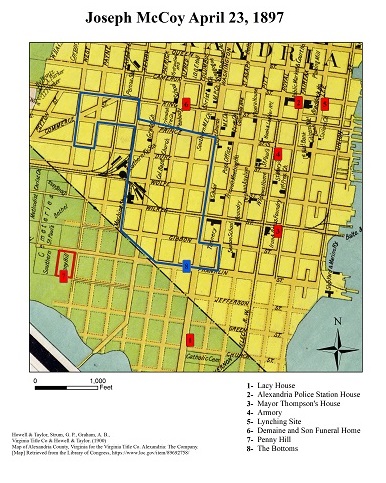 On the evening of April 22, 1897, 19-year-old Alexandrian Joseph McCoy was arrested without a warrant, dragged from his cell by a mob, and brutally lynched at the southeast corner of Cameron and Lee Streets. The full account of this hate crime was methodically researched in 2020 by the 13-member Research Committee of the Alexandria Community Remembrance Project.
The Lynching of Joseph H. McCoy, April 23, 1897
In the News
Joseph McCoy: Lynched in Alexandria, April 23, 1897
Statements by State and Local Officials and Staff
Senator Mark Warner
Senator Mark Warner
United States Senate
I am writing to join the City of Alexandria's Equal Justice Initiative Community Remembrance Project in remembering Joseph McCoy, Alexandria's first lynching victim.
Today, we gather together to reflect upon the life of Mr. McCoy and the many Black Americans who were heinously lynched in Alexandria and in communities across the United States during some of our darkest days. As Americans, we have a duty to share and remember our entire history—the good and the bad. Telling the whole story of the African American experience, from the tragedy of-the enslaved Africans to the important contributions of Black Americans over the past four centuries of American life, is important to renewing our resolve to build a strong, inclusive future together.
I send my best wishes for a meaningful and successful event.
Senator Tim Kaine
Senator Tim Kaine
United States Senate
I applaud the City of Alexandria and the community at large for your continued efforts to acknowledge the dark history of lynching in Alexandria, Virginia, and America. By memorializing Joseph McCoy and other victims of lynching, we force ourselves to reckon with one of the biggest moral failures in the history of our Commonwealth and country.
Sadly, racial injustice and violence is not only in our history, but also our present. We must continue to reform our systems and make them equitable for all. This is why I have cosponsored legislation to finally make lynching a federal crime, while also improving transparency in policing by collecting better and more accurate data of police misconduct and use-of-force, improving police training and practices, and holding police accountable in our courts. These reforms and many others are long overdue, and we see the need for them every time we look at the news.
Your advocacy is an important step in truly dismantling the painful architecture of discrimination against African Americans that began on Virginia soil more than 400 years ago. I am proud to serve as your senator and support efforts such as these. Best wishes for a meaningful memorial.
Congressman Don Beyer
Congressman Don Beyer
United States Congress
This statement was submitted for the Congressional Record.
Madam Speaker, I rise today in memory of Joseph McCoy. On the morning of April 23, 1897, an African American named Joseph McCoy, just a teenager, was lynched in Alexandria, Virginia. On April 22 Joseph McCoy was arrested without a warrant. That evening and into the early morning of April 23 a white mob made two attempts to break into the police station where he was being held. In the second attempt the mob forcibly took him from his jail cell, shot him, bludgeoned him, and hanged him from the lamppost on the southeast corner of Cameron and Lee Streets. McCoy was buried in a pauper's grave at Penny Hill Cemetery. Joseph McCoy was the first documented lynching victim in Alexandria.
The lynching of Joseph McCoy is only one of 86 documented lynchings committed in Virginia between 1880 and 1930. These acts of premeditated violence were deliberate attempts by whites to terrorize and control black populations across the state.
On April 23, the City of Alexandria's Equal Justice Initiative Community Remembrance Project will hold a remembrance event for Joseph McCoy. It will feature the unveiling of a small in-person marker and a wider commemoration via an In Memoriam web page.
It is incumbent on all of us, particularly those born into privilege, to remember this shameful episode of our history and others like it. In doing so, we are better able to see the continuous chain of racially motivated violence against black Americans that spans our nation's history. We can truly honor the memory of Joseph McCoy along with the countless number of named and unnamed victims of racial violence by seeking justice for all Americans and working to build a more inclusive society.
Delegate Mark Levine
Delegate Mark Levine
Virginia House of Delegates
We remember
Because the dead have dignity.
We remember
Because the living have responsibility,
We remember
Because some injustice can never be undone,
And we remember
So that we pursue justice
In the memory
Of those
Whose memory
Calls out for justice and
Calls out for us
To remember.
Rest In Peace,
Benjamin Thomas.
And if our unrest is unpeaceful
At the memory of your life
And your death,
Then let our unrest
Propel us not to rest
Until justice rolls down like waters,
And righteousness like an ever-flowing stream.
Dana Lawhorne, Sheriff
Dana Lawhorne, Sheriff
City of Alexandria
Joseph McCoy was in police custody and inside the police station when he was abducted and murdered in a racially motivated lynching. Despite living in Alexandria my entire life and working as an Alexandria law enforcement officer since I was 22, I did not know about this part of our city's history until just a few years ago.
As police officers, we heard about the bravery of those who had served before us. But we rarely heard about the failures of our predecessors. And we certainly never heard about the role that officers played in allowing the lynchings of Joseph McCoy and Benjamin Thomas to happen. But now that we do know, we cannot allow their names and murders to ever be forgotten.
While we honor the memory of Joseph McCoy, those of us in law enforcement must also acknowledge our profession's role in the history of racial oppression and recognize the importance of addressing racial inequities that exist today.
Thanks to the difficult but vital work of the Alexandria Community Remembrance Project, we can begin to better understand our past and embrace the opportunity to heal.
Bryan L. Porter, Commonwealth's Attorney
Bryan L. Porter, Commonwealth's Attorney
City of Alexandria, Virginia
As a lawyer and a public servant, I strongly believe the rule of law is all that stands between us and anarchy. Cherished rights, such as the presumption of innocence, the government's burden of proving charges beyond a reasonable doubt, and the obligation to provide due process are designed to ensure a citizen's liberty is not capriciously infringed.
However, history is replete with examples of the derogation of these rights, and our country's shameful history of lynchings is the starkest reminder of its inability to live up to the ideals enshrined in the Constitution. James McCoy received neither the presumption of innocence nor due process. Instead, his life – and all the promise it held – were violently stolen from him by an angry, racist mob. The extrajudicial murder of James McCoy must be remembered, and his life honored, for if we do not confront and accept the evils of the past we cannot hope to progress toward a more just society.
Mohamed E. "Mo" Seifeldein, Councilman
Mohamed E. "Mo" Seifeldein, Councilman
Alexandria City Council
On the morning of April 23, 1897, Joseph McCoy, an African American teenager, was lynched on the Southeast Corner of Cameron and Lee Street in Alexandria. McCoy was arrested without a warrant and locked in a cell at the Alexandria Police Department---the current location of Alexandria's City Hall. McCoy was tortured and his body was badly mutilated. Accounts indicate that he was struck in the head with a cobblestone and shot three times, in addition to being lynched.
America's history of lynchings is painful and disturbing. Lynching's, as some might believe, were not isolated murders committed by men in white hoods in the middle of the night. Instead, they were often public crimes witnessed and horrifyingly celebrated by hundreds of people. In Alexandria, many residents participated in the mob that killed McCoy while law enforcement stood by idly. On April 23, 2021, 124 years after this atrocious act we must remember McCoy. We must always tell the truth about what happened that early morning, because truth, transparency, and reconciliation are sequential and the only way that we can heal as a community.
Remembering and acknowledging the human rights violations of the past informs and molds our future. And while the questions may be uncomfortable for some, we owe it to our community and country, moreover, to ask ourselves if we have truly addressed matters of injustice. This especially rings true when it comes to extra-judicial killings by people in power. Certainly, the unjustifiable killings of Black, Indigenous, and People of Color, at the hands of law enforcement without serious consequences, breeds a culture of impunity that we must consider. In remembering and atoning for the murder of Joseph McCoy, the City must ensure that meaningful changes are implemented. As a black elected official in the City of Alexandria, I am committed to ensuring that our community lives up to its equity aspirations. I am encouraged by our resident's attention to this tragedy and confident that we will get there.
Michael L. Brown, Ph.D., Chief, Alexandria Police Department
Michael L. Brown, Ph. D., Chief
Alexandria Police Department
The Alexandria Police Department's 151-year history is far from perfect. It contains the stains of several appalling events. One of those is the lynching of Mr. Joseph McCoy, an African American Alexandrian, on April 23, 1897. An angry, white mob stormed the police station twice, succeeding the second time in their efforts to drag Mr. McCoy from a cell, and carry him a block away where they hanged him from a lamppost, shot him multiple times and bludgeoned him. There was minimum intervention from law enforcement. Some officers tried to help but were injured by the mob. Some leaders of the Police department and the City either ignored or denied the lynching threat, then lied when questioned to protect themselves and those involved.
That is not who the Alexandria Police Department is now. A lot can be learned over 124 years. We hold ourselves accountable for our actions. We are proud to be a 21st Century Policing agency because it is based on respect for others. Our officers take an oath to serve and protect all Alexandrians equally and do so every day. That is how we as an agency, and a City, move forward from a tarnished history to a brighter and better future.
Social Justice Reading list
About the Reading List
Here are some additions to the 2020 Social Justice Reading List, provided by the City of Alexandria Library staff. We hope you will find these additional selections educational, and moving. These titles - both fiction and nonfiction - provide context for discussion of race, class, violence and American society.
Readings for Teens
Young Adult Fiction
Dear Justyce – Nic Stone
How it Went Down – Kekla Magooon
I'm Not Dying with You Tonight – Kimberly Jones
Internment – Samira Ahmed
Light it Up – Kela Magoon
Monster – Walter Dean Myers
Punching the Air – Ibi Zoboi
The Absolutely True Diary of a Part-time Indian – Sherman Alexie
This is My America – Kim Johnson
Tyler Johnson Was Here – Jay Coles
Young Adult Non-Fiction
All Boys Aren't Blue: A Memoir-Manifesto – George M. Johnson
Freedom Summer for Young People: The Violent Season that Made Mississippi Burn and Made America a Democracy – Bruce Watson
Separate No More: The Long Road to Brown v. Board of Education – Lawrence Goldstone
This Book is Anti-Racist – Tiffany Jewel
We Are Not Yet Equal: Understanding Our Racial Divide – Carol Anderson
Readings for Adults
Caste: The Origins of Our Discontents – Isabel Wilkerson
Dear America: Notes of an Undocumented Citizen – Jose Vargas
Don't Call us Dead – Danez Smith
Driving While Black: African American Travel and the Road to Civil Rights – Gretchen Sullivan
Four Hundred Souls: A Community History of African America, 1619-2019 – Ibram X. Kendi
Hood Feminism: Notes from the Women that a Movement Forgot – Mikki Kendall
In the Country We Love: My Family Divided – Diane Guerrero
Let the People See: The Story of Emmett Till – Elliott J. Gorn
Medical Apartheid: The Dark History of Medical Experimentation on Black Americans from Colonial Times to the Present – Harriet A. Washington
Minor Feelings: An Asian American Reckoning – Cathy Park Hong
Overground Railroad: The Green Book and the Roots of Black Travel in America – Candacy A. Taylor
Playing in the Dark: Whiteness and the Literary Imagination – Toni Morison
Soul City: Race, Equality, and the Lost Dream of an American Utopia – Thomas Healey
The Black Friend: On Being a Better White Person – Frederick Joseph
The Color of Law: A Forgotten History of How our Government Segregated America – Richard Rothstein
The Fire This Time: A New Generation Speaks about Race – Jessmyn Ward
Uncomfortable Conversations with a Black Man – Emmanuel Acho
Well, That Escalated Quickly: Memoirs and Mistakes of an Accidental Activist – Francesca Ramsey
White Fright: The Sexual Panic at the Heart of American's Racist History – Jane Elizabeth Dailey
Why I'm No Longer Talking to White People about Race – Reni Eddo-Lodge
You Can't Touch My Hair and Other Things I Still Have to Explain – Phoebe Robinson
You'll Never Believe What Happened to Lacy: Crazy Stories About Racism – Amber Ruffin
Readings for Children
Children's Picture books
A Place inside Me: A Poem to Heal the Heart – Zetta Elliott
Antiracist Baby – Ibram X. Kendi
Cool Cuts – Mechal Renee Roe
Crown: An Ode to the Fresh Cut – Derrick Barnes
Eyes that Kiss in the Corners – Joanna Ho
I am Brown – Ashok Banker
Overground Railroad – Lesa Cline-Ransome
We are Water Protectors – Carole Lindstrom
Children's Fiction
Children's Non-fiction
A Ride to Remember – Sharon Langley, Amy Nathan
Be the Change: The Future is in Your Hands – Eunice Moyle
Black Girl Magic: A Poem – Mahogany L. Browne
Black Women Who Dared – Naomi M. Moyer
Can I Touch Your Hair? Poems of Race, Mistakes, and Friendship – Irene Latham
Changing the Equation: 50+ Black Women in STEM – Tony BoldenLet It Shine: Stories of Black Women Freedom Fighters – Andrea Davis Pinkney
Let's Talk About Race – Julius Lester
Minor Feelings: An Asian American Reckoning – Cathy Park Hong
The Talk: Conversations about Race, Love & Truth – Wade Hudson
The Teachers March: How Selma's Teachers Changed History – Sandra Neil Wallace
Unspeakable: The Tulsa Race Massacre – Carole Boston Weatherford
Woke: A Young Poet's Call to Justice – Mahogany L. Browne
Photo Gallery
These photos were taken at the Lynching Remembrance, Friday, April 23 at 8 a.m. See a recording of the remembrance ceremony, above.
Photo credit, Jeff Hancock Photography