Audrey Davis to Lead City of Alexandria's New African American History Division
Page updated on
May 23, 2023 at 12:30 AM
Audrey Davis to Lead City of Alexandria's New African American History Division
For Immediate Release: May 9, 2023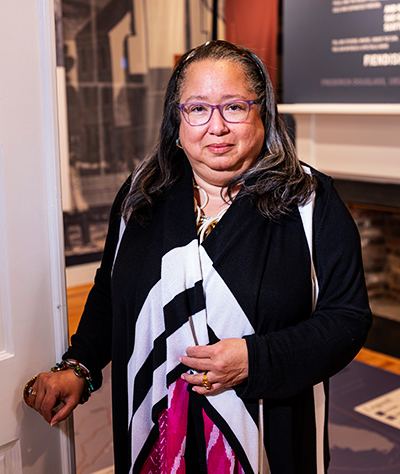 The City of Alexandria is pleased to announce that Audrey P. Davis has been named the Director of the African American History division of the Office of Historic Alexandria (OHA). Davis joined the City in 1993, beginning as a part-time curator and most recently serving as the Director of the Alexandria Black History Museum (ABHM) located at 902 Wythe Street.
Since 1982, the role of OHA has expanded beyond the walls of its museums to historic interpretation of the whole City. The African American History division is a part of a larger reorganization of OHA, which will prioritize resident outreach, improve visitor experience, and regularly engage residents in City initiatives. This new division will ensure the continued inclusion of Black History in City museums and public programming, as well as advancing the City's goal of building a welcoming community through equity and inclusion.
Davis has served as a public steward for the City's African American history nationwide and overseas. In 2021, the ABHM was awarded a prestigious grant by the Institute of Museum and Library Sciences (IMLS) which is aiding in the digitization of the City's Moss Kendrix Collection. Recently, her work with the Freedom House Museum located at 1315 Duke Street was profiled in Preservation Magazine's Winter 2023 issue.
For more information, visit the Office of Historic Alexandria.
For inquiries from the news media only, contact the Office of Communications & Public Information at newsroom@alexandriava.gov or 703.746.3969.
If you prefer communication in another language, free interpretation and translation services are available to you, please call 703.746.3961 or email genevieve.babecki@alexandriava.gov.
                                                                                                     ###
About the City of Alexandria
Founded in 1749, the City of Alexandria is a full-service, independent, city in Virginia with a AAA/aaa credit rating and a national reputation for progressive and responsible government. With a fast-paced business environment and walkable neighborhoods, Alexandria is a world-class destination where businesses and nonprofits choose to call home. Alexandria's ample office space and urban amenities offer room to grow – a value unmatched in the region. Located minutes from the nation's capital, Alexandria's old-world charm and cutting-edge innovation are the perfect mix for attracting a diverse community, talented workforce, and enthusiastic visitors.