Eugene Simpson Athletic Diamond Fields Renovation Plan
In 2014, the City completed a Citywide Parks Improvement Plan for six parks, including a plan for Simpson Park. Several plan recommendations have been implemented since 2014 and this project will address the remaining outstanding recommendations. Improvements will also address drainage and surface improvements on the two diamond fields.
Page updated on
Jan 26, 2023 at 11:37 AM
PROJECT BACKGROUND
In 2021, Recreation, Parks and Cultural Activities (RPCA) began designing renovations of Eugene Simpson Stadium Park. Proposed improvements are based on the findings of substantives community outreach, which culminated in the 2014 Simpson Stadium Park Improvement Plan. Between completion of the improvement plan in 2014 and the start of design in 2021, the community identified the need for improvement to both Big and Little Simpson Ball Fields. In totality, the proposed park renovation project seeks to implement the park improvements listed below:  
Install a planted tree buffer with native vegetation along the E. Duncan Alleyway 
Extend the hardscape trails to the north-eastern section of the park 
Install a new ADA compliant access off E. Monroe to the dog park and rectangular fields 
Install new bleachers at Big and Little Simpson 
Improve the dugouts at Big and Little Simpson 
Install additional storage at Big Simpson 
Install a dedicated concessions stand at Big Simpson 
Install a new passive use and picnic area adjacent to the concession stand 
Improve traffic flow and expand the parking lot 
Install synthetic turf at Big Simpson to address drainage and playability issues  
Re-grade the natural turf field at Little Simpson to address drainage issues
DESIGN PHASE
The goal of the current project phase is to develop and permit a fully constructible design, which satisfies the objectives listed and does not exceed the project budget. As part of this phase, community outreach will be performed to build consensus around the proposed design. Impacts to existing facilities and user groups will be discussed and reviewed to create a design that meets the project goals and community needs.
To review the most recent diagram of the Simpson Park renovation project in English or Spanish or to leave us your thoughts and comments click the links below.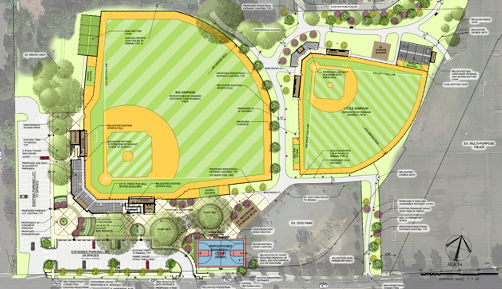 We want to hear your feedback!
Survey: English & Spanish
PROJECT CONSULTANTS
Gordon  
Gordon is a recognized professional services design firm providing civil engineering, landscape architecture, land surveying, land planning, and physical site security design to a broad spectrum of market sectors and clients. Gordon practices in both the public and private market sectors.  
Timeline and Project Updates
PLANNING PHASE 
In the summer of 2012, the Department of Recreation, Parks and Cultural Activities (RPCA) began a multi-year process with the public to develop a Citywide Parks Improvement Plan. The goal of this initiative was to study and understand the existing conditions and future needs for Alexandria's parks that are over 10-acres, municipally owned, and have multiple uses, including: Ben Brenman and Armistead L. Boothe Parks, Chinquapin Park, Four Mile Run Park, Joseph Hensley Park, the Holmes Run Park System, and Simpson Stadium Park. These parks serve as vital open spaces for our community, providing recreational opportunities, areas for picnic and relaxation, and ecological benefits to the City. 
The Park and Recreation Commission formally endorsed the Citywide Parks Improvement Plan on April 10, 2014. Final Simpson Park Improvement Plan (2014). 
In 2021, the community advocated for additional improvements at athletic fields citywide. To understand the community's needs at Simpson Stadium Park, a park plan amendment was proposed in July 2021 to include the option to convert one or both diamond fields to synthetic turf. Following community engagement, the amendment was approved in November 2021.
DESIGN PHASE TIMELINE
December 2021: Data Collection 

March 2022: Schematic Design 
Est. May 2023: 90% Design 

Est. August 2023: Final Design 
CONSTRUCTION PHASE
Construction is estimated to commence in February of 2024 and conclude in October of 2025. RPCA will coordinate with schedule user groups to facilitate programing at alternative locations where and when possible. Please stay tuned for additional updates as design progresses. 
COMMUNITY MEETINGS & PUBLIC OUTREACH
June 17, 2022 
RPCA provided an update to the Park and Recreation Commission on the proposed concept design for Simpson Park and collected feedback on the design 

June 13, 2022
RPCA provided an update to the Youth Sports Advisory Board on the proposed concept design for Simpson Park and collected feedback on the design. 

April 21, 2022
RPCA introduced the design process and community engagement proposal to the Park and Recreation Commission and collected feedback on the design and process. 

2021 Eugene Simpson Stadium Park Citywide Park Improvement Plan Amendment 
The community is invited to provide feedback on a proposed Plan Amendment to the 2014 Plan to provide an option for one or both diamond fields to be converted to synthetic turf. Comments can be provided via email to Bethany Znidersic at bethany.znidersic@alexandriava.gov, or mail to 1108 Jefferson Street, Alexandria, VA 22314.