The Legacy of George Floyd: the Black Lives Remembered Collection
Historic Alexandria launched a collecting initiative in 2020 and the donations received led to the creation of a new collection at the Alexandria Black History Museum.
Page updated on
June 29, 2023 at 9:35 AM
The Legacy of George Floyd: Documenting Alexandria's Response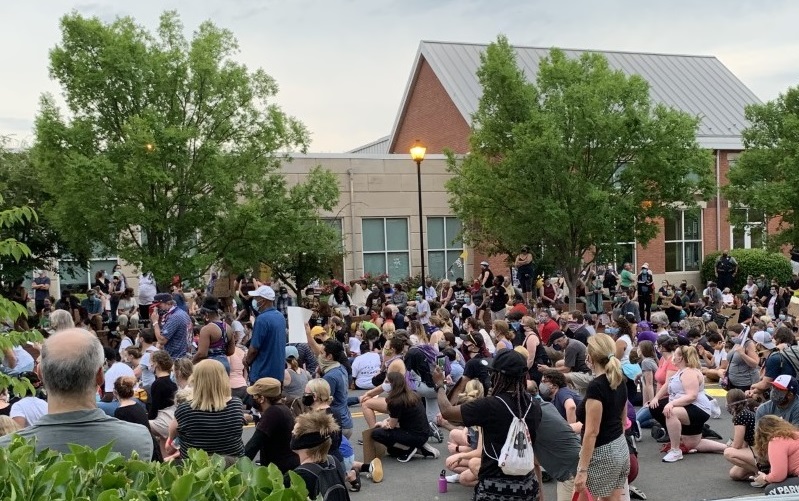 The City of Alexandria supports the peaceful expression of community concerns, and many City leaders have  spoken out in solidarity. Peaceful vigils, protests and other events took place in Alexandria during the first week in June, following the May 25, 2020 death of George Floyd at the hands of police in Minneapolis, Minnesota.
With the murder of George Floyd, the continued push for racial equity in America reached a breaking point. Millions of people in the United States and around the world are demanding that institutions and political leaders address the disparity in treatment of African Americans. Since the dawn of American slavery in 1619, African Americans have fought for freedom, citizenship and equality in daily life. The frustration, sadness and anger of Americans is evident. Millions have chosen to protest and speak out for the right of everyone to live free of fear of police brutality, and to achieve equity in employment, health care and education. This current movement has the power to enact change for many.
The mission of history museums is to document and preserve our history accurately, so that all may learn from it. The Office of Historic Alexandria through the Alexandria Black History Museum wants to document your stories from this incredible moment in American history. Please consider donating your protest placards, your buttons, stickers, artwork and t-shirts. We hope you will also work with us to tell your stories through our Oral History Program. Please read below for more information on how to donate and share your views. 
How shall Integrity face Oppression? What shall Honesty do in the face of Deception, Decency in the face of Insult, Self-Defense before Blows? How shall Desert and Accomplishment meet Despising, Detraction, and Lies? What shall Virtue do to meet Brute Force? There are so many answers and so contradictory; and such differences for those on the one hand who meet questions similar to this once a year or once a decade, and those who face them hourly and daily.

― W. E. B. Dubois (1868-1963)  
The Black Lives Remembered Collection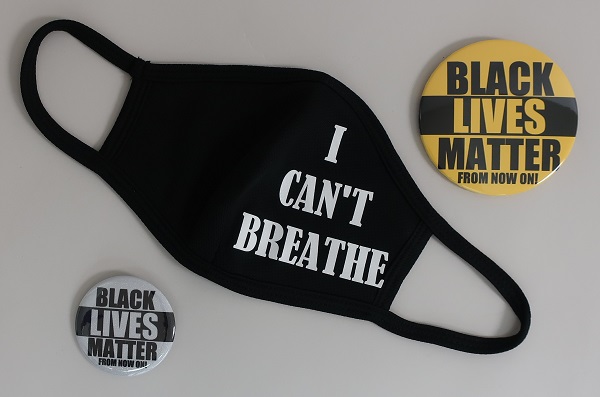 The Alexandria Black History Museum is dedicated to not only collecting the story of Alexandria's past, but also documenting its present for future generations. Following the tragic murder of George Floyd on May 25, 2020, the Alexandria Black History Museum put out a call to the community to record their feelings, thoughts, artwork, photographs, and objects that would help us to document the legacy of the Alexandria community's response to this tragedy and the wave of peaceful protests and vigils that followed. The objects and digital photographs that we received from the local community form the basis of the Museum's new Black Lives Remembered Collection.
The Black Lives Remembered Collection can now be viewed at Historic Alexandria Collections Online.
See more collections from the Alexandria Black History Museum
Preserving Their Names: An Online Exhibition
"Preserving Their Names" is the new online exhibition showing objects and digital photographs from the Alexandria Black History Museum's Black Lives Remembered Collection. Illustrated with material donated via The Legacy of George Floyd Collecting Initiative, the exhibition documents some of the ways the local community responded to the tragic murder of George Floyd on May 25, 2020.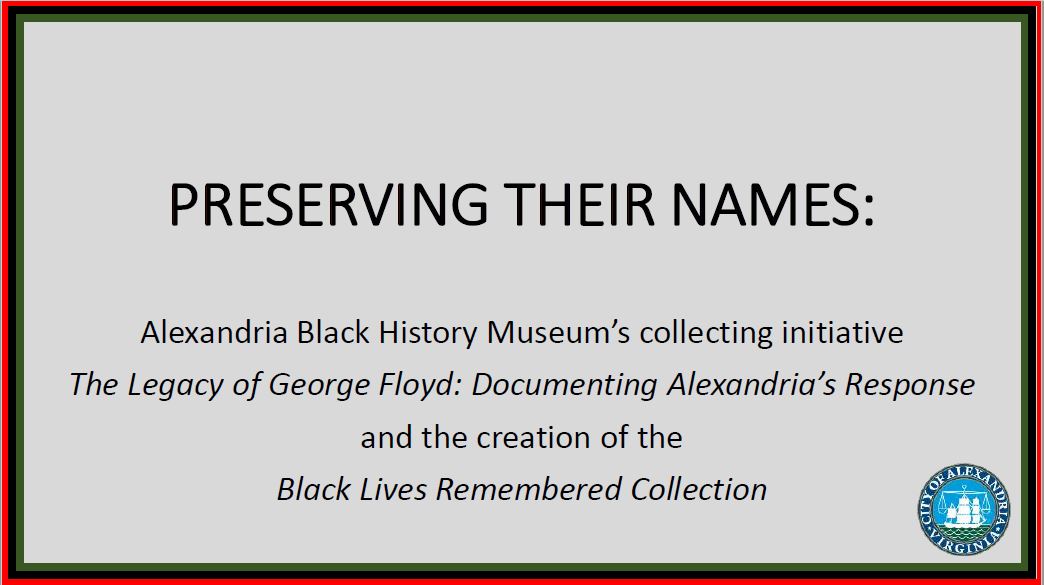 Share Your Story
Share your reaction, stories and experiences about living or working in Alexandria during these events. How has the death of George Floyd and the subsequent national and local events affected your life and that of your family? Did you participate in the peaceful vigils, protests, marches or other events in Alexandria? As a resident of Alexandria, were you moved to join the protests in DC? How have you been able to help others? How have others helped you? What have you noticed that is different about Alexandria?
Do you have signs, flyers, artwork, objects or photographs that can help us document our community's response?
At this time, we ask that you hold on to objects that may be considered for future acquisition, but you may submit images which will help our curatorial staff select representative items from all sectors of the Alexandria community. 
Please fill out this form to share your story, and to share information about objects that you are interested in donating to the Black Lives Remembered Collection, especially objects such as signs and posters. You can use the online "Share Your Story" form below, or contact the Museum directly at 703.746.4356.
Help spread the word, so that others in our community can share their story, by posting this flyer: The Legacy of George Floyd: Documenting Alexandria's Response.
You can attach up to five items to the survey, if you wish. 
Your original writings (Word or PDF)
Your original drawings/artwork (JPG, PNG or PDF)
Your original photographs (JPG or PNG)
Your original short videos (provide link to YouTube, or submit files up to 16 MB.
Photographs of objects, for consideration for acquisition (JPG or PNG) 
Oral History: The Alexandria Legacy Project
Would you like to be interviewed by our Oral History team? If you indicate on the form that you are willing to be interviewed, our staff will review the information that you submitted for consideration for an interview. We regret that we cannot interview everyone who might be interested. We will attempt to select stories that are representative of different segments of the community. See Oral History: The Alexandria Legacies Project for more information.
African American History and Social Justice in Alexandria
Visit our website and our Alexandria Community Remembrance Project web page to learn more about Alexandria's African American history and social justice in the City. We will look forward to seeing you soon in person. 
Read statements from Audrey Davis, Director of the Alexandria Black History Museum
George Perry Floyd, Jr. (October 14, 1973 – May 25, 2020) (June 9, 2020)
9 minutes and 29 seconds
Say His Name
George Floyd's life mattered. His life story matters. His murder matters. He became part of a horrible trinity on May 25th when his killing came shortly after the murders of Breonna Taylor and Ahmaud Arbery. This trinity is just the most recent example of America's horrible legacy of racial terror deaths. 
In a few weeks, these three deaths tragically highlight what many ignore and chose not to see – that racism is ingrained in American society. Technology permits individuals to document in real-time their life stories, and capture history in the making. For many, these videos share the best of our lives and the aspirational. For African Americans, technology gives us the ability to share our grim reality. The power of video permits many to see what African Americans have reported for generations - black and white lives do not have the same currency in America. For years, there have been too many videos of lives cut short for living while black. Many African Americans died before George Floyd and there have been others killed since his murder. It must stop now! As America and the world finally appear to be "woke" to the damage of systemic racism, museums and cultural institutions must lead the charge to make history more inclusive. Many museums have pledged to preserve the history of this moment so that Americans can learn from our mistakes. Cultural institutions are an important part of the greater catalyst for change in this country.
For centuries African American lives were not their own. Held in bondage, their labor and intellect were used to build this nation. Then these black bodies were jettisoned when no longer needed. Still, African Americans survived. They created a culture that infuses America with life today. Their contributions to science, literature, art, music, and foodways, ensure that each day Americans benefit from, enjoy, and have their lives made easier due to African American intellect and creativity. Today, Americans will not stand for more black lives jettisoned due to hate.
The Alexandria Black History Museum (ABHM) follows in the footsteps of sister museums related to African American history and culture. The ABHM values a history that has been ignored, distorted, and undervalued. The ABHM staff strives to give voice to the voiceless. We work to preserve what has been torn down, tossed aside and purposely destroyed. The ABHM is a safe and welcoming place to gather and Speak Truth to Power when the world moves backwards instead of forward. 
Without early African American institutions, like the Hampton University Museum which opened in 1868, and hundreds of other African American museums, historical societies and organizations, we would have never reached September 2016, when the Smithsonian Institution opened the National Museum of African American History and Culture to the public. A National site that reminds the world every day that Black Lives Matter!  No longer will African American history be in the words of Preservation Virginia …. suppressed, excluded, misrepresented and undervalued…All keepers of African American heritage pledge to forever say George Floyd's name, preserve the history he represents, and educate the public about the millions of brilliant minds lost to hate in America.
George Floyd is one man. A man who ignited a movement. I can't breathe...It is time for all of America to take a breath and fight in his memory. Fight to make this world a better place, so no African American ever has to plead - I can't breathe! 
Audrey P. Davis, Director, Alexandria Black History Museum
June 9, 2020
(Note: originally subtitled 8 minutes and 46 seconds, this statement was updated on May 25, 2021 to reflect the longer time as revealed in the trial.)
The Legacy of George Floyd -- One Year Later (May 25, 2021)
Spring 2020 was a time of fear. Everyone was terrified of Covid-19 and the many unknowns about the virus. How did it spread? What were the symptoms?  How could we could keep our loved ones safe?  
Then on May 25, while quarantined in our homes, we witnessed the murder of an African American man named George Floyd on the evening news, and we watched it repeatedly. For many Americans, emotions moved from fear to anger. How could a man making an everyday transaction at a local convenience store end up dead? Unfortunately, Black deaths over transgressions like this one were not new to the African American community, but this time other Americans saw it and could not turn away. Anger turned to activism, and communities around the world took to the streets.  
The national and international attention to George Floyd's murder made us hope that his death would not be in vain and that true systemic change would occur. Sadly, since Floyd's death, more senseless deaths have occurred. 
Yes, there have been changes – Diversity and inclusion training are being taught in universities and the American workplace, some racists are being held accountable, corporations have promised new more transparent hiring procedures that would add African Americans to leadership positions, TV shows and advertisers have hired people of color in record numbers and The Oscars are not quite so #OscarsSoWhite anymore. All of this is meaningful, but it must be more than a quick fix. Everyone needs an ally, but being a true ally goes deeper than the protests. To be a real ally, you need to be there for the hard work, the messy work, and the unpleasant conversations about race and racism. You need to turn the mirror inward and make the personal changes that will help make your community a better place. 
Everyone has the power to effect change and fight inequality. The two most important things a person can do is to understand American race history and Speak Truth to Power. By understanding America's history of racial hate crimes and the pervasiveness of systemic racism people can call out injustice when witnessing it. This is one positive way to keep George Floyd's memory alive. Finally, each take 9 minutes and 29 seconds to remember George Floyd and the many Black Lives Lost to racial violence.
The Alexandria Black History Museum and Historic Alexandria are committed to witnessing and telling this history and Alexandria's place within it. Over the last year, ABHM has been collecting donations from the community to document the activism that happened in the City and the surrounding area. Named as the Black Lives Remembered Collection, these items help to capture this moment in Alexandria's history for the future. To coincide with the one year anniversary of George Floyd's murder, the Alexandria Black History Museum (ABHM) is launching a virtual exhibition called Preserving Their Names. 
The online exhibit features images of objects and digital photographs from the new Black Lives Remembered Collection. It documents some of the public and personal ways the local community responded to the tragic death of George Floyd on May 25, 2020. 
Preserving Their Names uses donated objects, digital photographs, artwork, poetry, and prose to document the public response at vigils, marches and through the vast array of signs and messaging that appeared across the area. It also shares the intimate, personal thoughts of the lives impacted by this national event in their own words. 
If you want to become part of social justice initiatives, join the Alexandria Community Remembrance Project (ACRP) which is committed to educating Alexandria citizens about the city's history of racial terror hate crimes.
Audrey P. Davis, Director, Alexandria Black History Museum
May 25, 2021
Messages Regarding the Killing of George Floyd
Resolution Adopted by the Alexandria City Council
Message from Mayor Justin Wilson
May 29, 2020
Collectively, we have again been witnesses to a black man's murder by a public servant sworn to protect and serve. I have struggled over the past few days to figure out the right words to say in response. We look to leaders with a performative expectation to fill the void with wisdom and a suggested path forward. As leaders we scour the internet for wise quotes, search for articles, looking for anything that might give those that we serve a reason to be hopeful.
But I got nothing.
Those who know me, know that I am prone to bulleted lists of policy answers for the problems that face our community. Perhaps, to a fault. I could certainly cite our racial equity initiative, our work to bring more transparency to policing, the plans for body-worn cameras in our future, work to ensure diversity in our police force, our efforts to train public safety employees in de-escalation techniques and our community policing initiatives. But we have heard all of this before.
Checklists do not solve this problem. We are called upon to uproot a culture of white supremacy woven into our founding as a nation, perpetuated through law and custom for generations, and present today in even the most "progressive" communities in our country, including Alexandria. That is a culture of white supremacy that devalues black lives and ignores the impact of hundreds of years of history on the present.
The on-going COVID-19 outbreak has exposed one aspect of the disparities that exist in our City, as residents of color have been more infected, struggle more to recover and die more than our white residents have. This is not because the virus is racist. It is because generations of disparities of every kind have created deep racial divides in health conditions and healthcare access.
In our City there are deep racial divides in wealth. This is not because the actors in our economy are all racists. It is because generations of disparities of every kind have built an economy that perpetuates wealth for those who have it and hinders social mobility for those that lack it.
A few months ago a homeowner in one of the most affluent neighborhoods in our City pulled me aside and showed me the early 20th century restrictive covenant that he had unearthed for his home. That document stated that "no lot or any part thereof shall ever be sold, leased to or occupied by any person of the negro race." This was the line after the document stated that "pigs, poultry, cows and goats" could also not be kept on the premises. While those agreements, and the subsequent "redlining," "steering' and other insidious tactics have been illegal for decades, their legacy can safely predict how and where Alexandrians in the year 2020 live, work, learn and play.
In wealth, in education, in housing, in health and in justice, our City is full of inequities, some glaring, some subtle.
When we fix that, we will truly be doing something to honor George Floyd and the many that have preceded him and those that will likely follow him.
Message from Vice Mayor Elizabeth Bennett-Parker
June 5, 2020
Dear Neighbors,
As we mourn the unjust murders of George Floyd, Breonna Taylor, Ahmaud Arbery, David McAtee, Nina Pop, and so many others before them, I see the trauma and pain our black neighbors are experiencing, and have been experiencing for centuries. To my white neighbors, I ask you to join me in listening, learning, unlearning and taking action. 
We live in a society based on hundreds of years of systemic racism. We must learn about this history, how racism pervades our institutions, and how we personally contribute to, benefit from, and tolerate white supremacy. To paraphrase Angela Davis, it is not enough to be non-racist, but we must actively work to be antiracist.
I recognize that I have work to do, both personally and professionally, and that the work will never end. I have a responsibility to use my platform to speak up about these issues. The best way to do that is to amplify the voices of black leaders in our community.
If you haven't already done so, please listen to and read their words. And then take action.
Click here to see Majority Leader Charniele Herring's Video
"How long do you continue to back a powerless person in the corner before they come out scrapping, and fighting for their lives? On top of being systemically abused for 400 years, we are supposed to be saints? Why are you comfortable telling an enslaved people how they should feel and respond? At what point, even if you don't fully agree, do you understand and just listen? The fact that any white person feels ok telling black people how to respond to the 400 years of trauma that continues to be inflicted on them, is in and of itself PRIVILEGE. The fact that anyone can once again, deflect the real issue, by placing emphasis on the reaction to the crime, as opposed to the atrocity of the act itself, is PRIVILEGE. The fact that anyone can call out the unfairness of a hashtag that doesn't include them is PRIVILEGE."
Click here to read School Board Member Meagan Alderton's full comments.
Alyia Gaskins and Katie Leonard are Alexandria leaders who, in addition to their other important work in our community, have a podcast called Checkbox Outreach. The podcast elevates viewpoints and stories from those whose voice may be muted and gives voice to the experiences that demonstrate the vast inequities people of color have experienced over time. Visit their website and listen to and subscribe to the podcast on Spotify. 
Action Items:
I look forward to doing this work with you.
Black Lives Matter.
Message from Councilmember Canek Aguirre
May 31, 2020
I have been struggling to find words and honestly still can't. The week has been draining both physically and emotionally on top of trying to figure out how to live in a pandemic. What I haven't been able to shake from my head is what I've heard over and over again from friends and complete strangers: "It just broke me."
What we're seeing nationwide is just that, a breaking point. In communities across the country this is the culmination (again) of having one's humanity repeatedly denied for simply existing and no accountability for those responsible for repeated violations of our dignity and rights as a human being. George Floyd, Ahmaud Arbery, Breonna Taylor, and countless others whose names we know and those we don't, should be alive today. It is our collective responsibility to ensure they receive justice.
Numerous reports and images of individuals infiltrating these peaceful protests with the sole purpose of causing destruction and mayhem is sadly nothing new. The same restraint showed to those who stormed state capitols with military grade weapons should be given to those protesting unjust violence and systemic racism that has been embedded into our policies, institutions and society.
We cannot wait to win over hearts and minds, we have been trying to do that for centuries. Our policies must change NOW if we are to move forward. We have to create a new normal.
Message from Councilmember Amy Jackson
June 7, 2020
Horrified. Outraged. Grief-stricken. Disgusted. Ashamed. Unnerved. Disappointed. Frustrated. Criminal.  
Reflecting on George Floyds's death today, time has not extinguished any of these emotions (and so many more where words are not enough). This is how I felt then, and still feel now, about this crime, this murder of a black man. He should not have had to fend for his life.  He did not deserve this.  No black or brown person does. 
"Momma..." This one word alone.  Everyone has one.  Some of us are one.  This word.  Pleadingly.  Raw. Chilling. This word crosses all races.  There is no mistake his message with this one word. This is the instant that I know he knows he's going to die and there's nothing he can do to stop it.  I have sobbed knowing that no one is coming to his rescue.  There is no one there protecting him. Those police officers sworn to serve and protect the people failed.  They failed. They failed George Floyd. They failed their job. They failed humanity. Of all the cries for help... 8 minutes, 46 seconds... to feel so helpless... George Floyd was saying goodbye. It was an abuse of power by law enforcement. It was murder. How many times has that word, "Momma," been said by slaves, prisoners, captives? "Momma," the one woman in the lives of most, who could be depended upon to always fight for and protect their children?  That, to me, should be the shot heard around the world. The commencement of a war to end all wars on racism.  "Momma" 
"I can't breathe."  Protesting should not stop. Forums on systemic racism should not stop. Listening should not stop. The "hard" conversations should not stop.  Policy reform is happening. It is slow, but it is finally happening, and it is creating the positive change we want and need.  George Floyd, Breonna Taylor, Ahmaud Arbery, all black lives deserve respect. No black or brown life should be taken by the hands of violence, by an abuse of power, without thought, without respect, without dignity. No black or brown life should be taken like this. Period. 
"Black Lives Matter." Alexandria is changing. We know our history.  We cannot erase it.  It happened.  We need to remember it. We are learning from it, taking the initiative to change what is not equal, not equitable, not right, and not go back. We can only go forward.  We need to continue to engage with our community, our elected officials, our city leaders, our law enforcement, our criminal justice system and make the course corrections needed.  We must communicate. We must educate ourselves on what we need to do better and then do it, quickly and efficiently.  We must correct the socioeconomic hardships. This is the only way to go. We must evolve. We must voice our opinions.  We must change our laws. We must do better. And we must do it as a community together. 
The one thing I believe we can all do right now: Take a moment. Talk to our children.Teach our children to respect all people no matter the color of their skin or the differences in their lifestyle. This should be a priority.  And not just say it.  Do it.  Be the role model. Our children need to see this in action.  All day. Every day. Teach them to look at others, in the eye, to show others they are seen.  That they are seen and heard.  They matter.  People matter. Black Lives Matter.
Message from Sheriff Dana Lawhorne
As a law enforcement officer for over 41 years I can say unequivocally that the actions taken by the former police officers in Minneapolis that caused the death of George Floyd were inexcusable. No law enforcement officer has ever been trained to take the actions that those officers took; they have been trained to do the exact opposite. The ultimate responsibility of a law enforcement officer is to preserve and protect the lives of ALL members of the community they serve.
This event is a tragic reminder that we, as law enforcement officers, must do more to hold each other to the high standard of conduct that is expected and demanded by those we serve. We cannot stand by and remain silent when unacceptable conduct by our peers occurs, no matter how minor or major it is.  We must be better for ourselves and our community as lives depend on it. I can assure you that this has been and always will be my message to my staff.
As Sheriff, I am given the gift of protecting and serving our community. I have always considered it a duty and an honor.  It disturbs me when I see others abuse that power. There is no room for people like this in law enforcement.
Sheriff Dana Lawhorne
May 30, 2020
Message from Commonwealth's Attorney Bryan Porter
June 2, 2020
Statement Regarding the Murder of George Floyd
I begin by noting I am aware that words alone cannot rectify the problems our country is experiencing. Furthermore, I acknowledge I cannot truly understand the pain and anger the African-American community feels. However, as a public official, I think it is important for the citizenry to know where I stand.
As a human being, I am personally affected by the events of the past week and I add my voice to the myriad that stands against police brutality and for the right of peaceful protest. Regardless of one's socioeconomic status or the color of one's skin, all life is precious and all human beings must be treated with dignity and compassion.  
As a public official, I have a responsibility to acknowledge the racism that exists in the criminal justice system and to work with law enforcement leaders, local elected officials, and citizens to establish progressive policies and institutions and try to build bridges of trust with the community. All citizens want the same thing: a safe and caring community in which they are treated with the dignity and respect they deserve.  
While I normally refrain from commenting on cases that occur in outside jurisdictions for fear that I do not have all of the relevant information, the Minnesota video is all the evidence needed for a reasonable mind to be convinced that the officer is guilty of murder. I have never seen an officer exhibit such utter contempt and disregard for a citizen. To put it plainly, to keep a knee on a handcuffed man's neck for 9 minutes while he pleads for his life is overwhelming evidence of malice and would be supportive of a murder charge under Virginia law. I also believe that the other officers present at the scene, who did nothing to intervene, should be criminally charged as accomplices. I strongly deplore these officers' actions, wholeheartedly support the prosecution of the charged officer, and expect and await charges against the accomplice officers.
Furthermore, I support the people's right to peacefully assemble and protest. While I cannot endorse or condone destruction or violence, the citizenry's First Amendment right to peacefully protest the government should not be infringed. The federal government must cease its attempt to militarize its response as this simply inflames passions, exacerbates the likelihood of more people being hurt, and causes further division.
Throughout our history, our county has found a way to move forward from the significant challenges it has faced. We are a country of human beings, each of us imperfect, and our progress therefore is slow and insufficient to adequately address the problems presented. As a country, we must harness the current anger and outrage and use it in the battle toward the elusive concept known as justice.  
Bryan L. Porter
Message to City Employees from City Mark Jinks and Race & Social Equity Officer Jaqueline Tucker
May 30, 2020
Dear Colleagues:
For many of us, this past week has been a difficult one. We have reached the grim milestone of 100,000 coronavirus deaths in the United States in a little under 120 days. Many of those deaths disproportionately impacted Black, Brown and Indigenous populations. We have also witnessed a series of racist incidents, including the death of George Floyd, an unarmed Black man, at the knee of a white police officer in Minneapolis.
Although we may not be sharing physical space with our colleagues, it is important for us to hold space and recognize that what we are experiencing is not normal and should not be normalized. We also must acknowledge that the unique issue underlying both of these outcomes is systemic and institutional racism. These incidents combined show us that it is more than just healthcare or our justice system but a culture, upheld by generations of policies, procedures, and practices, that pervades all of our institutions -- education, employment, transportation, housing, environment, income, wealth, the arts -- that has led to unequal outcomes for Black, Brown, Indigenous, People of Color (BIPOC).
For those of us who have been deeply impacted with hurt, pain, trauma and maybe hopelessness, now may be the time to take rest. Now may be the time to take care of yourself and love your family and friends a little harder. Now may also be the time to organize and act, if you so choose.
For those who have pursued knowledge, empathy and action to help promote justice for all, thank you. We are especially proud of everyone in City government who makes justice and equity part of their daily work, both in law enforcement positions and beyond.
For others, now is the time to consider what it means to be a genuine ally to BIPOC and other historically marginalized groups. Now is the time to acknowledge that our colleagues are hurting, and it is not business as usual. In fact, we have a unique opportunity to make a significant shift in what we do and how we do it. Now is the time to acknowledge that our collective humanity is damaged when we choose not to recognize the hurt, pain, and ongoing unjust treatment of others. When we choose not to recognize disproportionate outcomes related to COVID-19 or police brutality we perpetuate and maintain those same systems and cultural norms.
As City government, we have a social responsibility to all our residents. We are aware of the differences in well-being and life outcomes experienced by historically marginalized Alexandria residents. We are focused on working with and centering communities of color and those who have not historically had a voice in decision-making. We are committed to the safety of our community and those who protect and serve it well. We will remain committed to learning and understanding the role of racism as a leading factor in many of those outcomes and evaluating our own policies, practices, and decisions with an equity lens. We are ALL Alexandria.
City and community leaders will come together for a virtual town hall on Tuesday, June 2, from 7 to 8:30 p.m., to give voice to community in the wake of the murder of George Floyd. These conversations will be ongoing.
For immediate learning, please consider these resources:
Being Antiracist – Smithsonian National Museum of African American History and Culture
What is System Racism? (Videos) – Race Forward
Alexandria's Community Health Assessment & Improvement Plan
Mark Jinks
City Manager
Jaqueline Tucker
Race & Social Equity Officer
Message from Police Chief Michael Brown to the Alexandria Community and Alexandria Police Department
A Letter to the Alexandria Community and the Alexandria Police Department
June 1, 2020
Last week, I too watched a video that shocked me in many ways.  Personally and professionally, I was appalled at what I saw.  I witnessed a homicide at the hands of a cop, and the victim of that homicide was Mr. George Floyd.  I had a very difficult time processing what I saw in that video, and it brought back a flood of memories from my youth in the 1960's and various times throughout my career working with cops.  I have publicly shared the following perspective with community leaders and in open conversations with the public over the past few days.
There is no excuse for the violence I observed in that video.  Human life is to be treasured, not discounted or taken for granted.  My parents taught me that at an early age and it was reinforced through my faith.  Yet, I struggled with the images I saw in the video.  I was not alone in the thoughts I was harboring.  I spoke with many of the members of the Alexandria Police Department and discovered they shared the same feelings – mostly anger.
My anger at Mr. Floyd's death comes from several directions.  First, he was a human being and another soul.  No individual should suffer these consequences in the manner in which Mr. Floyd did.  Mr. Floyd also was killed by a police officer.  Many people will make the connection that police officers do this all the time.  Yet, I do know that officers I have had the privilege to serve with are, like me, very angry at the police officer that killed Mr. Floyd and the other officers who failed to respond to Mr. Floyd's pleas for help.  Finally, I am confounded by the fact that this homicide has once again peeled off the bandage on a long-existing issue of equity in our society, one that has continued without adequate intervention.
It is time now for us to witness the justice that Mr. Floyd and his family deserve.  They need to know that many law enforcement professionals are appalled at what they witnessed.  They also need to know that I and others in the law enforcement community are willing to help address the societal equity issues that are, once again, in the forefront of the discussion.  It is my sincere hope that we finally address these issues – in policing, in the criminal justice system, and the socioeconomic arena.  We need to heal!
The Alexandria Police Department is proud to be a 21st Century Policing agency because it is all based on respect for others.  We do and have done a lot of things to move forward as a professional organization.  One thing I consistently ask myself and others in the Department is "do you have the heart to be a police officer"?  That heart is to serve, that heart is to understand, that heart is to have compassion, and that heart is to protect all that need protection.  It requires sacrifice, but that is the calling of professional policing and is what the public demands from us.  The Alexandria Police Department employees I have spoken to know and understand this and they are committed to these principles at many levels.  That is why the tragic death of Mr. Floyd affects many of them so deeply.
The Alexandria Police Department has worked extremely hard for a long time to become a professional policing agency and has been recognized as such for a number of years.  Yet, we also know we can always improve and must be receptive to making changes that make sense for us and the community.  However, we are but one part of the underlying issues raised following the death of Mr. Floyd.  I pray that America will stay focused on Mr. Floyd and the many victims of racial inequity that have come before him, so that they will not be lost again to short attention spans or the many distractions of our time. We need to do more!
Michael L. Brown
Chief, Alexandria Police Department
Alexandria Police Officers Speak Out on the Killing of George Floyd
Members of the Alexandria Police Department speak from the heart about the killing of George Floyd by a police officer in Minneapolis on May 25, 2020.