Pool Addressing Project
The City of Alexandria is initiating a project to assign addresses to private swimming pools in the community.
Page updated on
October 19, 2022 at 12:11 PM
Overview: Pool Addressing Project
The City of Alexandria is initiating a project to assign addresses to private swimming pools in the community. When emergencies occur at large swimming pools, it can be challenging for emergency personnel to navigate to the correct location without a formal address. Once pool addresses are approved, they will be added to the CAD 911 system resulting in improved locational accuracy for public safety personnel. This increased locational accuracy can improve emergency response times for Police, Fire, and EMS personnel to these locations.
Staff from the Alexandria Fire Department will be visiting your site to further explain the purpose and benefits of this project and to offer suggestions related to pool signage.
FAQs
What is the goal of the Pool Addressing Project?
The goal of this project is to provide unique addresses for swimming pools within multi-family residential complexes. Complexes containing multiple pools will receive a unique address for each pool. In addition to the emergency response benefits, the property owner can use these pool addresses to obtain city permits for property maintenance, repairs, or construction.
What do property owners need to do?
Selected properties will be mailed an official address notification document which will contain information about the addressing process and a map of their pool property with the proposed address. Owners are to review the address notification document and contact the City with any questions or concerns.
How long is the review period?
The review period will conclude on April 15, 2022. After this date, the proposed addresses will be automatically approved. Once approved, the City will send a final address notification to you, and your address(es) will be added to our databases.
What happens after my address(es) are approved?
After the pool addresses for your property have been approved, signs displaying your pool address must be posted at the main pool building and within each individual pool area. Signs must be installed within 60 days after the final address notification is sent to you. Displaying this signage is the responsibility of the property owner.
What are the signage requirements for my pool?
For your pool property there are two types of address signage: signage for the main property and interior signage for individual pools. Please see details below for each type below.
Signage for the Main Property
City requirements for addressing the main property are as follows:
The address sign must be in a location that is easily visible.
The location can be free standing (front lawn area) or at pool house building.
Signs must be installed at the entrances of the main property must point to the location of the pool. 
Numerals indicating the official numbers for the main property shall be posted in the following manner (Sec. 5-2-87 - Posting numbers):  
(a) Each number shall consist of not less than three-inch-high Arabic numerals contrasting in color to the structure on which they are mounted, affixed in such a way as to be located within five feet of the entrance. In those cases where the entrance numbers are not visible from the street, additional numbers shall be installed on the building or on auxiliary signs in such a manner as to be visible from the street.  
(b) Building numbers will be a minimum of three inches high for locations up to 50 feet from the curb or pavement edge. For each additional 25 feet of setback beyond the initial 50 feet of setback, the numbers shall increase in size by one inch in height. For buildings over 150 feet from the curb, auxiliary signs shall be installed.
Interior Signage for Individual Pools
For signage within individual pools, the City recommends placing pool address signs around the pool (e.g. fences, walls) and in locker rooms where someone calling 911 will easily see it. Patrons will not likely remember the formal address displayed at the main entrance. Having an abundance of addressing signs in highly visible locations will increase chances of a swift response during an emergency. Below (Figure 1) is an example of a sign that would help a 911 caller at a pool during an emergency situation. This style of sign is cost effective and readily available to pool owners/operators.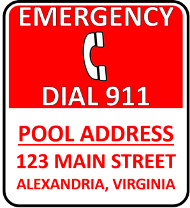 Figure 1 - Example Interior Pool Signage 
SmartSign is one example of a vendor that can provide interior pool signage. For assistance with recommended locations of interior signage, contact Firefighter Ashley Whisonant, Alexandria Fire Department's Community Outreach Coordinator, at ashley.whisonant@alexandriava.gov or 703.746.5217. For questions specific to the address (address name, address number, etc.), contact Analyst Moe Abu-Rabi at moe.aburabi@alexandriava.gov.
Process to Approve Pool Signage 
Once you are ready to purchase and post pool signage, please contact the City of Alexandria Code Department to schedule an on-site inspection to gain necessary approval.
Email address: chris.evans@alexandriava.gov
Phone number: (703) 746-4251