Fleet Management
Fleet Management is responsible for maintaining the City's vehicles and major construction equipment. This division services approximately 800 units in its fleet, including police patrol cars, pick-up trucks, sedans, hybrid fuel vehicles, dump trucks, tractors, and SUVs.
Page updated on
March 31, 2023 at 3:00 PM
News
The City of Alexandria has been named one of the 100 Best Fleets in the Americas. The City ranked No. 80 on the list, which is compiled annually by the National Association of Fleet Administrators (NAFA), a membership organization for public and private fleet management professionals. The competition is open to all public fleets in North, Central, and South America; fleets are judged on 12 criteria for excellence, including the use of technology, collaboration, and resource stewardship. To learn more about the award, visit nafa.org/awards/the-100-best-fleets/.
The City of Alexandria's fleet has been recognized as a Notable Fleet!  The distinction, given by Government Fleet magazine, was announced on March 30, when the publication named its Leading Fleets for 2022. The awards program, co-produced with the American Public Works Association and sponsored by Ford Pro, recognizes operations that are performing at a high level, particularly in fleet leadership, competitiveness and efficiency, planning for the future, and overcoming challenges. Awards and recognitions will officially be presented at the Government Fleet Expo and Conference in May.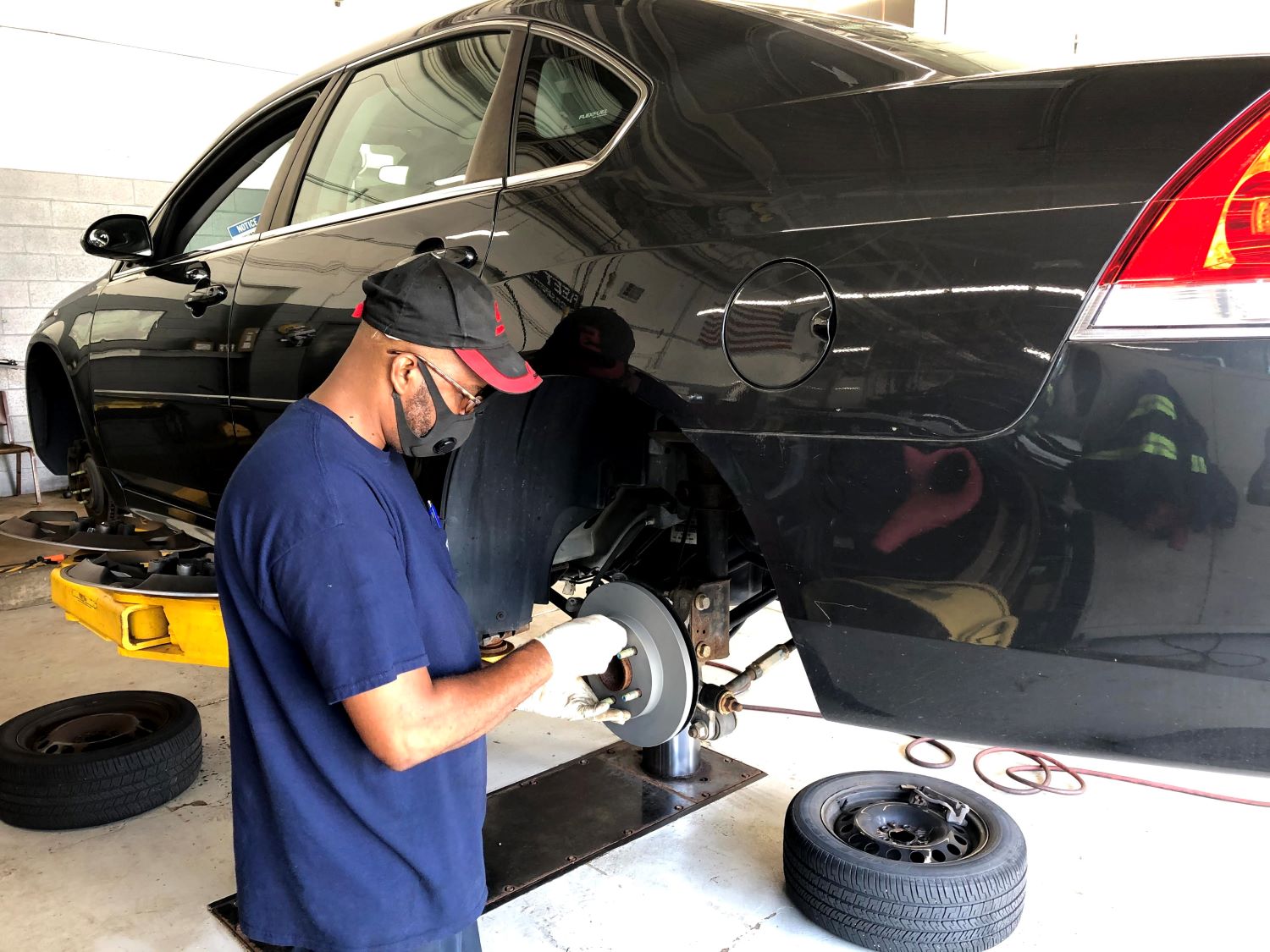 The Fleet Management division, in the Department of Transportation and Environmental Services, is responsible for the maintenance of approximately 800 City vehicles.  
The division manages nearly $21m worth of City assets and strives to maintain vehicles to the highest standards to be good stewards of City tax dollars and to keep employees and residents safe on Alexandria's streets. 
About Fleet Management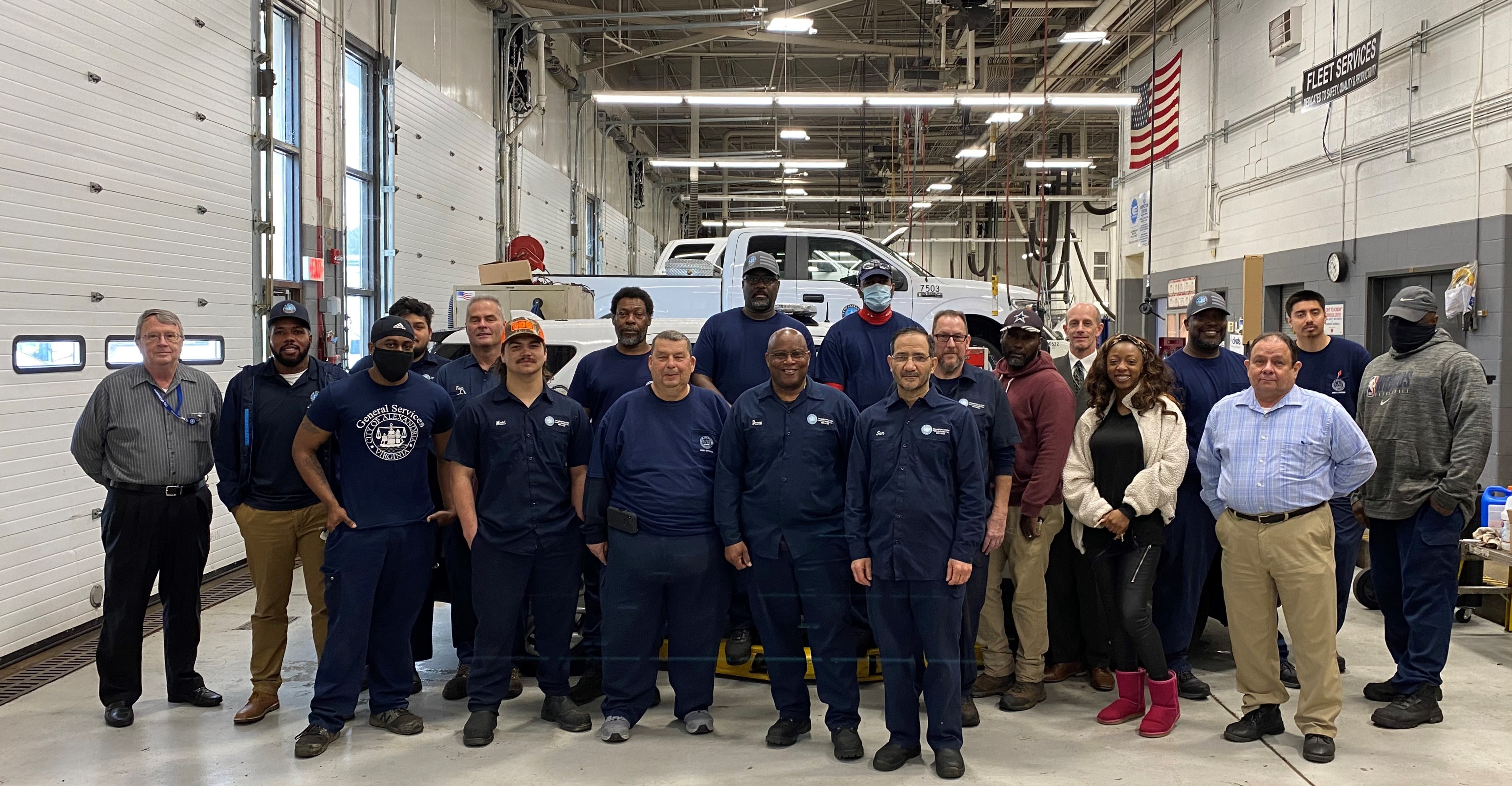 Mission Statement
To establish efficient and effective delivery of fleet services by providing customer agencies with safe, reliable, economically and environmentally sound transportation and related support services that are responsive to the needs of the customer agencies and that conserve vehicle value and equipment investment!
CUSTOMER SERVICE PRINCIPLES 
In fulfillment of Fleet Management's mission, we recognize the challenge of providing high-quality customer service as the core of our operation.  With this concept in mind, we are committed to the following customer service principles: 
We will treat all individuals with courtesy, dignity, and respect. 
We will provide customers the opportunity to receive and give timely information needed to make informed decisions. 
We promote effective management and efficient service delivery through open communication, collaboration, and coordination. 
We value and put into place new and innovative approaches to customer service delivery and encourage feedback from all our customers. 
We ensure cost-effective scheduling and timely completion of assignments that support the customer's schedule whenever possible. 
We promote employee growth and development.  We recognize that employees are a valuable resource, and human resource development is the key to quality service delivery to both internal and external customers. 
Core Services 
Maintenance and repair of city vehicles and equipment 

Providing vehicles and equipment for customers including those with only occasional needs through our Pool Fleet available throughout various city facilities 

Asset management, budgeting and reporting; this includes vehicle and equipment replacement, scheduling, forecasting and specific analytics such as fuel usage, vehicle location, driving habits, etc. 

Fuel management, fuel system management, consumables tracking and reporting 
Specification development for procurement of vehicles and equipment with customer involvement to provide the most cost effective, reliable, and environmentally concise and sustainable vehicle and/or equipment for their operations 
FLEET AND ECO-CITY ALEXANDRIA
Fleet Management's purchase of vehicles owned and maintained by the City is governed by Alexandria's Alternative Fuel Policy, which was adopted in 2021. The policy guides the City in purchasing the most cost-effective, lowest emission-generating, and fuel-efficient vehicles and equipment possible, while still meeting the operational requirements of the intended use. The policy also focuses on best practices for fleet utilization, driver behavior, route optimization, and maintenance.
The City owns and maintains a fleet of approximately 900 vehicles and pieces of equipment; while hybrid technology has been standard for many of the passenger-type vehicles purchased by the City since 2003, the City fleet also includes 6 fully electric Nissan Leafs, 4 plug-in hybrid Chrylser Pacifica vans, and an electric bucket truck used by the traffic signal repair team. Additionally, DASH and ACPS are in the process of electrification of their respective fleets.
Services
Fleet Management provides maintenance to City of Alexandria-owned vehicles used by City employees in the course of their work. The primary purpose of Fleet Management is to provide second-to-none vehicle maintenance through a robust preventive maintenance program.
City fleet technicians provide the following services for City vehicles:
General Vehicle Maintenance
Timely repairs to maintenance issues are vital to minimize damage to fleet units. Fleet Services technicians have the expertise, tools, and training to repair the majority of problems in-house, at the City of Alexandria's garage. 
Preventive Maintenance
Preventive maintenance is an integral part of good fleet maintenance. Fleet Services has established maintenance intervals based on manufacturer recommendations and operational duty cycles. For example, although a police cruiser and a pool car are both sedans, the police cruiser is in a more severe-duty application and requires more frequent preventive maintenance.
In addition to placing maintenance reminder stickers in City vehicles, the divisions also flag vehicles that require preventive maintenance based either on usage (e.g. odometer readings) or time (state inspections). Lists of units due for preventive maintenance are sent to City departments each month. 
Basic service consists of an oil and filter change, topping off fluids, and conducting multiple inspections on standard vehicles such as cars, vans, and pickups --  in about 30 minutes for City employees with scheduled appointments.  
Preventive Maintenance and Repair Program
 
On those preventive maintenance services not requiring a Virginia State Safety Inspection or State Emission Inspection, City agencies schedule "while you wait" appointments with Fleet Management. Vehicles will be serviced while the driver waits, and returned to duty immediately, as long as no unforeseen major repairs are uncovered during the service. 
 
Fleet Services At Work
Contact
For general questions about the City's fleet and the Fleet Services division, please call 311 (703.746.4311).