Leading Pedestrian Intervals (LPI) & No Turn on Red (NTOR)
Page updated on
October 30, 2023 at 4:18 PM
Background
People who drive, walk, and bike all use intersections. This mixing of modes at intersections can result in potentially dangerous conflicts as people cross streets and turn.
The City's adopted Vision Zero Action Plan aims to eliminate fatal and severe crashes by 2028. Preventing collisions at intersections between motor vehicles, pedestrians, and cyclists with No Turn on Red (NTOR) restrictions and Leading Pedestrian Intervals (LPI) is part of how we get to zero.
In Alexandria, between 2016 and 2020, 29% of fatal or severe crashes involved pedestrians. In that time there were 46 crashes involving pedestrians and right-turning drivers, 13% of which resulted in a fatal or severe injury. Of crashes in which a person was killed or seriously injured, 21% involved a driver making a left turn, and 14% involved a driver making a right turn.
Making Intersections Safer for Pedestrians
Leading Pedestrian Intervals and No Turn on Red restrictions are common interventions that are often paired with each other to reduce the likelihood that motorists will crash with people walking.
What is an LPI? 
Leading Pedestrian Intervals (LPI) are a traffic signal treatment that gives pedestrians a head start when crossing the street. With an LPI, the WALK signal is provided three to seven seconds before the parallel green signal for motorists.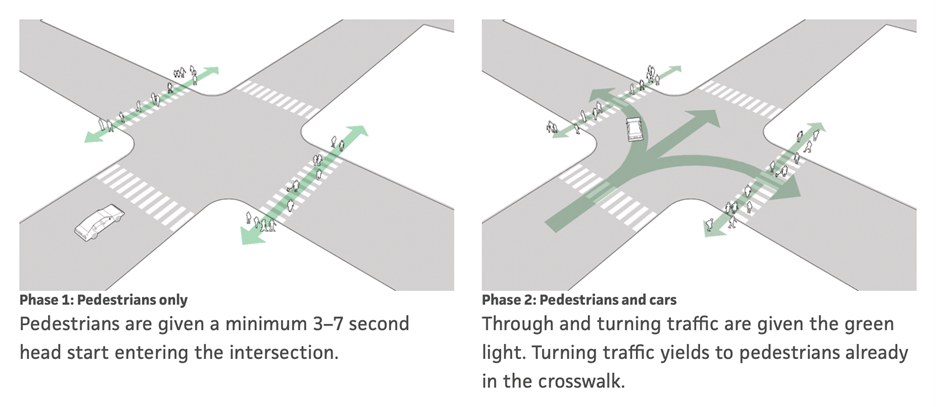 Source: National Association of City Transportation Officials
LPIs allow pedestrians to establish themselves in the intersection in front of turning vehicles, increasing visibility between all modes. They also reduce conflicts between pedestrians and vehicles, increase likelihood of motorists yielding to pedestrians, and enhance safety for pedestrians who may be slower to start into the intersection.
What is a NTOR?
No Turn on Red (NTOR) signs restrict vehicles from turning when the traffic signal is red. NTOR restrictions are a low-cost safety treatment that protects pedestrians by reducing collisions between pedestrians and motorists turning at a red light.
Drivers seeking to turn on a red light often do not see pedestrians crossing the street, especially as their attention is focused on finding a gap in traffic moving from the other direction. By pulling into the crosswalk, these drivers also force pedestrians to make riskier maneuvers when crossing the streets. NTOR restrictions protect pedestrians by limiting these interactions.
NTOR restrictions also increase safety for people driving by reducing potential collisions between through vehicles and turning vehicles, particularly in busy areas where finding a gap in traffic can be difficult.
LPIs & NTORs in Alexandria
As part of its Vision Zero efforts to improve traffic safety, the City of Alexandria regularly installs LPIs and NTORs at key intersections. Alexandria has over 250 signalized intersections, over 20% of which have LPIs and/or NTORs. To see where LPIs and NTORs have been implemented, visit the City's Signal Viewer.
In February 2023, the Traffic & Parking Board approved No Turn on Red Restrictions at ten intersections along the Patrick and Henry Street corridors. Those NTOR restrictions and LPIs were installed in 2023.
In November 2023, City Staff put out public notice for proposed NTOR safety restrictions and LPIs at signalized intersections along N Saint Asaph Street, between King Street and Montgomery Street. Public comment will be considered through November 17, 2023.