Lynhaven Neighborhood Slow Zone Pilot Project
Pilot project to create a neighborhood slow zone in the Lynhaven neighborhood.
Page updated on
February 6, 2023 at 2:08 PM
*NEW* Proposed speed limit and on-street parking changes to be presented at March 27 Traffic & Parking Board Public Hearing. Visit the Project Development: Community Engagement section below for more information.
Project Description
The purpose of this project is to create a "neighborhood slow zone" to encourage safer, more welcoming streets in the Lynhaven neighborhood.
Project Area Map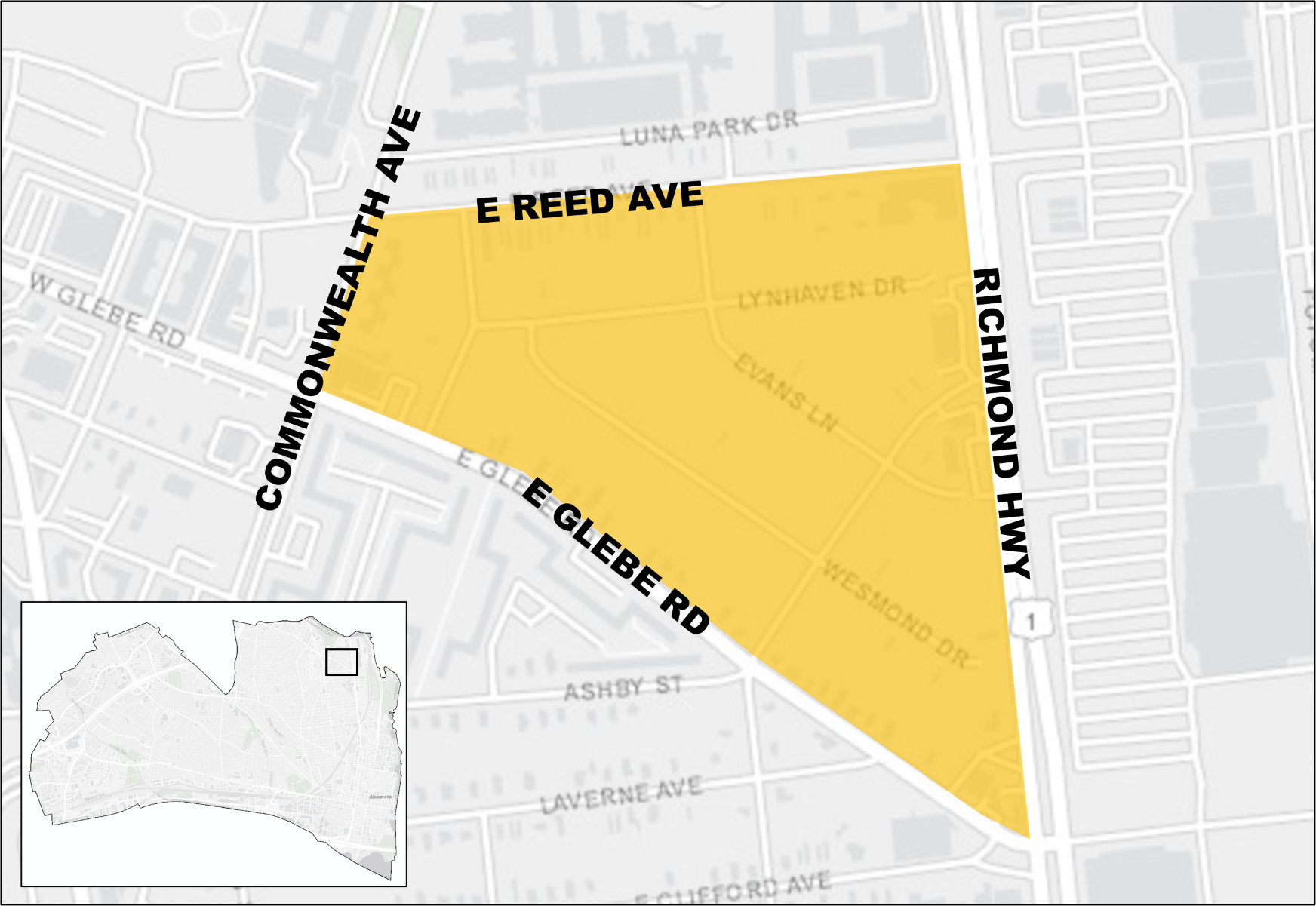 Project Background
In 2017, the Alexandria City Council adopted the Vision Zero Action Plan to improve traffic safety citywide. Implementing neighborhood slow zones is one of the key action items from that plan.
Neighborhood slow zones are designated areas where slower speeds are encouraged, typically through a combination of lower speed limits, traffic calming measures, and gateway treatments.
The City is piloting its first neighborhood slow zone in the Lynhaven Neighborhood, where the community has shared concerns about speeding, failure to stop for people crossing the street, cut-through traffic, and truck traffic.
Project Timeline
Planning & Issue Identification: Winter 2020-Spring 2021
Design: Spring 2022-Spring 2023
Construction: Summer 2023
Community Engagement: Ongoing
Project Development
Community Engagement
Status: Ongoing
March 2023: Traffic & Parking Board Public Hearing
On March 27, City staff will present the following items to the Traffic & Parking Board for consideration:
Speed limit reduction from 25 MPH to 20 MPH on Montrose Avenue, Wesmond Drive, Evans Lane, Lynhaven Drive, and Wilson Avenue
Removal of 7 on-street parking spaces to provide for new crosswalks in the neighborhood
Residents are asked to provide comments to Alexandria.Carroll@alexandriava.gov by March 3. Residents are also invited to participate in the public hearing in person or via Zoom. Information on how to participate in a Traffic & Parking Board public hearing is provided below.
Resources:
Project Mailer
Traffic & Parking Board
---
Fall 2022: Community Feedback on 60% Design
The project reached the 60% design stage in November 2022:
60% Design Plans
60% Design Plans - Parking Impacts
After hearing community feedback on the 30% plans, the following notable changes were made:
Speed cushions added on E Reed Ave
Crosswalk added across E Reed Ave near Evans Ln
Reduced parking impacts on Wilson Ave
Proposed 15 MPH speed limit
Neighborhood residents are invited to provide feedback on the 60% design plans thru December 5, 2022. Comments may be emailed directly to Alexandria.Carroll@AlexandriaVA.gov.
---
Summer 2022: Community Feedback on Draft Design
The draft design plans were largely based on previous input from the community. In Summer 2022, the City held a community engagement period from July 1-17 to gather additional feedback on the draft design plans. More information about the community engagement period is available below:
In Person Meeting
Lynhaven Community Meeting
Monday, July 11 at 7:00 p.m.
Chick Armstrong Recreation Center
​​​​​​​Meeting Presentation
Online Engagement
The City mailed project flyers to Lynhaven residents and shared project information with the Lynhaven Civic Association. Residents were invited to review the 30% Design Plans and email feedback to Alexandria.Carroll@AlexandriaVA.gov by July 17, 2022.
Thank you for your participation!
---
Community Engagement Through 2022
The City has engaged with the community on a number of occasions to gather input and discuss concerns:
December 2021 | Neighborhood Meeting
March 2021 | Neighborhood Meeting
February 2021 | Community Repaving Feedback Form
December 2020 | Neighborhood Meeting
Design
Status: In Progress
90% Plans
90% Design Plans
90% Design Plans - Parking Impact Exhibit
60% Plans
60% Design Plans
60% Design Plans - Parking Impact Exhibit
30% Plans
Construction
Status: Not Started