Glebe/Montrose/Ashby Intersection Improvements
Improving safety at the intersection of Glebe Road, Montrose Avenue, and Ashby Street.
Page updated on
Nov 30, 2023 at 3:58 PM
*The City is seeking community feedback on conceptual design options through December 22. Visit the Project Development section below to learn more and provide your input!*
Project Description
The purpose of this project is to design and implement safety improvements at the intersection of Glebe Road, Montrose Avenue, and Ashby Street.
Project Area Map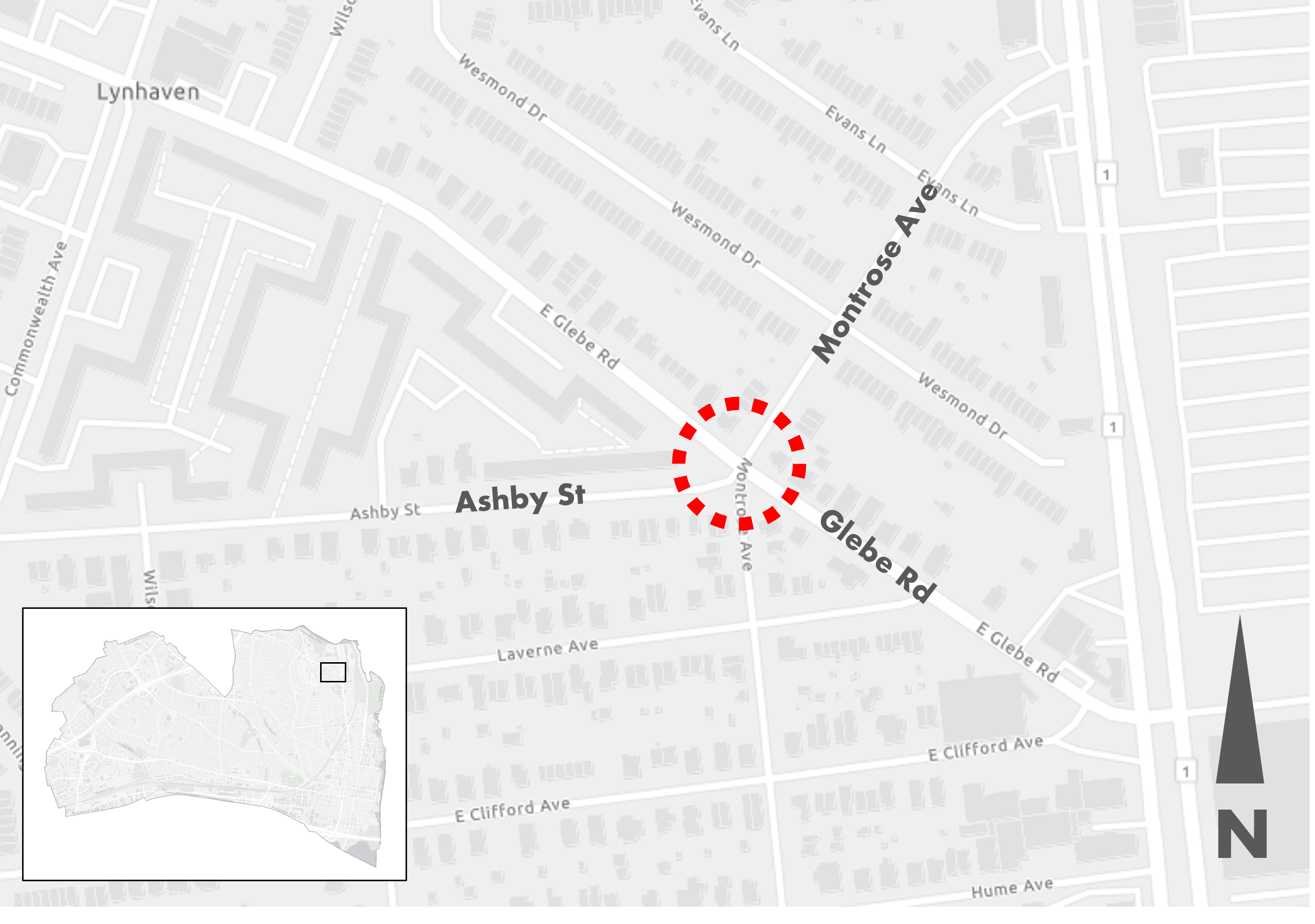 Project Development
Community Engagement
Status: Ongoing
Fall-Winter 2023: Community Input on Concept Design Options
After hearing input from community residents and reviewing existing conditions in the project area, the City has developed conceptual design options. There are two ways to provide feedback:
Virtual Community Meeting
Thursday, December 14 @ 7 p.m.

https://zoom.us/j/97229156106 or Dial +1.301.715.8592
Meeting ID: 972 2915 6106
Passcode: 449723
Engagement Prior to 2023
City staff has regularly engaged with the community on this intersection, including:
December 2020 Lynhaven Community Meeting
March 2021 Lynhaven Community Meeting
December 2021 Lynhaven Community Meeting
July 2022 Lynhaven Community Meeting
Ongoing engagement with residents via Alex311
Stay tuned for upcoming opportunities to provide input!
Design
Status: In Progress
Concept Designs - Fall 2023
Concept Design Option 1
Concept Design Option 2
Additional Option A: An additional option includes converting Ashby Street from one-way eastbound to one-way westbound to improve traffic safety and intersection operations. This option can be paired with either Option 1 or Option 2.
Construction
Status: Not Started
Note: Construction is anticipated to be completed in conjunction with the Commonwealth, Glebe, Ashby Flood Mitigation Project. Therefore, the intersection improvements will follow the Flood Mitigation Project timeline.
Project Background
In 2017, the Alexandria City Council adopted the Vision Zero Action Plan to improve traffic safety citywide. The City's roadway safety approach involves redesigning streets to address past safety issues or known safety risks.
Neighborhood residents have previously expressed concern about safety at the intersection of Glebe Road, Montrose Avenue, and Ashby Street. This is a challenging, unconventional intersection that has resulted in crashes and near-misses. The City has made some near-term improvements to this area, including adding flashing pedestrian beacons and dynamic speed radar signs. However, geometric improvements are needed to more robustly address the safety challenges here.
The City has a major stormwater project underway (Commonwealth, Ashby, Glebe Flood Mitigation Project) to increase the capacity of the storm sewer system and provide flood relief to the neighborhood. The project will involve major excavation within the roadway. The City is coordinating the intersection improvement project with this stormwater project, so that safety improvements can be implemented at the same time.
Additional Resources
Visit the additional resources below to learn more about related projects and programs.