King Street-Old Town Metro Access Improvement Project
The King Street-Old Town Metro Access Improvements project will make the area immediately surrounding the Metrorail station safer and more aesthetically pleasing for station users, while also maintaining efficient levels of service for buses and other transit vehicles accessing the site.
Page updated on
May 17, 2022 at 2:47 PM
TRANSIT PROVIDERS BEGIN SERVICE TO NEW BUS BAYS ON SUNDAY, SEPTEMBER 5
The City of Alexandria announced transit providers will start service to new permanent bus bay locations along the new King St-Old Town Metrorail Station bus loop on Sunday, September 5, 2021. The final bus loop configuration includes new bus bays at all existing stops along the station facade, plus the addition of three bays located on a newly constructed island.  
The new bus bay assignments will replace those used during the interim operation period that began in June 2021 and will include stops for the new DASH routes being launched as part of the New DASH Network. In addition, MetroAccess / DOT service will also receive a new permanent location within the new bus loop and cease service to the temporary stop on Cameron Street. The new bus bay assignments are shown below. 
A flyer with the station map and new bus route assignments is posted below and can be downloaded for future reference. 
The City encourages the public to exercise caution and be observant of new bus activity in and around the station. Please follow all markings and posted signs, and use available crosswalks.
New Bus Loop Map (Effective Sunday, September 5, 2021)
Construction Schedule
The project, which is being split into two phases, is expected to be completed in Fall 2021. The first phase of construction required the relocation of bus bays to surrounding streets. After completion of the first phase, buses will move back to the station. Other facilities – including locations for Kiss & Ride, and shuttles – will remain closed for the duration of the project construction.
August 6, 2018 – Mobilization / Pre-construction of temporary bus bays, wayfinding; Some metered parking in station and shuttle area closed; On-street parking on north side of Diagonal Road closed  
November 18, 2018 – Closure of Bus loop / Kiss & Ride / taxi area; On-street parking on south side of King Street (between Daingerfield and Diagonal Rd) and east side of Daingerfield Road (between Diagonal Rd and Dechantal St) closed; Begin Phase 1 Construction
June 6, 2021 – Portion of New bus loop area opens; Begin Phase 2 Construction 
September 5, 2021 – Full bus loop opens 
Fall 2021 - New Kiss & Ride, taxi area, shuttle area and car share opens.
About the King Street-Old Town Metro Access Improvements Project
he City of Alexandria, in coordination with the Washington Metropolitan Area Transit Authority (WMATA), is improving access to and safety around the King Street-Old Town Metrorail Station. The King Street-Old Town Metro Access Improvements Project will bring station access points and amenities in alignment with the City's Vision Zero initiative. The new bus loop, pedestrian access infrastructure, and Kiss & Ride area will enable pedestrians and bicyclist move through enhanced station facilities, while also allowing buses to operate more efficiently. Additionally, the project includes new energy-efficient lighting in and increases the capacity of the storm sewer through the installation of larger, upgraded storm sewer pipes. Stormwater quality will now also be improved through underground stormwater treatment facilities that treat stormwater runoff from a previously untreated site.
The key project improvements include:
A redesigned bus loop with three additional bus bays;
Safer pedestrian infrastructure , featuring permeable pavers;
New designated areas for bicycle parking, shuttles, Kiss & Ride and taxis;
Real-time transit service displays;
Larger, upgraded storm sewer pipes;
New on-site stormwater treatment facilities;
Energy-efficient LED lighting throughout the station and on Diagonal Road; and,
Improved landscape features.
SITE DESIGN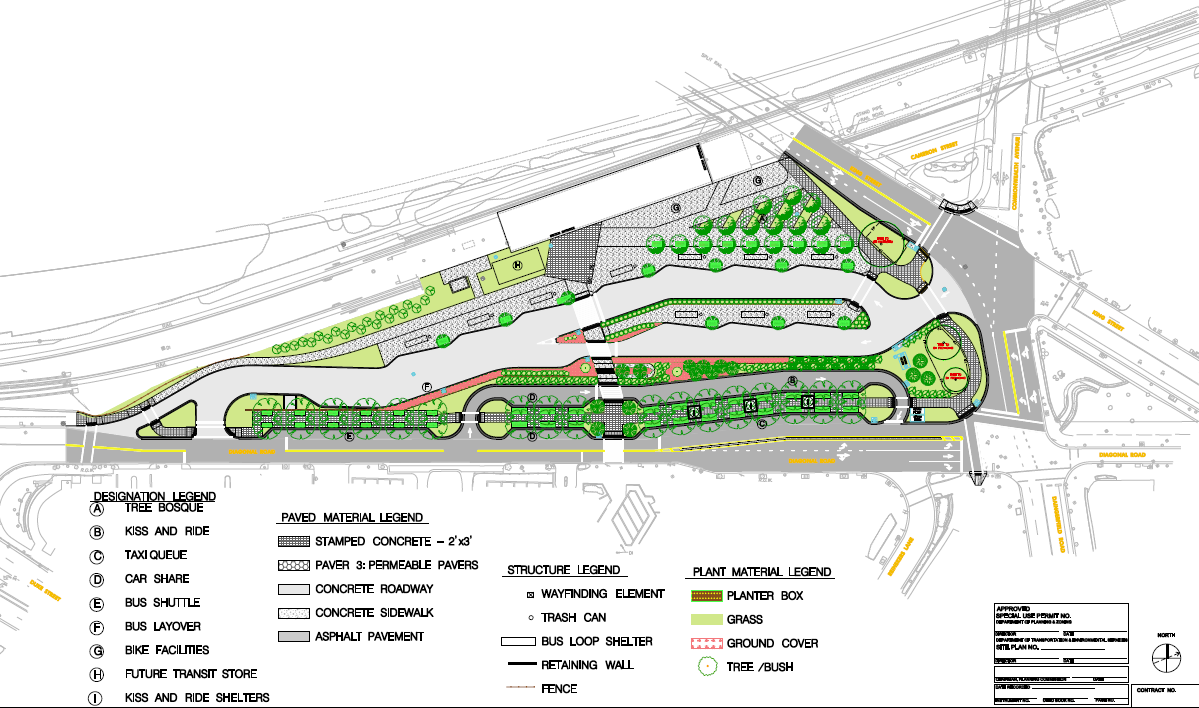 Project Background
The King Street-Old Town Metro Access Improvements project has been under study and design by the City and WMATA for many years. The King Street-Old Town Metrorail Station has experienced significant growth in bus service and overall ridership, as growth has occurred on Upper King Street and Carlyle. It is the largest transit facility in the City and provides multi-modal transportation such as Metro and DASH buses, the King Street Trolley, two Capital Bikeshare stations, bicycle parking, carshare, taxis, private shuttles, and individual automobiles. The Virginia Railway Express (VRE) and Amtrak station, which is adjacent to the King St-Old Town Metrorail Station, makes this area a premier transit hub in Alexandria for many visitors, residents and tourists. All modes of travel have expanded their presence in this area, including Metrobus, DASH, private shuttle bus, Bikeshare and ride hailing services, such as Uber and Lyft. Many have plans for more service expansion in the near future.  
Initial funding to kick off the first study was received in 2006, resulting in an initial conceptual design that was reviewed by the public over the course of three community meetings. The community feedback resulted in a completely new design better aligned with the urban Upper King Street area and more functional for all users. The new concept was completed in 2010, then reviewed by City boards and commissions, and ultimately adopted by City Council in 2012.  Between 2012 and 2018, the City worked closely with WMATA, City boards and commissions, and the community to finalize the design of this complex project, which has involved many stakeholders. The start of major work on the King Street-Old Town Metrorail Station Access Improvement Project, including closure of the bus loop area, began in November 2018. Preliminary construction including the construction of interim bus bays began in August 2018 and will be completed in 2021. 
PROJECT TIMELINE
2006 – First Study
2008 – Initial Concept Design Completed & community outreach 
2010 – Community feedback led to reconsideration of project and new design
2011 – Three Transportation Commission reviews and additional public meeting
2012 – City Council & Planning Commission reviews and adoption of project plan 
2013 – Traffic and Parking Board approvals for parking modifications
2015 – Planning Commission reaffirmation of the plan
2016 – Detailed plan design and coordination with WMATA continues
2017 – Design complete; Updates to the Transportation Commission and Traffic and Parking Board
2018 - Selection of Construction contractor; Construction begins in Summer
2021 – Project Completion
ONGOING: Outreach to Civic Associations and other stakeholders