Waterfront Implementation Project Procurement
Page updated on
June 30, 2022 at 9:05 PM
Project Delivery
In 2019, City decided to pursue Progressive Design-Build as the method for executing the updated Waterfront Implementation Project. The key outcomes and benefits to the City will be a more collaborative owner-builder relationship and greater flexibility to scope to a budget while maximizing innovation and value for the City's investment. The Progressive Design-Build team will provide market-based pricing based on the contractor's actual plan for sequencing and prosecuting the work which will reduce the risk of designing and bidding something the City cannot ultimately afford to construct. 
Owner-Advisor Team
The City contracted with Carollo in 2020 to serve as the Owner-Advisor for the Waterfront Implementation Project. The team supported the City with cost estimates, consideration of resiliency options, and the development of a conceptual cost-based alternative for use in determining the Progressive Design-Build team's required qualifications and scope of work.
Progressive Design-Build Team
The procurement process to qualify and select a Progressive Design-Build Team will begin in Late Summer/Fall 2022. It is anticipated that the qualifications-based selection process is anticipated to take 12 to 14 months to complete after the initial advertisement of the RFQu. 
Scope of Services and Project Delivery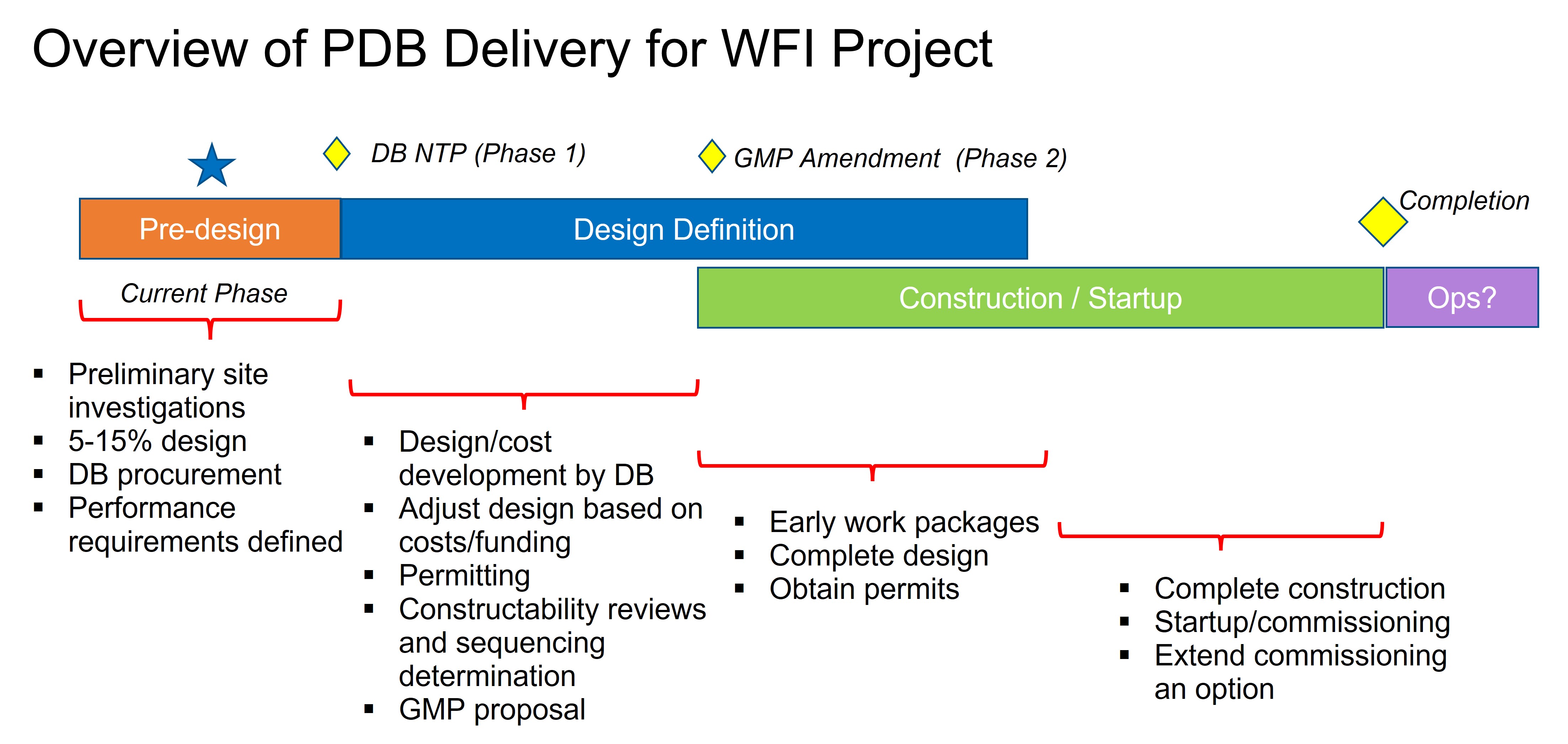 Progressive Design-Build services will follow the following distinct phases:
Phase 1 Services (Interim Agreement) include, but are not limited to:

Completion of site investigations;
Development of basis of design and initial cost estimates;
Cost-benefit analyses in consideration of other Alternatives;
Updates to Project design and costs at specific milestones (e.g. 30 percent, 60 percent, etc.) up to 60% design;
Completion of pre-construction services;
Identification and monitoring of project risks; and,
Preparation, submission, and negotiation of a final design and construction commercial proposal for a Guaranteed Maximum Price (GMP)
Phase 2 Services (Final Design, Permitting, and Construction) could include, but are not limited to:

Completion of Project's design (60%-Final) and
Construction phase services
Performance of post-construction tasks, such as commissioning and performance testing.
Warranty/Limited Maintenance Period
A separate contract (or an extension of Design-Builder services) may provide Operation and Maintenance Consulting and Support Services:
Phase 3 Services (Operation & Maintenance - O&M) (status unconfirmed), may include:

Performance of extended commissioning services for either a short-term period of up to 3 years or a long-term O&M arrangement of a 5 to 20-year term).
Procurement Process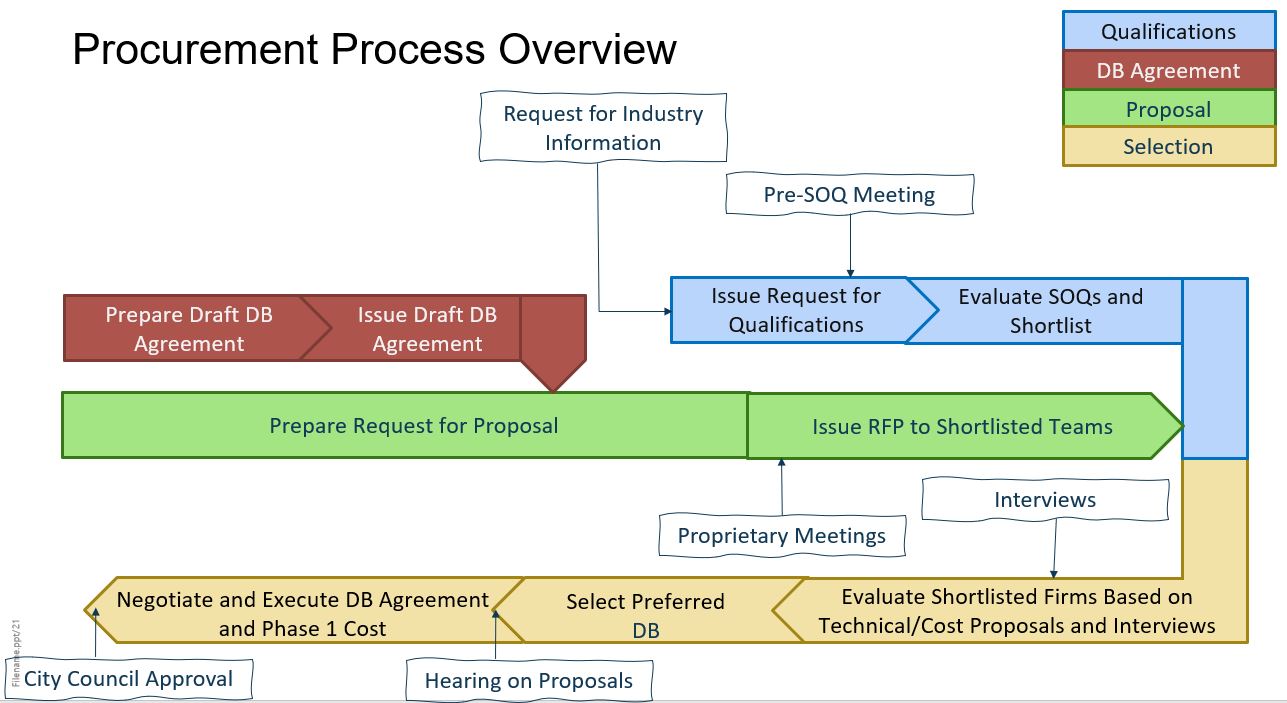 Step 1
Request for Qualifications (RFQu) prepared by City and OA and advertised to the Design-Build community. The RFQu shall include general guidelines and project information, minimum submittal requirements, and evaluation criteria.
Pre-SOQ Meeting conducted by City to present project and procurement information to interested Design-Builders.
Statement of Qualifications (SOQ) prepared by interested Design-Builders (Respondents), in conformance with the requirements of the RFQu, and submitted to the City for review and evaluation. The SOQ shall include a response to minimum requirements (i.e., responsiveness and responsibility criteria) and scored qualifications/experience requirements.
Responsiveness and Responsibility Review performed by the City's Procurement Department to assess whether Respondents satisfy the minimum requirements. Project references provided by Respondents will be contacted by the City and the OA.
Selection Committee Review of the SOQs submitted by Respondents. Evaluation Committee members shall individually score the responses and submit scores to the Procurement Department to calculate combined scores and to determine the ranking of Respondents. An SOQ scoring matrix will be prepared by OA based on the scoring criteria established in the RFQu and provided to the Selection Committee for its use.
Create Short-List of Qualified PDB Teams. The combined scores and ranking of all Respondents will be evaluated and a decision will be made on which Respondents to shortlist. It is intended that three Progressive Design-Build Teams will be shortlisted.
Step 2
Request for Proposals (RFP) prepared by the City and Owner-Advisor Team and submitted to the shortlisted PDB Teams. The RFP shall include a draft of both the Interim Agreement and Comprehensive Agreement, evaluation criteria and scoring process; technical requirements and design definition documents; and any cost proposal requirements.
Proprietary Meetings will be held between the City and each shortlisted Respondent individually to facilitate the Respondent's understanding of the project technical requirements and to discuss any specific issues that Respondents have with draft Interim and Comprehensive Agreements. City may issue an addendum to RFP that adjusts the technical requirements and/or agreements in response to the proprietary meetings.
Proposals prepared by shortlisted Respondents and submitted to the City for review and evaluation.
Project Approach Review. Review of the proposals by the Selection Committee to evaluate whether the project approach meets the objectives and technical requirements of the project. Owner-Advisor will participate in a non-voting advisory role.
Interviews. Each Respondent will be allowed to present their Proposal and be interviewed by the City's Selection Committee.
Cost Proposal Scoring. The Selection Committee will score price proposals in accordance with the calculation established and documented in the RFP.
Selection Committee Review of the Proposals submitted by the Respondents. Selection Committee shall individually score the Proposals and submit scores to Purchasing Department to calculate combined scores and to determine the ranking of Respondents.
City Council Authorization of Design-Builder Selection. The recommendation for approval and decision on the preferred Design-Builder will be brought forward to the City Council for a public hearing. City Council will then consider and rule on the proposed resolution which would authorize allows the Procurement Department to negotiate with one or more proposers and authorizes the City Manager to execute the Interim Agreement for Phase 1 Services.
Procurement Schedule
Coming Soon
Contact Information
For more information about Waterfront Implementation Project procurement, please contact Matthew Landes, PLA, CCM, ISA, Portfolio Manager, Department of Project Implementation at 703.746.4122.