Inmates Explore Creativity through Writing Contest Organized by Heard
Page updated on
September 8, 2022 at 12:12 PM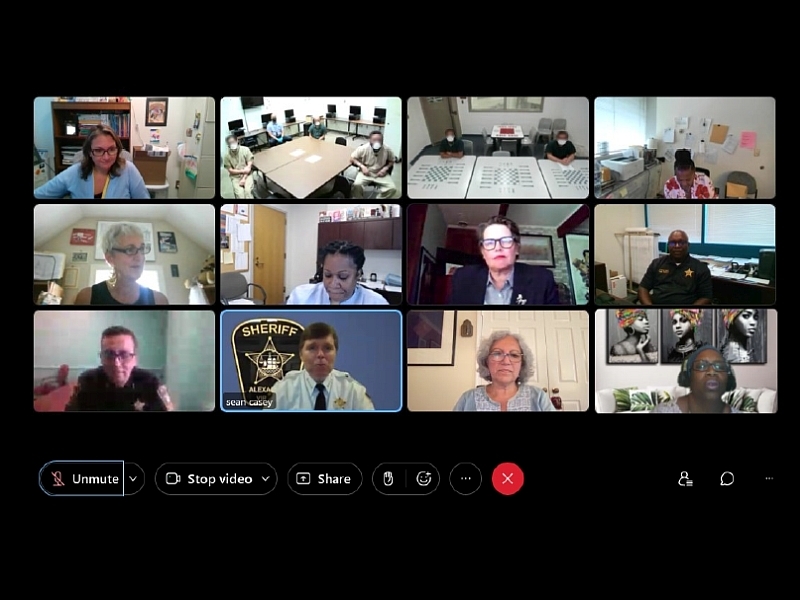 Over the summer inmates at the William G. Truesdale Adult Detention Center were invited to participate in a writing contest coordinated by Heard, a local nonprofit offering marginalized and at-risk individuals the opportunity to be heard through creative expression. Then on August 26, Heard and the Sheriff's Office held a virtual awards ceremony (right) where the winners were announced.
Nine participants submitted a total of 18 works for consideration in the categories of fiction, non-fiction and poetry. Mary Wadland, publisher of The Zebra and a longtime supporter of the writing contest, historian, genealogist and author Char McCargo Bah, and Zeina Azzam, Alexandria's poet laureate, judged the submissions.
Jane Hess Collins, founder and executive director of Heard, joined the judges, Sheriff Sean Casey, several contest participants, and members of the Sheriff's Office command and inmate services staff at the virtual ceremony.
Prizes were awarded for the top three entries in each category and during the virtual ceremony, the judges read the winning entries. Each finalist received a certificate and monetary awards which are added to their canteen accounts to cover personal expenses.
Congratulations to:
Fiction
First Place
Trulynd W. Hall
"History of Mammals"
Second Place
Dario Alonzo Gomez Rivera
"¿Qui

é

n Soy?" ("Who Am I?")
Third Place
Trulynd W. Hall
"The Last Cryptid"
Non-Fiction
First Place
Trulynd W. Hall
"Concrete"
Second Place
Luis Carlos Peniche Garc

é

s
"Sistemas Democráticos Imperfectos" ("Imperfect Democratic Society")
Poetry  
| | | |
| --- | --- | --- |
| First Place | Trulynd W. Hall |  "Elements" (haiku collection) |
| Second Place | Marlow Terry | "Humanization" |
| Third Place | Carlos McKethan | "Obstructed Justice" |
| Honorable Mention | Shazell Robinson-Hard | "Repeat" |
Sheriff Casey congratulated the winners and all who participated in the contest. He also expressed his thanks to Ms. Collins and Heard, the judges and staff, and to Caudron Megary Blackburn for once again sponsoring the writing contest.
"Heard's writing contest with the Alexandria Adult Detention Center so perfectly illustrates our belief that everyone deserves to be heard," said Ms. Collins. "These authors never hold back and sometimes their works are painful to read, but that's how we learn and understand. Other times you read the most amazing works of fiction, and you're shaking your head wondering how anyone could come up with something so creative. All of their works are on our site in our Creative Writing and Poetry galleries."
This is the fourth year that the Alexandria Sheriff's Office has partnered with Heard which also organizes writing contests for inmates at the Arlington County Detention Facility and offers creative arts expression through 16 program partners in Alexandria and Arlington.
Established in Alexandria in 2017, Heard fosters creativity, confidence, self-worth and life skills to those who are underserved, unknown, and unheard by offering them artistic expression through experiential instruction and participation. Heard provides individuals the opportunity to be heard through art and creativity with workshops in creative writing, visual arts, poetry, dance, etiquette, and improvisation.