Become a Deputy Sheriff
The Alexandria Sheriff's Office is recruiting for the position of Deputy Sheriff. Starting pay is $58,407 to $64,395, plus built-in overtime. Learn about the job, qualifications and benefits, and begin a rewarding criminal justice career!
Page updated on
March 24, 2023 at 9:03 AM
Meet with our recruiters at an upcoming event:
Saturday, April 1, 11 a.m. to 5 p.m.
Blossom Festival
Springfield Town Center
6500 Springfield Mall
Springfield, Virginia
Tuesday, April 4, 11 a.m. to 2 p.m.
Government Affairs Networking & Opportunity Fair
Marymount University - Ballston Center
1000 North Glebe Road
Arlington, Virginia
Thursday, April 6, 1 p.m. to 4 p.m.
Spring Career and University Fair
Longwood University
Blackwell Hall
201 High Street
Farmville, Virginia
Friday, April 14, 9 a.m. to 2 p.m.
CASCOM Industry Day
Army Logistics University
562 Quarters Road, Building 12420
Fort Lee, Virginia
The Alexandria Sheriff's Office is now accepting Deputy Sheriff applications. You may apply online. Please review the information on this page and we look forward to receiving your application.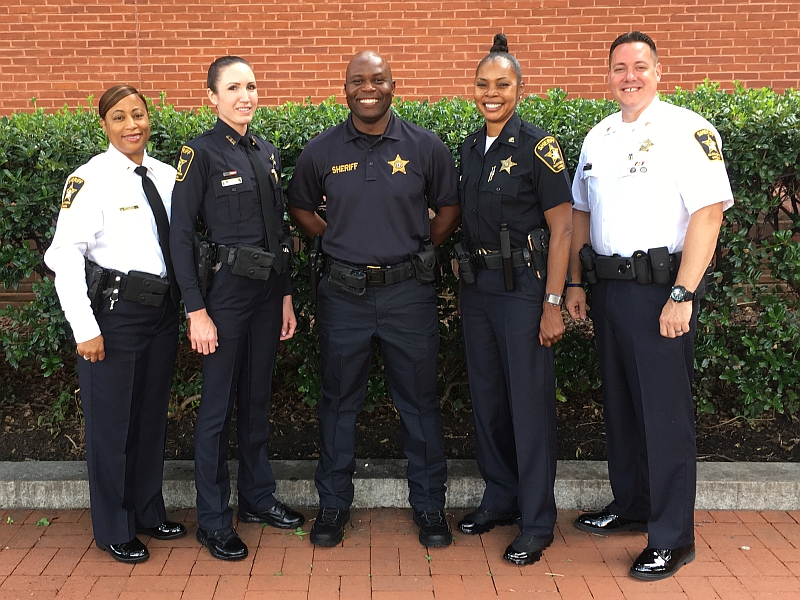 Alexandria Deputy Sheriffs possess both law enforcement and civil authority in order to carry out their many roles and responsibilities. Successful Deputy Sheriffs possess personal confidence in themselves and appropriate confidence in their statutory authority, and must be able to lead and motivate people.  To become a Deputy Sheriff, applicants must meet minimum qualifications, must not have any disqualifying behaviors or situations and pass a selection process that includes physical and mental examinations and a criminal records check.
Learn more below and please download our brochure !
Deputy Sheriff Compensation
Deputy Sheriff I - $58,407 to $64,395  Minimum entry level salary for deputies is $58,407.96, plus built-in overtime for Detention Center deputies averaging more than $6,000 per year. Candidates who are currently certified by the Virginia Department of Criminal Justice Services (DCJS) as a Law Enforcement Officer will earn a starting salary of $61,329. Prior years of relevant Virginia law enforcement experience will be reviewed and can result in additional salary increases.
Deputy Sheriff Minimum Qualifications
To become an Alexandria Deputy Sheriff, you must:
Be a United States citizen
Be at least 21 years of age at the time of graduation from criminal justice academy
Have a high school diploma or GED
Be in excellent physical and mental health
Have excellent vision
Far visual acuity: 20/20 binocular corrected with contact lenses or spectacles.
Monocular visual acuity: No worse than 20/40 corrected.
(Monocular vision and color blindness are disqualifying)
Have an excellent driving record and possess a valid license at the time of hire
Not have engaged in any activity that would support a domestic violence or felony conviction
Be of good moral character and behavior
Deputy Sheriff Disqualifiers
The Alexandria Sheriff's Office has determined that there are some past and present behavior(s) which may make some applicants not desirable for employment because they do not meet the high standards of the Office. Applicants who have past or current behavior(s) as listed below may not be considered for employment.
Alcohol Use - current alcohol abuse is prohibited. Alcohol abuse is excessive drinking which impairs personal and work performance.
Drug Use - current or recent use of illegal drugs or abuse of any legal drugs is prohibited. Any pattern of illegal drug use that indicates an ongoing, regular, or recreational illegal use of a controlled substance, is disqualifying. Legal drug use is defined as medically prescribed drugs or drugs bought over the counter. Illegal drug use is defined as non-medically prescribed use of any drug.
Felony Criminal Activity - any conviction of a felony and the commission of a serious detected or undetected felony.
Domestic Violence - any conviction of a crime involving domestic violence.
Controlled Substance - as an adult, the selling, production or financing the production, sale or distribution of illegal controlled substances, or the obtaining of such substances through illegal use of a prescription(s).
Traffic/Driving - inability to be insured to drive a motor vehicle, failure to possess a valid driver's license, and inability to be licensed to drive a motor vehicle.
Government - membership or participation in any organization advocating the violent overthrow of the government of the United States.
Discrepancies - misrepresentation, misinformation, misleading, inaccurate, untruthful or distorted information provided on the Background Questionnaire or during any part of the selection process.
Appointments - failure to keep an appointment at any step of the hiring process without the prior approval of the Sheriff's Office.
Change of locator information - failure to notify the Office of a change in current address and/or telephone number.
Other - behavior(s) which do not necessarily reach the level of severity of the disqualifiers listed above -- but may still be a basis for rejection after consideration of each case on its individual merits.
Physical Requirements
Below are a few of the physical requirements; additional information is available upon request:
Eyesight:
Far visual acuity: 20/20 binocular corrected with contact lenses or spectacles.
Monocular visual acuity: No worse than 20/40 corrected.
Monocular vision and color blindness are disqualifying.
Hearing: 
normal with no use of hearing aid
Blood Pressure:
resting blood pressure less than 140/90
Additional:
The Sheriff's Office is committed to the health, safety, and wellness for all staff. In support of that commitment, all newly hired employees are required to provide proof of COVID-19 vaccination. Applicants with a disability or sincerely held religious belief which prohibits them from receiving a vaccine may request a reasonable accommodation. Adherence to this policy is a condition of employment.
Deputy Sheriff Selection Process
The selection process is established to determine the applicant's integrity, truthfulness and ability to perform the duties of a Deputy Sheriff. The process includes:
written essay
physical fitness assessment
thorough background investigation, to include criminal history and review of driving record
polygraph examination
medical examination to include a stress test
psychological examination
interview with Sheriff or designee
Special arrangements may be made to facilitate the selection process for interested individuals who live over 200 miles from Alexandria. The completion of the hiring process may take up to one year. Candidates must pass each phase of the selection process.
Deputy Sheriff Benefits
The Alexandria Sheriff's Office offers an outstanding benefits package including:
Competitive salary with annual increases based on performance (merit) and cost of living as determined by the City. Deputy Sheriffs enjoy pay parity with local police and fire employees.
Advancement opportunities for those who meet established criteria for Deputy Sheriff II, III and IV/Master Deputy. Promotional and transfer opportunities based upon established criteria and formal selection processes. Paid vacation leave based on length of service. The initial rate is 3.69 hours bi-weekly, with an accrual rate to a maximum of 7.72 hours at 12 years of service.
Paid sick leave with an accrual rate of 96 hours per year as well as the Family Medical Sick Leave Act.
Group health, dental, disability and life insurance.
Thirteen paid holidays per year.
Uniforms and equipment furnished.
Overtime and shift differential pay per the Fair Labor Standards Act.
Participation in City funded retirement systems: Virginia Retirement System, City Retirement System and Deputy Sheriff Retirement income Plan (401a), and Social Security, an employee contribution program. 
Voluntary participation in the Deferred Compensation Plan (457), Sick Leave Bank, Leave Donation Program, Public Safety Officers' Benefits Act, Military Leave, Funeral Leave, Employee Assistance Program, Educational Assistance Program.
Deputy Sheriff Training
Upon appointment, Deputy Sheriffs will receive two weeks of New Employee Training and then participate in a two month Field Training Deputy Program. Within one year of hire, Deputy Sheriffs will attend a six-month criminal justice academy in Ashburn, and after successful completion, they are state certified in corrections, court security, civil process and law enforcement. Physical fitness, firearms qualifications and defensive driving are also parts of the academy training. Deputy Sheriffs earn 24 college credit hours upon completion of the academy training. Deputy Sheriffs are encouraged to pursue a bachelor's degree and career development opportunities. You may view highlights from a recent academy class on YouTube.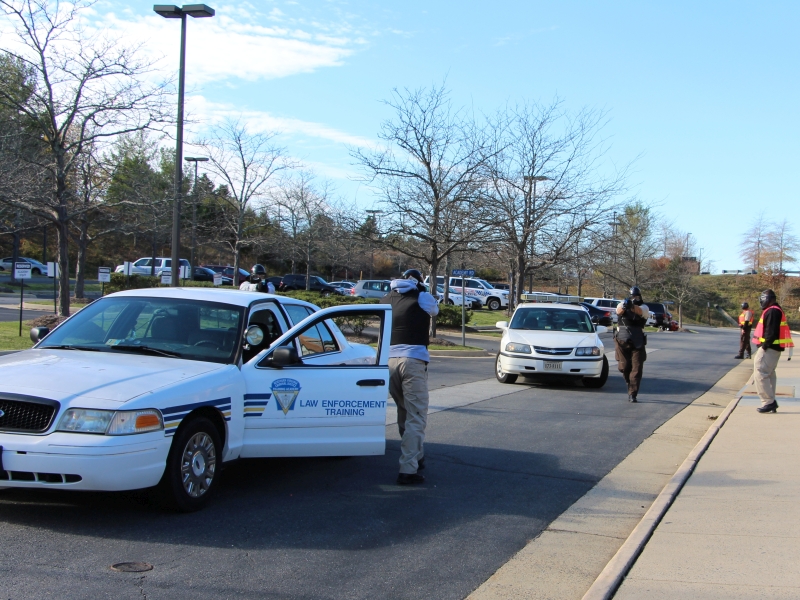 Deputy Sheriff Conditions of Employment
At the time of appointment all Deputy Sheriffs sign a contract requiring a four year commitment with the Office from the date of successful completion of the entire academy training. If a Deputy Sheriff chooses to leave the employ of the Alexandria Sheriff's Office, the Deputy is required to reimburse the Office for all of their training expenses on a pro-rata basis. The contract also requires the Deputy Sheriff to abide by the Alexandria Sheriff's Office General Orders, Standard Operating Procedures, applicable City Administrative Regulations, laws and ordinances, and other lawful orders and directives. Deputy Sheriffs are required to carry out their duties impartially, to the best of their ability, and to not discriminate against any person because of their race, religion, sex, national origin, sexual orientation or disability. Deputy Sheriffs are appointed and serve at the pleasure of the Sheriff. Deputy Sheriffs serve a one year probationary period.
Deputy Sheriff Application and Contact Information
If you are interested in becoming a Deputy Sheriff with the Alexandria Sheriff's Office, apply online or contact:
Address: Alexandria Sheriff's Office
Recruitment - Administrative Services
2003 Mill Road
Alexandria, Virginia 22314
Telephone: 703.746.4114
Directions: From the west and south, take local lanes of I-95/I-495 (Capital Beltway) to Exit 176B (Telegraph Road North/Eisenhower Avenue) and follow signs for Eisenhower Avenue exit ramp. Turn right on Eisenhower and drive east to Mill Road. Turn right on Mill Road and bear right, following signs to the Sheriff's Office and Detention Center at 2001/2003 Mill Road.
From the east and north, take local lanes of I-95/I-495 (Capital Beltway) to Exit 176B (Telegraph Road North/Eisenhower Avenue) and follow signs to Eisenhower Avenue. On ramp, stay right and follow signs for Pershing Avenue. As ramp ends at light, turn right on Stovall Avenue and then proceed one block to Eisenhower Avenue. Turn left on Eisenhower and drive east to Mill Road. Turn right on Mill Road and bear right, following signs to the Sheriff's Office and Detention Center at 2001/2003 Mill Road.
If you are unfamiliar with Mill Road, pay close attention to traffic patterns and signs.
The Alexandria Sheriff's Office is an equal opportunity employer and does not discriminate on basis of race, color, national origin, sex, age, marital status, veteran status, or disability.