Inmate Programs
The Detention Center offers inmates many programs to help them rebuild their lives, their families, and their communities. Offering inmates enriching programs is a smart and productive thing to do, and serves a tri-fold purpose.
Page updated on
August 28, 2023 at 11:24 AM
Programs help inmates acquire skills and change behaviors that will enable them to live more productively upon their release. They are rehabilitative in nature, and work when participants engage themselves in the principles and skills taught.
Secondly, programs help the communities to which ex-offenders return. Individuals who benefit from rehabilitative programs held inside jails are better citizens upon release. The skills learned while incarcerated form a foundation for continued change, resulting in stronger families, more responsible parents, and citizens who are positive contributors to  their neighborhoods.  It is much better for everyone when individuals released from incarceration obtain employment, continue their education and seek the help they need to succeed on the outside.
Inmate Services staff coordinates Inmate Resource Fairs where inmates can meet with exhibitors offering legal, employment, health, educational, training, housing and other services and programs that may benefit ex-offenders as they return to the community.
To further help returning citizens, the Sheriff's Office is a member of the Alexandria Reentry Council which encourages community involvement and conducts workshops for families, area businesses, and other concerned groups.
Lastly, providing inmate programs promotes a safe and secure Detention Center. Inmates are provided positive outlets for their energies, resulting in less time for negative behaviors. 
Programs also help inmates manage challenging thoughts and information that can arise while incarcerated, which, without attention, often result behavior that is dangerous to Detention Center staff, volunteers and other inmates. 
In the Detention Center, all programs, with the exception of religious based programming, focus at least one of three areas:
Sobriety -- achieving and maintaining a lifestyle free from chemical dependence
Education -- obtaining the education and skills to become self-supporting
Transition -- providing skills and resources to facilitate a smooth and positive transition from incarceration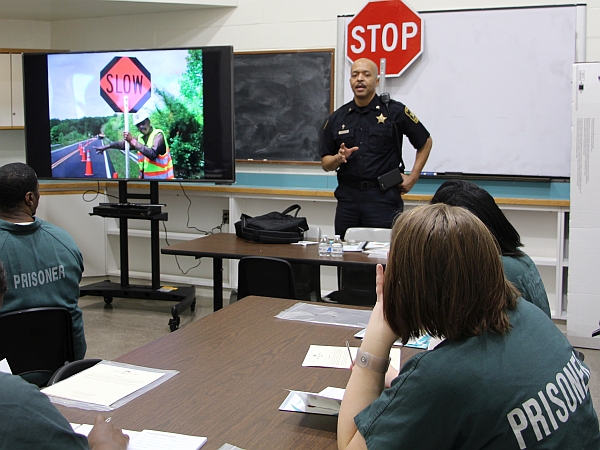 Offerings include guest speakers with motivational messages; educational initiatives like GED preparation and ESL (English as a Second Language); training to receive nationally-recognized certifications in food service, traffic flagging, and general industry and construction safety; education and life skills program for men; LEAD (an education and life skills program for women); and law and leisure library services.
Sobriety-focused programs Alcoholics Anonymous/Narcotics Anonymous and the Sober Living Units, therapeutic community housing unit based programs help inmates become free from chemical dependence. To prepare for Sober Living, inmates may participate in Ready for Change.
Inmates also receive the opportunity to attend and participate in holiday and cultural programs that explore the arts, heritage and diversity. Read about  programs for Black History Month and a winter holiday celebration.