Mount Vernon Avenue North Complete Streets
Page updated on
November 20, 2023 at 2:00 PM
Project Background
The Mount Vernon Avenue North Complete Streets Project will provide safety improvements on Mount Vernon Avenue between West Glebe Road and Four Mile Run. Mount Vernon Avenue was identified as an area of concern based on community input and a history of fatal and injury crashes.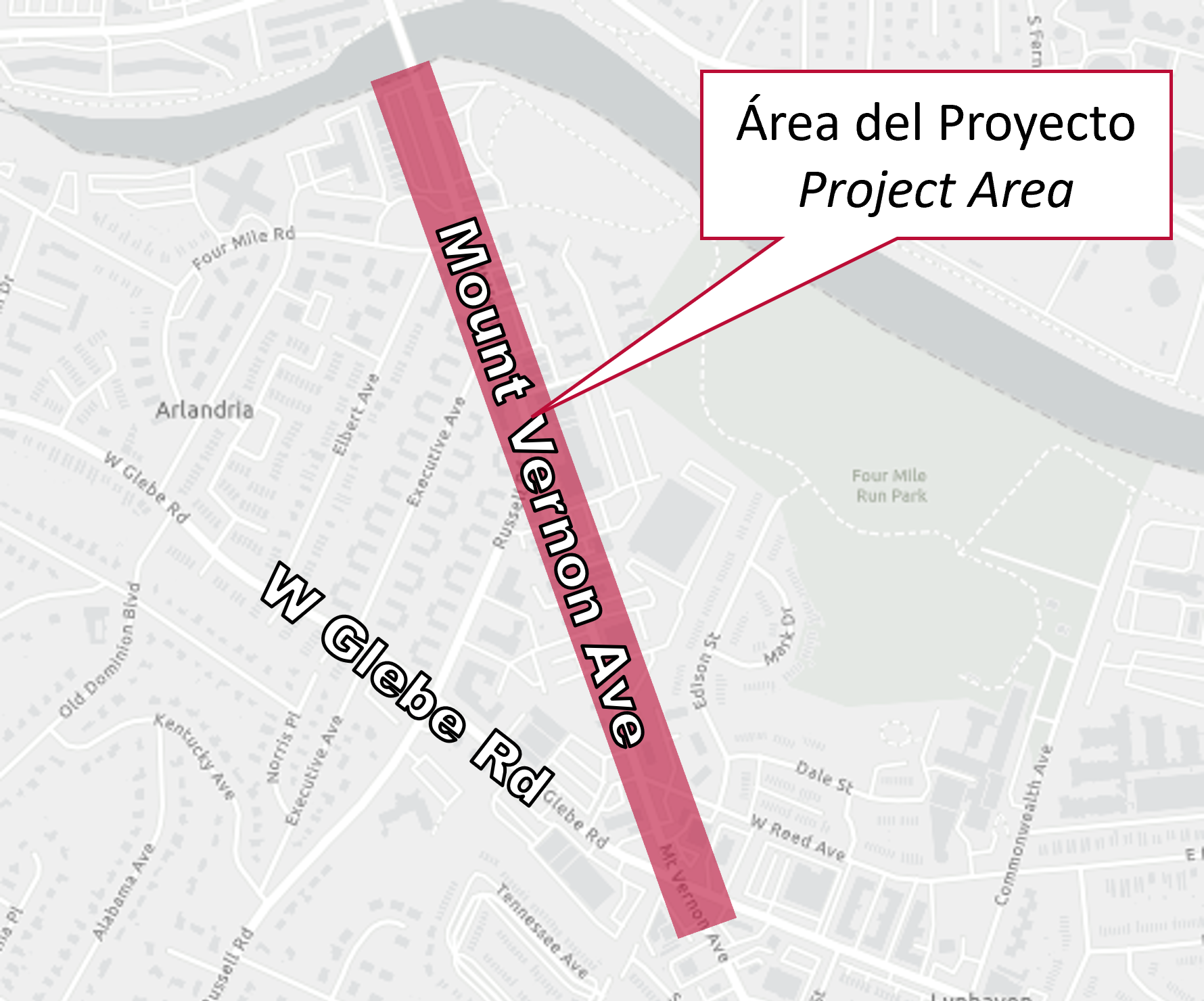 In 2016, a case study of the area resulted in recommendations to improve mobility, access, safety, and comfort on Mount Vernon Avenue. Additionally, the 2021 Arlandria-Chirilagua Small Area Plan identified locations where safety improvements were needed on Mount Vernon Avenue.
Some short-term improvements have been made to increase safety, including upgraded crosswalks, signs, and signal timing changes. This project will expand on those efforts by providing more robust safety improvements throughout the corridor.
This project is funded through the City budget and a grant from the Virginia Department of Transportation.
Project Goal: 
Improve mobility, safety, and access for roadway users of all ages, abilities, and modes of travel.
Project Development
Community Engagement
Status: Ongoing
January 22, 2024: Traffic & Parking Board Public Hearing
The City will present the preferred design alternatives at the Traffic & Parking Board Public Hearing on January 22, 2024:
Spring 2022: Public Comment Period for Design Options on Mount Vernon Avenue
The City held a community engagement period in Spring 2022 to get feedback on design options for Mount Vernon Avenue. There were two ways to participate:
1. Online (May 11-June 5):
View the project presentation: (English | Español)
Complete the online feedback form: (English | Español)

2. In Person (Thursday, May 19):
Community Open House
Thursday, May 19 from 7:00-8:30 p.m.
Chick Armstrong Recreation Center
After the public comment period, the City reviewed and summarized community input. This input will inform the City's recommended design options, which will be announced in the fall.
​​​​​​​Community Engagement Summary | June 2022
Thank you for your feedback!
Community Engagement Through 2021
The City has engaged with the community many times over the past several years and heard concerns about the Mount Vernon Avenue corridor via:
This input was being used to create design options for the corridor, which the community was invited to provide feedback on.
Planning & Conceptual Design
Status: In Progress
The City used a wealth of feedback provided by the community to develop design options for Mount Vernon Avenue. The conceptual designs are available below:
After hearing feedback from residents, coordinating with property owners, and assessing the benefits of each design option, the City has selected preferred alternatives for each intersection. The preferred alternatives maximize safety benefits while minimizing impacts to traffic operations and parking. More information on the preferred concept designs is available below:
Detailed Design
Status: Not Started
Construction
Status: Not Started