King Street-Bradlee Safety & Mobility Enhancements
This project seeks community input to design and construct multimodal safety and mobility enhancements and stormwater improvements on King Street between N. Quaker Lane and Menokin Drive.
Page updated on
Sep 22, 2023 at 10:14 AM
Project Purpose
The City of Alexandria is seeking community feedback on mobility, safety, access, and stormwater issues along King Street between N. Quaker Lane and Menokin Drive. The purpose of this project is to evaluate existing safety issues and develop concept designs for future improvements.
This portion of King Street was identified for multimodal improvements in the City's 2021 adopted Alexandria Mobility Plan and is a priority location to install enhanced bicycle facilities and additional sidewalks to complete gaps in the City's existing bicycle and sidewalk network. Safety improvements along this corridor will help the City reach the Vision Zero goal of eliminating all fatal and severe crashes. 
Complete the Feedback Form
The online feedback form is open, and the City of Alexandria is requesting community feedback on walking, biking and driving conditions along King Street, near the Bradlee Shopping Center. To kick off the King Street – Bradlee Safety and Mobility Enhancements Project, the City is seeking community feedback  to make it safer to travel through this commercial corridor. Feedback will be reviewed by City staff to begin identifying safety enhancements for the corridor. Complete the online feedback form by October 20, 2023.
The City is also hosting three pop-up events where you can complete the feedback form in person:
Wednesday, September 27 at the Bradlee Shopping Center from 3 - 7 p.m. 
Date Change Due to Weather: Saturday, September 30 at Fairlington Presbyterian Church from 9 a.m. to noon
Date Change Due to Weather: Saturday, September 30 at the Bradlee Shopping Center from noon to 3 p.m.
Project Boundaries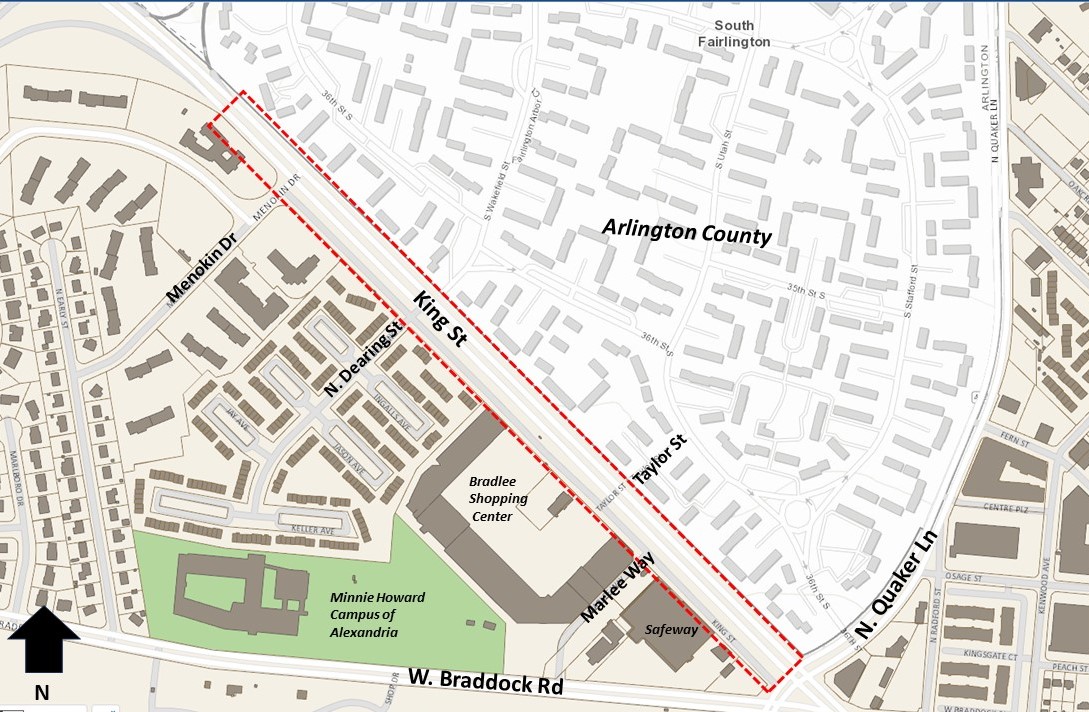 The Study Area consists of the King Street Corridor and parallel access road, from N. Quaker Lane in the east, to just north of Menokin Drive on the west. No design changes to the intersection of North Quaker Lane, King Street and West Braddock Road are being considered as part of this project.  
Project Goals
The goals of this project are to:
Improve mobility, safety, and access for all roadway users of all ages, abilities and modes of travel.
Install safer pedestrian access and bicycle facilities which connect into the surrounding network.
Improve existing stormwater treatment in the corridor to reduce instances of standing water. 
Maintain or enhance existing transit facilities. 
Project Schedule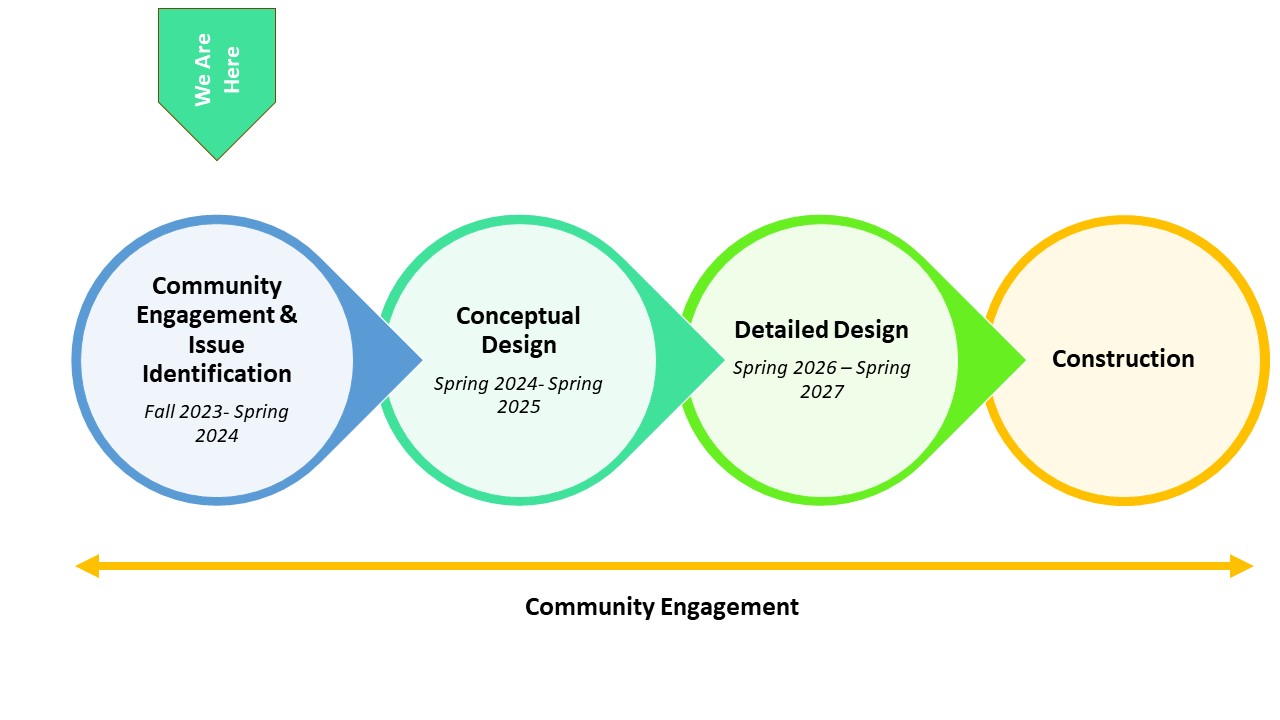 Stay Informed
Want to stay informed of project updates? Please click the following link to sign up for email updates regarding the King Street - Bradlee Safety & Mobility Enhancements Project: Sign up for Email Updates