Alexandria West Planning
This 18-month planning process will engage the community to create a shared vision for the future of Alexandria West, addressing topics such as equity, culture, housing, getting around, land use, parks, and safety.  Throughout this planning process, the City will host a variety of in-person and virtual events to share information and gather community input that will guide the future Plan.  

Join us and help shape the future of Alexandria West!
Page updated on
March 23, 2023 at 1:03 PM
Join us for the next Alexandria West Plan Community Meeting!
When: Monday, March 27
6:30 p.m. - Informational Open House
7:00 p.m. - Community Meeting
Where: This is a hybrid meeting.
What: Community discussion of housing affordability, transportation, and overall community feedback.
Food, childcare and language interpretation will be available. Please register to request childcare and language interpretation by clicking here.
Project Video Update #1
This video is part of a regular series of video updates to keep the community informed and updated on what is happening and what they can look forward to as part of the AlexWest community planning effort.
Click here to read the video script in Amharic, Arabic, Dari, Pashto, or Spanish.
Why Plan Now?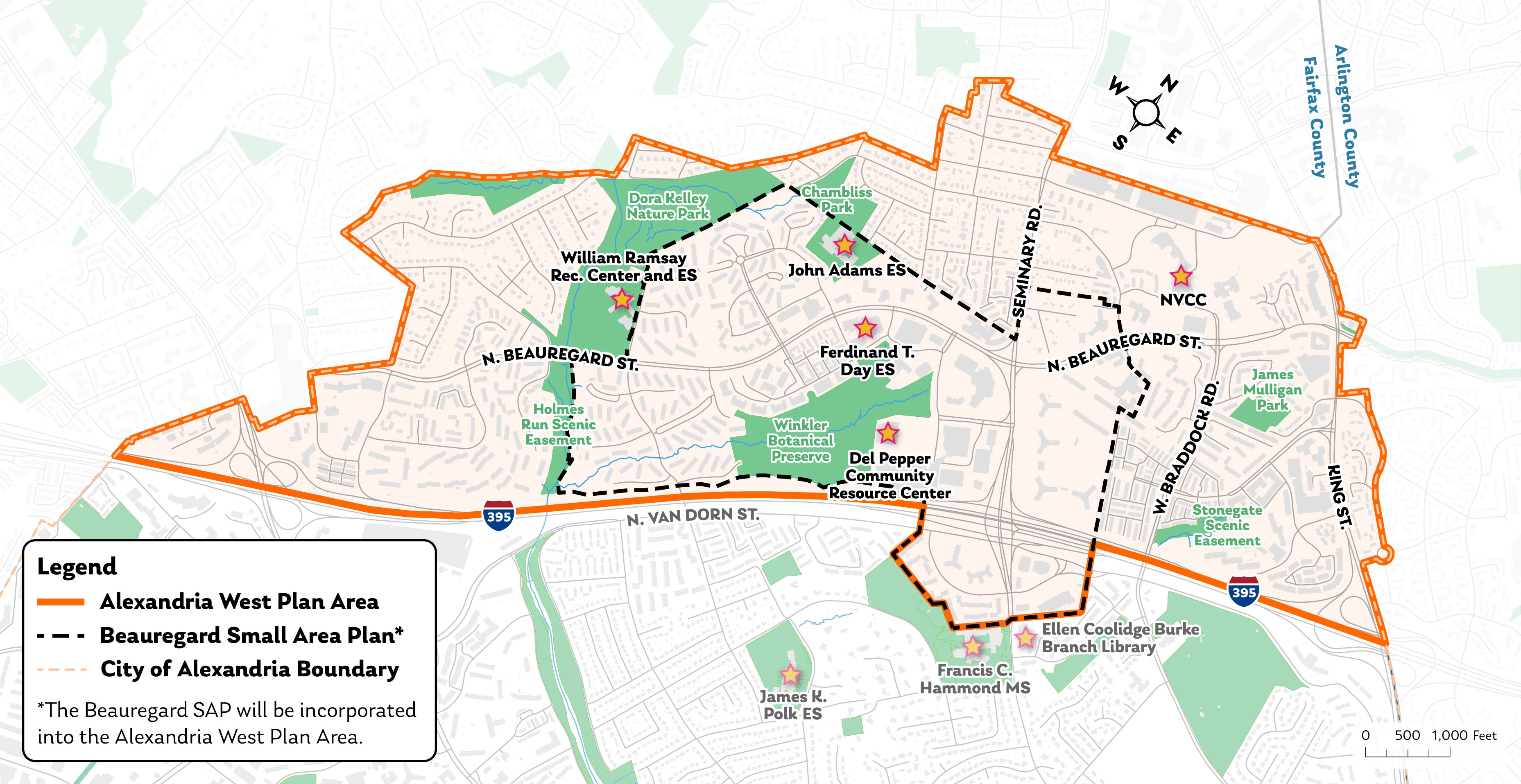 City Council's FY 2023 Long-Range Planning Interdepartmental Work Program prioritized the community planning process to update the long-term vision for the 1992 Alexandria West Small Area Plan and integrate the 2012 Beauregard Small Area Plan. Creating an updated community vision for the future allows us to proactively plan for change and prepare for challenges and opportunities in the years to come.  Creating a great City and great neighborhoods don't just happen.  This plan amendment is intended to build on the many strengths of the plan area while building lasting value and opportunity for all residents. 
An updated Plan will enable:
The 10-30 year-old land use plans to be updated comprehensively to address current community needs and incorporate current city policies and best practices.

The issue of housing vulnerability and affordability to be addressed by leveraging housing resources, policies, and funding opportunities to meet this challenge.

An approach developed with the city and community to guide and shape future development and make expectations clear for the community, city and developers.
Inclusive Community Engagement
The Alexandria West plan area is home to a multicultural, multilingual community, a diversity of businesses and institutions, and community organizations representing diverse stakeholders and neighborhoods. The planning process implements current best practices to engage all parts of the community in ways that reduce barriers to participation and provide equitable opportunities for community members to participate – ensuring that all voices are included and heard. 
In preparing to launch the planning process, the City reviewed several participation strategies, including an advisory group, to ensure an equitable and inclusive process. The City determined that a variety of in-person and online strategies would best serve this need, including meetings and pop-ups in multiple languages at a variety of times and locations throughout the Plan area. With this approach, all members of the community are invited to participate, discuss, and collaborate on a shared vision for the future by participating in the range of options that work best for them.  
All engagement materials and feedback will be posted to the project website and shared with the community. In addition to engaging individual stakeholders through the options discussed above, Staff is also contacting all civic, business, non-profit and community organizations and agencies to gather feedback and guidance. To request a meeting, information, provide suggestions or be placed on our distribution list, please contact José DelCid at jose.delcid@alexandriava.gov.
We received the following letters from community groups:  
Project Schedule
Below is a summary of the project schedule: Project Funding
City Council approved $300,000 to fund the18-month long planning effort; $200,000 was approved in the FY2022 City budget and $100,000 in the FY2023 City budget. The funding is for technical planning related and economic studies, community engagement and translation services. Similar to other planning efforts, the cost of the transportation study will be funded by developers within the Plan area, with the scope and technical review of the traffic managed by the City and reviewed and discussed with the community.
Connect with us!
Community Poll #1 - Summary Available
Community Poll #1 was conducted from November 25 to January 25 to gather feedback to inform the planning process. We received 970 responses online, on printed copies, and in multiple languages. Poll responses were voluntary/self selected and do not constitute a random sample.
Meeting and Event Materials and Information
Phase 1: November 2022 - January 2023
Tuesday, November 15, 2022, 7 p.m. - Virtual Community Planning Process Kick-Off Meeting 
Phase 1 Photos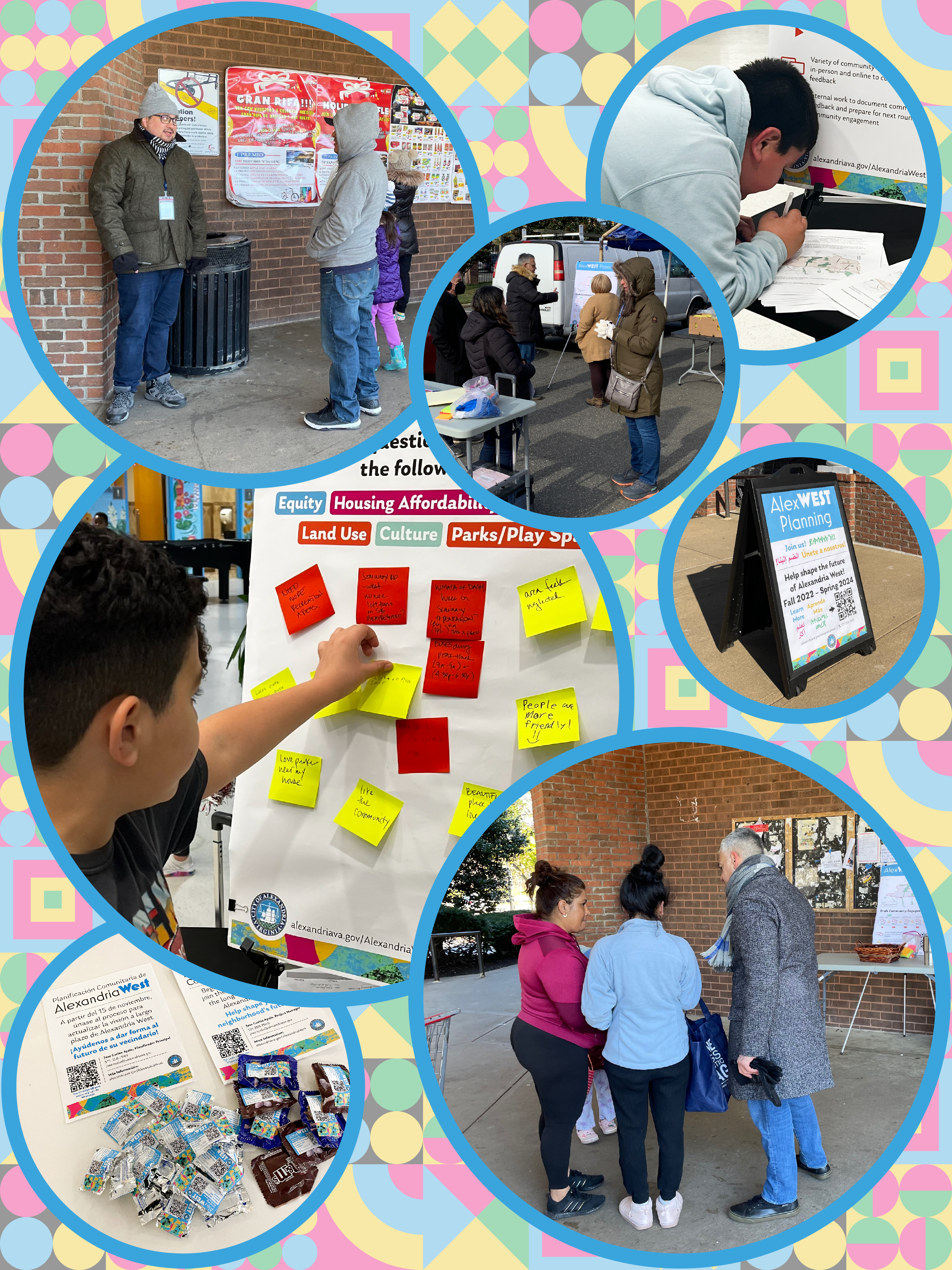 Additional Materials and Resources
Questions or Comments?
Call, Email or WhatsApp
Contact Richard Lawrence, Principal Planner, Department of Planning and Zoning, 703.850.9324, or WhatsApp text messenger 571.358.7569.