Deputies Issued Narcan, Receive Training to Respond to Opioid Overdoses
Page updated on
March 18, 2022 at 9:13 AM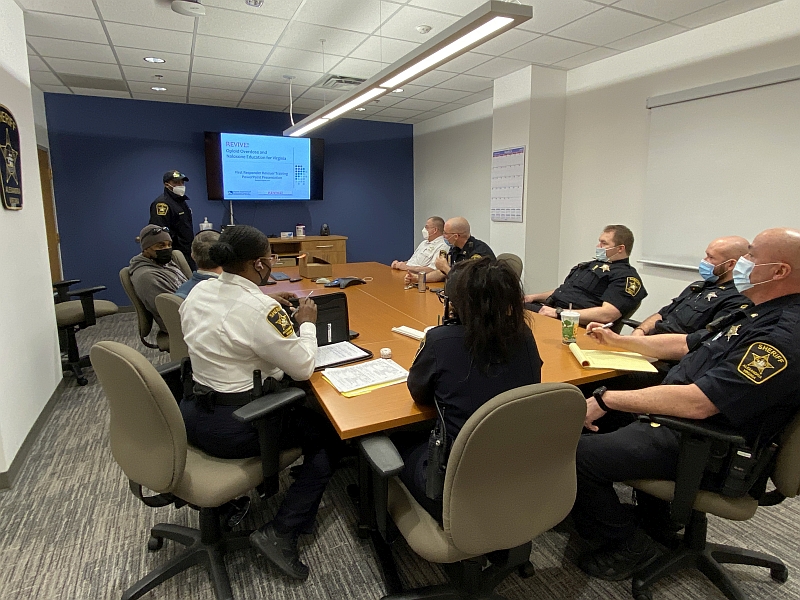 To help rescue overdose victims, Alexandria deputies can now carry Narcan, a potentially lifesaving medication that can quickly reverse the effects of an opioid overdose. Deputies assigned to Judicial and Special Operations recently received training on how to respond to suspected opioid overdoses and how to use Narcan nasal spray in an emergency. These deputies, who generally work in the courthouse or in the community serving civil process, have been issued Narcan and are now carrying it with them.
Deputies assigned to the Detention Center will also be permitted to carry Narcan, also known as naloxone, however, the jail also has medical staff who can respond to a suspected overdose.
In 2021, the Sheriff's Office, in partnership with the Department of Community and Human Services, began providing Narcan and fentanyl test strips, as well as substance abuse and peer support information, to individuals being released from jail.
Free Narcan and fentanyl test strips are available to Alexandrians upon request by calling 703.746.4888 or emailing opioids@alexandriava.gov.
The Sheriff's Office is one of several public safety organizations on the City of Alexandria Opioid Work Group which was formed in 2015 in response to the opioid crisis.