ASO Distributing Narcan, Treatment Resources to Returning Citizens
In partnership with the Department of Community and Human Services, the Sheriff's Office is providing Narcan and fentanyl test strips, along with substance use treatment and peer support information, to individuals being released from jail.
Page updated on
August 30, 2022 at 3:32 PM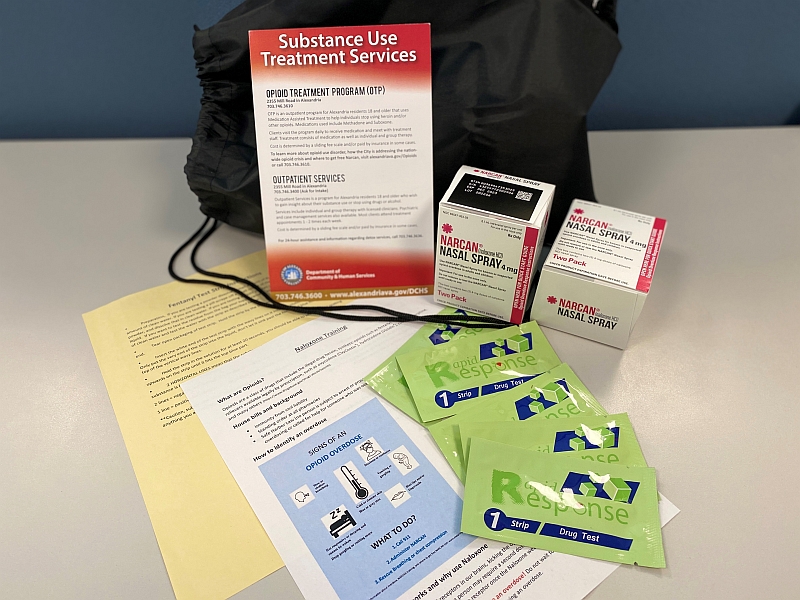 In August 2021, the City of Alexandria launched the Reentry Bag Program, which distributes substance use treatment and peer support information along with Narcan and fentanyl test strips to individuals who were formerly incarcerated and are reentering the community.
The program, the first of its kind in Virginia and one of a handful in the United States to distribute fentanyl test strips through jails, is a collaboration between the Sheriff's Office and Department of Community and Human Services, both of which participate on the City's Opioid Work Group. The goal of the program is to provide treatment options and prevention tools to those reentering the community to help keep them and the community safer and reduce opioid misuse and its harmful effects in Alexandria.
Research reveals that the weeks immediately following release can be a high-risk period for substance users. According to the National Institute on Drug Abuse, opioid substance users reentering the community are at a particularly higher risk of overdose following release. Many will experience a reduced tolerance because they stopped using drugs while incarcerated. Upon release, many will return to levels of use similar to what they used before incarceration, not realizing their bodies can no longer tolerate the same dose, increasing their risk of overdose and death.
Narcan is an easy-to-use nasal spray that can save the life of someone experiencing an opioid overdose, and fentanyl test strips detect the presence of fentanyl, a synthetic opioid 100 times more potent than morphine, in an unregulated injectable drugs, powders and pills. Research by the Washington State Department of Health reveals that individuals using fentanyl test strips take steps to reduce their risk of overdose.
The Reentry Bag Program is the latest in a series of efforts using fentanyl test strips to help reduce the impact of substance use and opioid misuse in Alexandria. In May 2021, the Opioid Work Group also launched a regional harm reduction program to distribute fentanyl test strips in partnership with The Chris Atwood Foundation with the goal of lowering the rates of opioid overdoses from fentanyl. The test strips are also distributed to participants at Friends of Guest House, a program that helps women successfully renter the community from incarceration.
Residents can also obtain Narcan and the fentanyl test strips for free by emailing opioids@alexandriava.gov. Narcan is also available by calling the Alexandria Health Department at 703.746.4888 and without a prescription at most pharmacies. For more information on Narcan and how to obtain it, visit alexandriava.gov/Opioids.
DCHS can help locate treatment options in Alexandria for anyone dealing with substance use and is available 24 hours a day at 703.746.3636 (Virginia Relay 711). To get help stopping the use of heroin or other opioids, call the Opioid Treatment Program intake line at 703.746.3610.