Program Paves Way for Ex-Offenders to Work as Flaggers
Page updated on
January 11, 2023 at 2:49 PM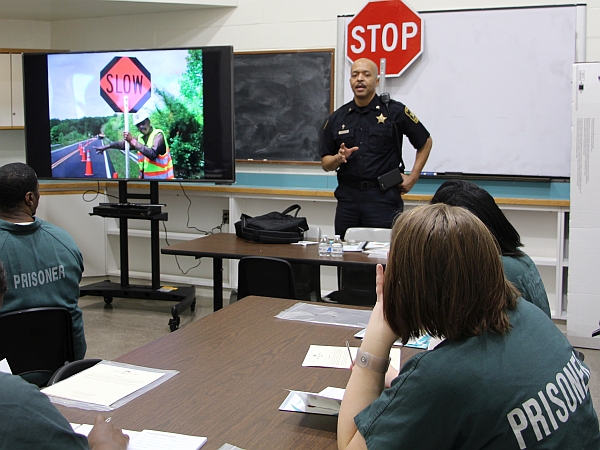 The Sheriff's Office provides educational and training opportunities for inmates to expand their knowledge and develop skills that will aid them after their release. Through the flagger program, established in 2019, dozens of inmates have become certified flaggers who can direct traffic on roadways and in work zones.
Deputy Todd Stubblefield (right), certified as a Traffic Control Supervisor and a Flagging Instructor by the American Traffic Safety Services Association (ATSSA), conducts in-classroom training for eligible inmates interested in becoming safe and effective flaggers. Training covers standard flagger control references, proper flagging signal procedures, standard flagger practices for various situations and other important subjects. After the training, participants take a required test and upon passing, becoming ATSSA-Certified Flaggers.
This certification is recognized in Virginia, Maryland and Washington, D.C., as well as dozens of other states. With this certification, ex-offenders can increase their opportunities for employment and can more effectively pursue flagger work in the road safety industry.
The Sheriff's Office also provides training opportunities for inmates to receive their ServSafe® Food Protection Manager certification and their OSHA 10 cards which, like the flagger certification, make them more competitive candidates for employment when they return to the community.