First Female Inmates Complete OSHA Construction Safety and Workplace Readiness Training
Page updated on
August 31, 2022 at 10:28 AM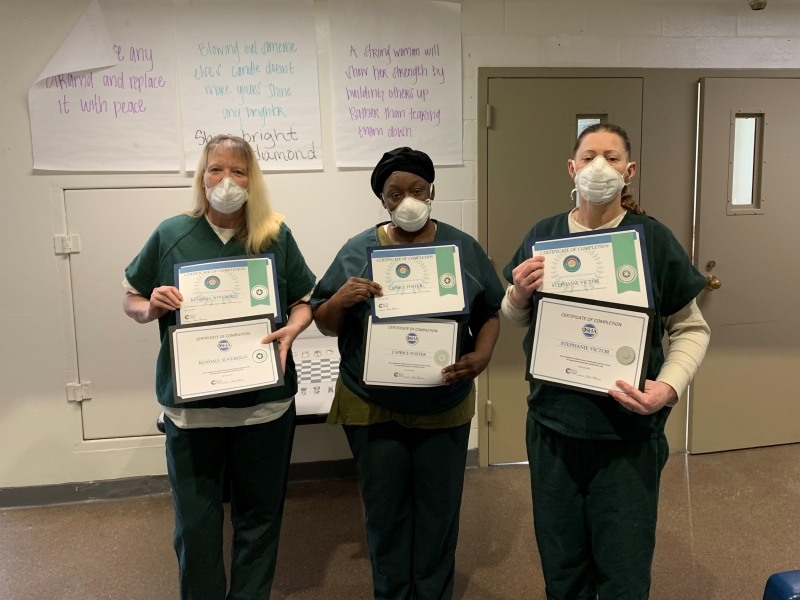 Five inmates recently completed professional development training that will help them when they return to the community and seek employment. These five are the first women at the William G. Truesdale Adult Detention Center to complete the Occupational Safety and Health Administration (OSHA) 10-hour Construction Safety and Health curriculum and the 30-hour Workplace Readiness Skills training. Both are new educational programs the Sheriff's Office began offering through remote instruction during the past year.
Under the direction of John Brown, President and Director of 5C's Development Program, Kendall Sovereign, Caprice Foster, Stephanie Victor and two other students completed OSHA 10 training, the construction industry's standard introductory course in safety awareness. Students learned how to recognize and prevent hazards on a construction work site, and all received OSHA 10-hour Construction Safety and Health cards, a basic requirement for most entry-level positions at construction sites. Having the OSHA 10 training increases their employment opportunities in the construction industry when they return to the community.
In addition, Mr. Brown trained the students in Workplace Readiness, a certificate program that directly correlates with the essential curriculum and professional competencies developed by the Virginia Department of Education. Workplace Readiness focuses on building professionalism, personal qualities, technology awareness and 21st century job skills to excel. The students learned about customer service, conflict resolution, critical thinking, problem solving, listening, and communication, as well as workplace safety, efficiency, tools and technology, and professional expectations. With these skills and competencies, they will be better prepared for successful reentry and more competitive candidates for employment.
The Sheriff's Office first began offering the OSHA 10 training last winter and Workplace Readiness in the spring. The Inmate Services team offers other programs that allow eligible inmates to pursue certifications in food protection management from ServSafe® and in traffic control flagging from the American Traffic Safety Services Association.
5C's Development Program, a 501(c)(3) nonprofit vocational educational and training program in Richmond, provides men and women the opportunity escape poverty and unemployment and become productive workers by offering programs and services in carpentry, construction, certifications, contracting, and counseling.
Photo: Congratulations to (l-r) Kendall Sovereign, Caprice Foster and Stephanie Victor who received their OSHA 10 and Workplace Readiness Skills certificates in August!