Residential Pay by Phone Parking Program
Overview of Residential Pay by Phone Parking Program and updates on the program evaluation, meetings, and hearings.
Page updated on
February 5, 2022 at 12:32 PM
Residents on eligible blocks may request residential pay by phone signage that requires vehicles without an applicable district sticker to pay a parking fee to park on the block, while exempting residents and guests that display a valid district permit. 
Meters are generally not installed on these blocks.  Instead, people who choose to pay to park may use the City's pay by phone app, ParkMobile, purchase a receipt from a meter on an adjacent block, or purchase a pre-paid scratch-off permit.  Similar to other restrictions in the residential permit parking district program, residential pay by phone requests must be initiated by residents of a block through a petition.
This program was approved on March 16, 2019 by the City Council for the area shown on the program map.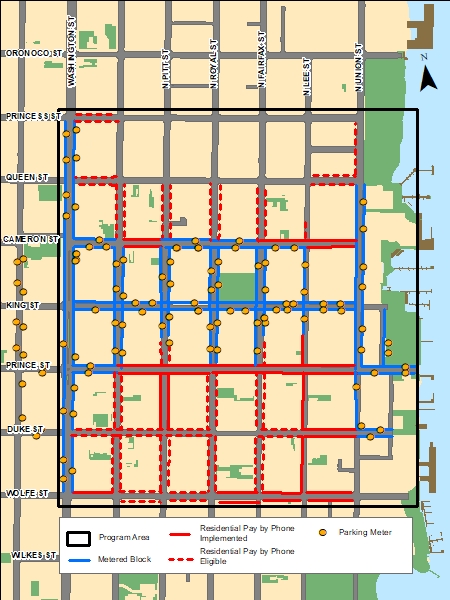 Program Information
Payment Options
Use the City's pay by phone app, ParkMobile
Call the ParkMobile toll-free number at 877.727.5457
Purchase a receipt from a meter on a nearby block and display in car
Purchase a 2-hour pre-paid scratch-off permit from the City Treasury in City Hall and at the Alexandria Visitor Center, scratch off date and time of the beginning of the parking session, and display in car (example shown below)