Contact the Sheriff's Office
The Alexandria Sheriff's Office strives each day to perform at the highest level of professionalism. Under the command of Sheriff Sean Casey, the Alexandria Sheriff's Office receives many kudos, compliments and comments, but we welcome all feedback concerning our performance and the way we serve you.
Page updated on
September 6, 2023 at 4:38 PM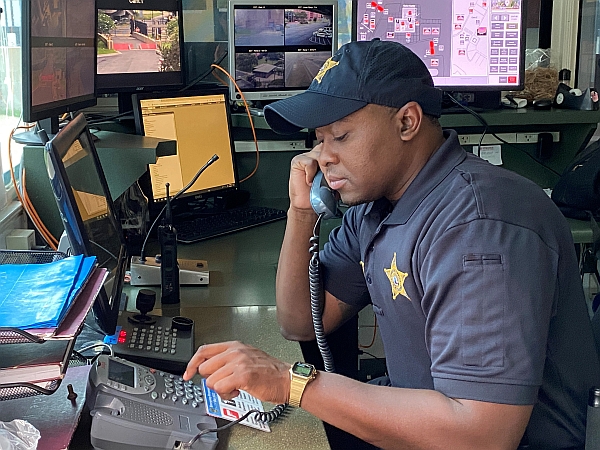 To let us know how we're doing, please feel free to contact us at 703.746.4114 and share how well we're doing or how you'd like to see us improve. 
You may also reach us by contacting the staff or work units as indicated below:
Detention Center Information (available 24 hours a day)
703.746.4099
Administration
703.746.4114
Detention Center Watch Commander
703.746.5036
Courthouse Information
703.746.4120
Detention Center Records & Inmate Information
703.746.5000
Recruitment
703.746.5035
Sheriff Sean Casey
AlexandriaSheriff@alexandriava.gov
703.746.4114
Undersheriff Deputy Robyn Nichols
Administrative Services Bureau Commander
robyn.nichols@alexandriava.gov
703.746.5120
Chief Deputy Shelbert Williams
Support Services Bureau Commander
shelbert.williams@alexandriava.gov
703.746.5038
Chief Deputy Dan Gordon
Detention Center Bureau Commander
daniel.gordon@alexandriava.gov
703.746.5026
Chief Deputy Shahram Fard
Judicial and Field Operations Bureau Commander
shahram.fard@alexandriava.gov
703.746.5158
Captain Quentin Wade
Detention Center, Second Division Commander
quentin.wade@alexandriava.gov
703.746.5047
Captain Marybeth Plaskus
Detention Center, First Division Commander
marybeth.plaskus@alexandriava.gov
703.746.5010
Captain Dave Cutting
Professional Standards & Training Division
dave.cutting@alexandriava.gov
703.746.5156
Acting Captain LaJuenne Harding
Administrative Support Division
lajuenne.harding@alexandriava.gov
703.746.5029
Acting Captain Treska Lytle
Support Services Division
treska.lytle@alexandriava.gov
703.746.5051
Lieutenant Robert Gilmore
Judicial Services and Special Operations
robert.gilmore@alexandriava.gov
703.746.4120
Latoscha Hart
Human Resources Section
latoscha.hart@alexandriava.gov
703.746.5025
Cicely Woodrow
Chief Financial Officer
cicely.woodrow@alexandriava.gov
703.746.5149
David Nye
Training & Recruitment Section
david.nye@alexandriava.gov
703.746.5169
LaTanya Ervin
Inmate Services & Alternative Programs Division
latanya.ervin@alexandriava.gov
703.746.5075
Candra Callicott
Americans with Disabilities Act (ADA) Coordinator
candra.callicott@alexandriava.gov
703.746.5115
Amy Bertsch
PIO/Media Relations
amy.bertsch@alexandriava.gov
703.746.5014
Elizabeth Anderson
Volunteer Coordinator
elizabeth.anderson@alexandriava.gov
703.746.6353
Chaplain
703.746.5108
Magistrate
703.746.4515
Inmate Property
703.746.5043
Alternative Programs
703.746.5110
Visitation Information
703.746.5044
Inmate Classification Manager
703.746.5162
Public Records Requests/FOIA
703.746.3750