Inmates Enjoy Holiday Program Courtesy of Yellow Door Concert Series
Page updated on
December 21, 2022 at 12:57 PM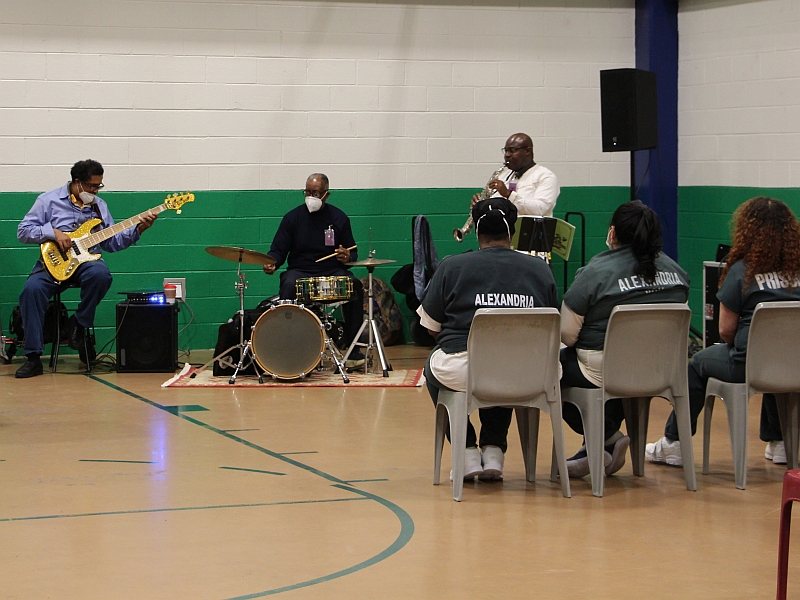 On December 14, dozens of inmates at the William G. Truesdale Adult Detention Center enjoyed an uplifting holiday program featuring live music and a spiritual message, thanks to local musicians and pastors. Sheriff Sean Casey welcomed attendees to the first program of its kind since the pandemic began nearly three years ago.
Alexandria musician Vaughn Ambrose donated his time and talents to provide a holiday jazz performance to 55 of our residents as part of the Yellow Door Concert Series he and his wife Robyn Ambrose founded in 2018. Bassist Michael Pryor and drummer Greg Holloway joined Vaughn Ambrose as he played saxophone, and together they performed timeless and newer classics including "Christmas Time Is Here," "This Christmas," and "Little Drummer Boy."
After the concert, Pastor Josue "Josh" Urrutia of Future Church and his colleague Mauricio Jimenez Paz delivered a message about the origins and meaning of Christmas in both English and Spanish. Once the formal program concluded, attendees enjoyed soft drinks and cupcakes.
Sheriff Casey and the Inmate Services staff would like to thank the Ambroses and the Yellow Door Concert Series, as well as Pastor Josh for sharing the holiday spirit with our residents.