Sheriff's Office First City Public Safety Agency to Receive Marcus Alert Training
Page updated on
June 7, 2022 at 4:04 PM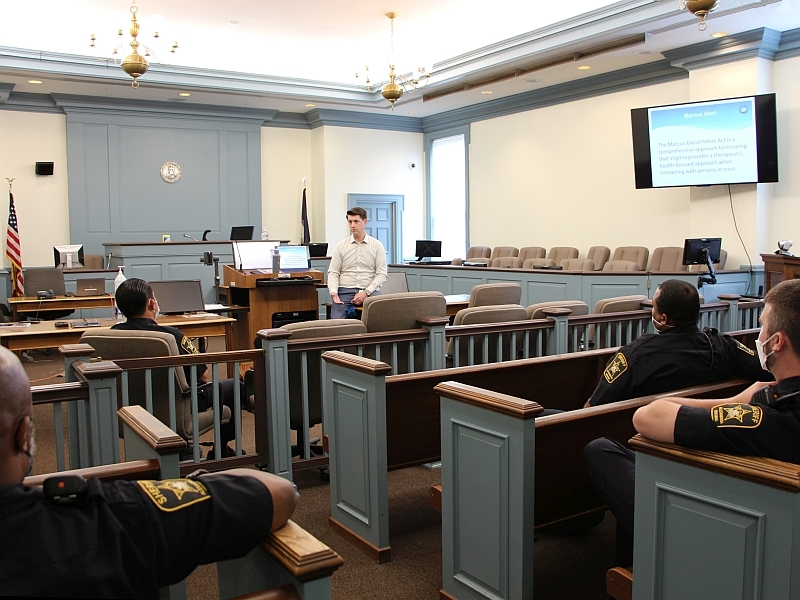 As part of the City of Alexandria's development of its Marcus Alert system, the program coordinator is conducting training for public safety personnel. The new system is being implemented as part of the Marcus-David Peters Act, a statewide framework intended to reform the response to behavioral health emergencies and named after Marcus-David Peters, a 24-year-old Black man experiencing a mental health crisis who was shot and killed by police in Richmond in 2018.
The Marcus Alert system seeks to improve the response to behavioral health crises, ensuring that such crises are responded to in a clinically appropriate manner, including reducing law enforcement involvement.
In May, Mike Razak, Alexandria's Marcus Alert Coordinator, provided training to more than two dozen deputies assigned to the Judicial and Special Operations Bureau who work primarily at the Alexandria Courthouse and in the community. Deputies learned about the Marcus system and its goals, how to differentiate four triage levels, and other important areas, such as identifying signs and outcomes of a behavioral health crisis and understanding the protocols used by the Department of Emergency and Customer Communications (DECC) for handling such calls.
The Sheriff's Office is the first public safety agency in Alexandria to receive training on the Marcus Alert system, and deputies will be able to work more effectively with other first responders as their counterparts at the Police and Fire departments and DECC, complete Marcus training.
Critical to Alexandria's Marcus Alert implementation are the Alexandria Co-Response Program (ACORP), a collaborative effort between the Police Department and the Department of Community and Human Services (DCHS) established last fall, and the Crisis Intervention Team, public safety personnel who are trained to respond to people experiencing behavioral health crises.