Eisenhower Avenue Transportation Study
The City of Alexandria and the Virginia Department of Transportation (VDOT) are studying Eisenhower Avenue to evaluate needs and opportunities for improving safety, mobility, and accessibility along the corridor.
Page updated on
September 18, 2023 at 9:32 AM
Project Purpose
The purpose of this project is to evaluate needs and opportunities for mobility, access, and safety improvements on the Eisenhower Avenue corridor.
The Virginia Department of Transportation (VDOT) and Office of Intermodal Planning and Investment (OIPI) selected Eisenhower Ave between Van Dorn Street and Holland Ave in the City of Alexandria to be evaluated under the VDOT Project Pipeline Program. This program will include a study of the corridor to evaluate State and City needs to improve safety, mobility, and accessibility along Eisenhower Avenue.
The expected outcomes of the study are grant applications to fund identified improvements in the program. The project will keenly focus on issues such as the high crash rate between Van Dorn Street and Eisenhower Ave Connector, poor connectivity and accessibility for pedestrians and cyclists near Hensley Park, Holmes Run Trail, and Lake Cook, as well as addressing future demand concerns in the Eisenhower east section of the corridor. The State and City expect to complete this study by Summer 2024.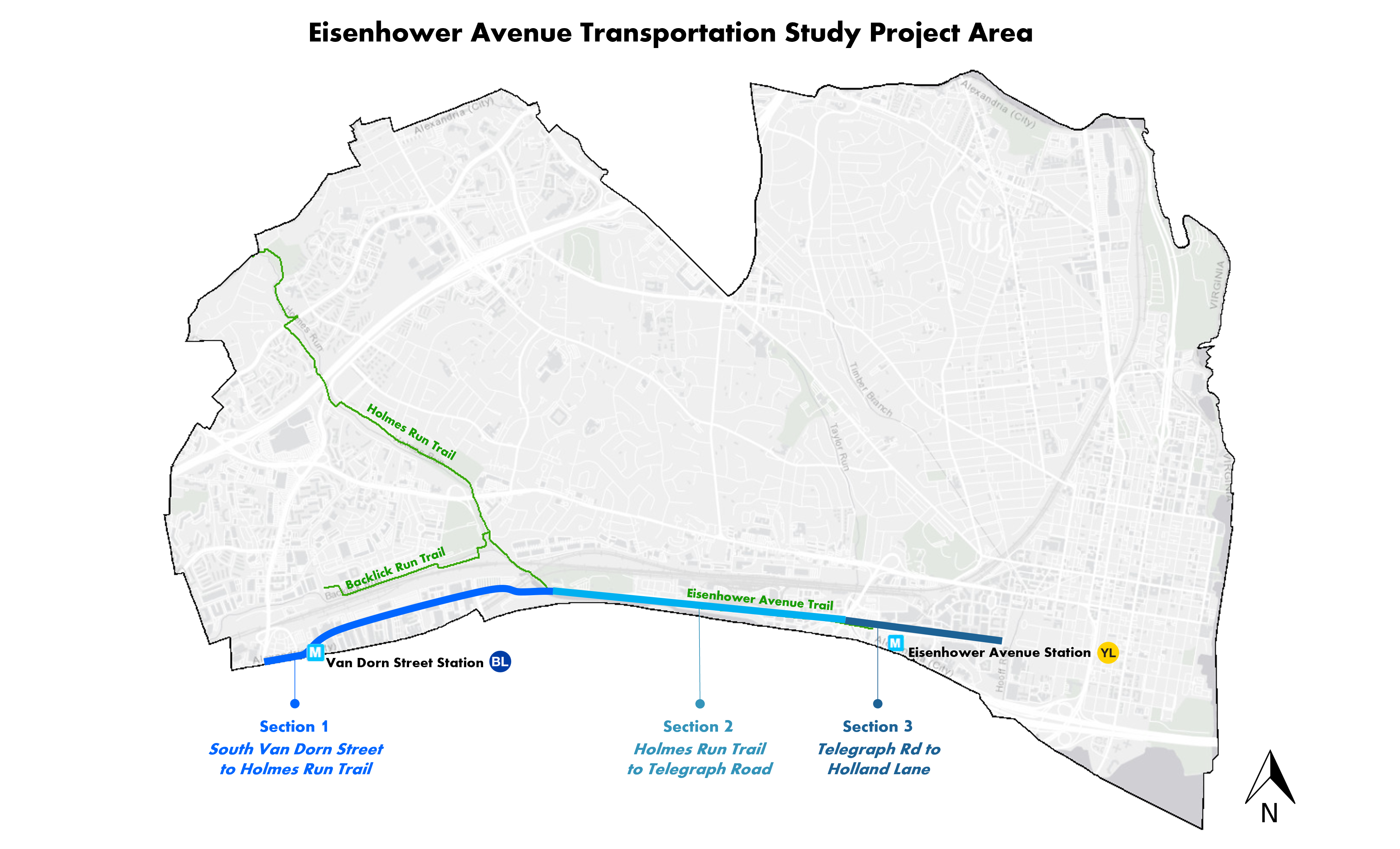 Background
Eisenhower Avenue between South Van Dorn Street and Holland Lane is an east-west four-lane roadway that is located on the southern side of the city near I-495. The corridor has been a topic of discussion as part of the Eisenhower West Small Area Plan and the Eisenhower East Small Area Plan. The corridor has many needs such as accessibility, travel demand management, and infrastructure accommodations for people walking and biking. Parts of the corridor also have critical safety needs identified by the City's Vision Zero Program and Virginia Department of Transportation (VDOT) Potential for Safety Improvements. The Alexandria Mobility Plan also calls for new and improved sidewalks and bicycle facilities on Eisenhower Avenue.
To address these many needs, Eisenhower Avenue was selected for the 2023 Virginia Project Pipeline Program to evaluate existing conditions, develop recommendations for transportation-related improvements, and help identify funding sources for future improvements. 
Recommendations and plans resulting from this study will be largely unfunded, however, a goal of the Virginia Project Pipeline Program is to generate competitive grant applications for state and federal funding. 
Study Timeline
The Eisenhower Avenue Transportation Study is a yearlong effort that began in July 2023 and is expected to be completed by end of Summer 2024. The study includes three phases. Community engagement will be performed throughout the life of the project.
Phase 1: July 2023 to October 2023
Existing Condition Review

Preliminary Recommendations
Phase 2: November 2023 to March 2024
Future Condition Evaluation

Refine Recommendations
Phase 3: March 2024 to Summer 2024
Final Recommendations
Grant Application Development
Study Development
Community Engagement
Community Input Period (August 28-September 17, 2023)
The City solicited community input via an online feedback form between August 28 and September 17 to hear what residents think about transportation needs and issues on Eisenhower Avenue. Thank you for your comments!
Study Materials
Phase 1: Existing Condition Evaluation and Preliminary Recommendations
Coming soon! Stay tuned for updates in Fall 2023.
Frequently Asked Questions
Why is this being corridor being studied?
Eisenhower Avenue is a diverse corridor with a wide range of land uses, development density, and needs. It is an important east-west route in Alexandria, serving all modes of transportation, including people walking, biking, taking transit, and driving. It provides access to residential neighborhoods, commercial districts, parks and trails, two Metro Stations, and more. Many transportation needs have been identified on the Eisenhower Avenue corridor by both the City of Alexandria and the Virginia Department of Transportation. The City's adopted Alexandria Mobility Plan calls for improved bicycle facilities and sidewalks on Eisenhower Avenue. Various improvements have also been recommended via the Eisenhower West Small Area Plan and the Eisenhower East Small Area Plan. Additionally, Eisenhower Avenue has been identified as a high-crash corridor through the City's Vision Zero Program, the goal of which is to eliminate fatal and severe crashes.
Why is the Virginia Department of Transportation (VDOT) involved?
VDOT's Project Pipeline grant funds studies on high-priority focus corridors to evaluate issues and needs, develop solutions, and identify funding sources. Eisenhower Avenue is identified as a VDOT high-priority focus corridor due to safety and mobility concerns. Trough this study, the City will work with VDOT and VDOT's consultant to identify solutions that improve safety, mobility, and operations on Eisenhower Avenue.
How will this project align with the small area plans?
This project will build on the work of the Eisenhower West and Eisenhower East Small Area Plans by exploring recommendations from those plans at a more granular level. This study will ultimately result in conceptual designs that can be leveraged to support future grant applications to fund implementation of the proposed improvements.
What is being done about cut-through traffic from the interstate?
This study will evaluate existing conditions on Eisenhower Avenue, including the amount of traffic using Eisenhower Avenue as a parallel route to I-495. The study will also explore mitigation measures to balance the need for vehicular mobility with the City's goals to enhance safety, access, and comfort for people walking, biking, and taking transit.
How do I submit feedback or ask for more information?
Visit the Study Development section for upcoming opportunities to provide feedback. Residents may also contact the Project Manager, Dan Scolese, at Daniel.Scolese@alexandriava.gov. 
When can I expect to see actual improvements?
Eisenhower Avenue is a four-mile long corridor with many needs, which means that completing major improvements corridor-wide is a long-term effort. This study will allow the City to leverage conceptual designs to seek State and/or Federal grant funds to support implementation of future improvements. That being said, there may be opportunities to make interim or short-term improvements in limited cases with local funds in the next 2-3 years. 
Additional Resources
Visit the resources and related pages below to learn more:
Contact
Dan Scolese
Project Manager
Transportation Engineering Division
Department of Transportation & Environmental Services
City of Alexandria
Daniel.Scolese@AlexandriaVA.gov