Robinson Terminal South Update: Ship Models
The team at the Conservation Research Lab are creating both digital and physical models of the three ships found at this site.
Page updated on
December 22, 2021 at 4:49 PM
Building Digital and Physical Ship Models
March 2021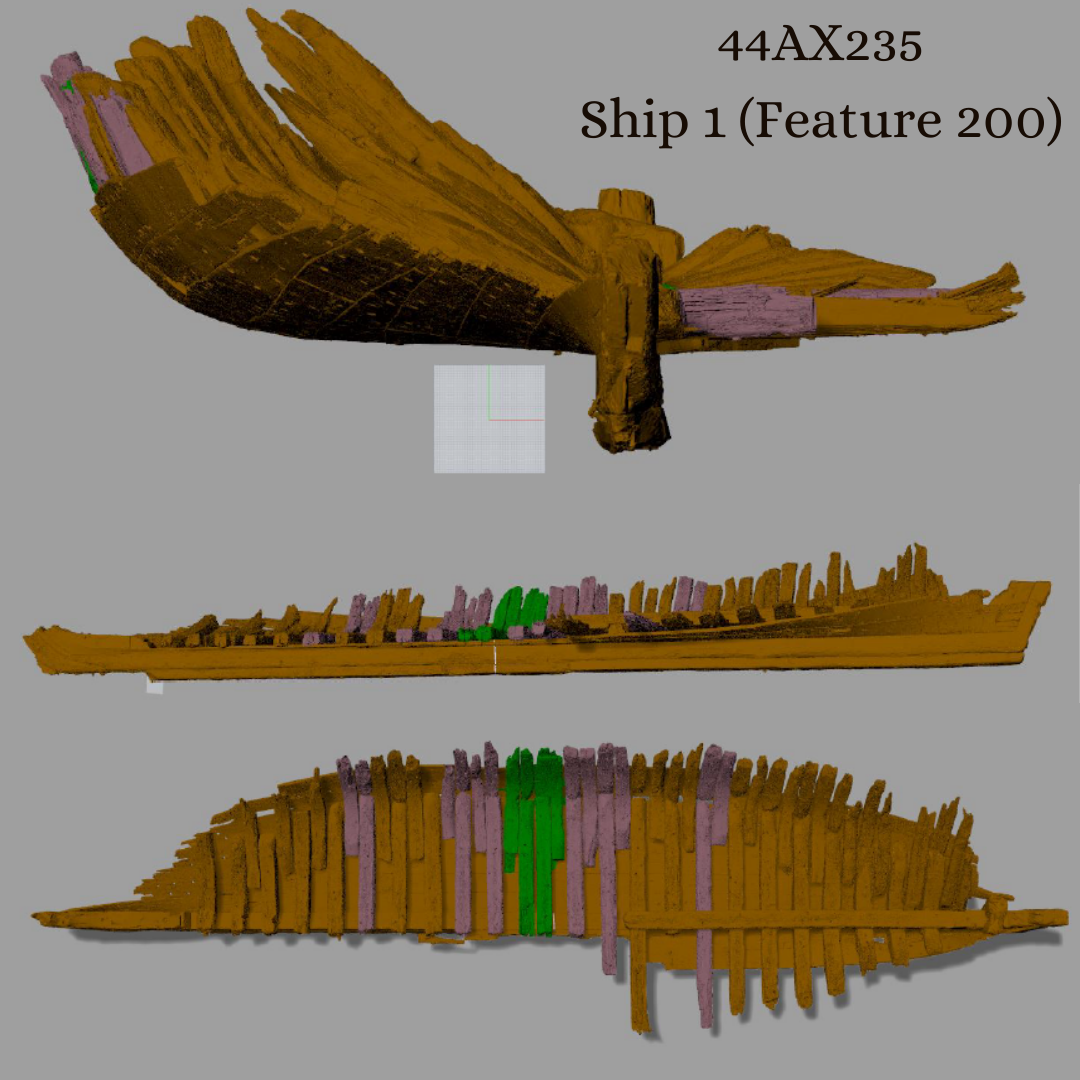 The team at the Conservation Research Lab has been busy this winter! They're working hard to create both digital and physical models of the three ship remnants found at the Robinson Terminal South Site (44AX235).
The team have nearly completed the digital model of Ship #1 (Feature 200) and are working on the model for Ship #3 (Feature 159). They piece individual timber scans together to digitally recreate the ship remnant. It is a time-consuming process to ensure that the timbers align correctly. Researchers do this by aligning the original trunnel holes on the timbers digitally. The stern end on the starboard side of Ship #3 is proving to be a little more difficult to reconstruct because the recovered frames were not clearly connected to the center of the ship. These "floating" timbers lack obvious connections because they come from the portion of the ship that was cut through by the slurry wall.  Digitally reconstructing Ship #1 was a more straightforward process. The team is almost done with this task and only has a few more timbers to virtually add to the model and align.
The team's model maker is making a great deal of progress on the physical models. The team has 3D printed all the scanned timbers from all three ships.  The model maker is working on Ship 2 (Feature 155) and has installed the metal wires outlining the general shape of the vessel extrapolated from the archaeological remains. The frames on this ship were very tightly spaced, making installing the wires more difficult. The model maker had to carve channels into the plastic frame timbers to accommodate the wires instead of simply inserting the wires between the frames.
Work continues on the physical and digital models of these three ships. This research will help us better understand the size and shape of the vessels and thus what they may have been used for in the past.