Educational Resources at the Alexandria Archaeology Museum
The Alexandria Archaeology Museum offers programs for schools and other groups, a summer camp for teenagers, and internships for college students.
Page updated on
July 28, 2022 at 1:16 PM
Arrange a Field Trip
To arrange a field trip, contact the Alexandria Archaeology education coordinator through Alex311 or call the museum at 703.746.4399.
If you would like to combine your visit with lessons at other Alexandria museums, please look over our list of sites offering educational programs before calling. The Alexandria Archaeology Museum can accommodate up to 20 students at a time for an Adventure Lesson. Large groups may be accommodated by dividing them into smaller groups and rotating site visits, as many of the historic properties are within easy walking distance of each other. Learn more about Scheduling an Education Program with Historic Alexandria.
The Alexandria Archaeology Museum and other City-owned museums offer free admission to groups from the Alexandria City Public Schools. Some also offer free programs to other public school groups. When making reservations, inquire about the fee structure.
Archaeology Adventure Lessons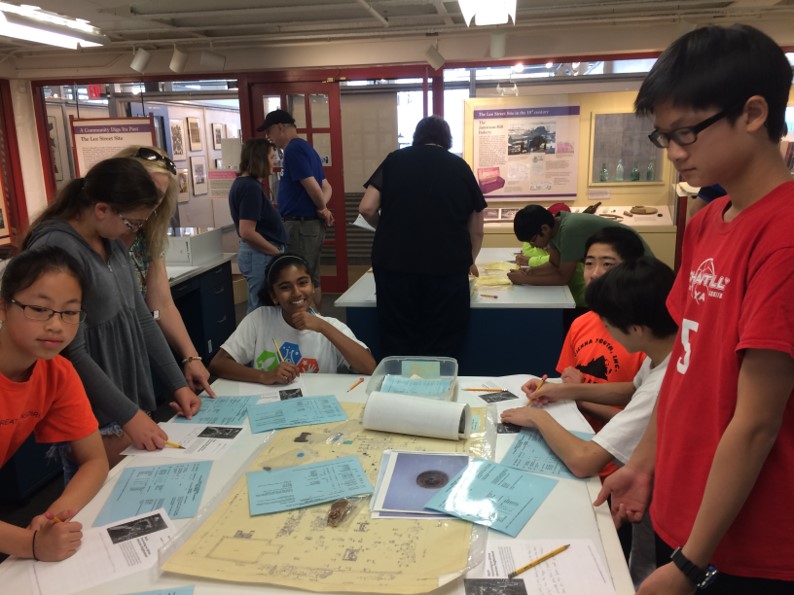 Each program introduces the process of archaeology and then asks students to apply those new skills and knowledge to a specific archaeology site in the city. Participants use real tools, research, and artifacts from the Alexandria Archaeology collection to better understand Alexandria's past.
The Adventure Lessons, held at the Alexandria Archaeology Museum, are suitable for school groups, scouts, camps, adult and senior groups. Contact the museum at least two weeks in advance to schedule a lesson.
Lessons are free to Alexandria City Public School groups, and $3 per person ($40 minimum) for all other groups. Group leaders can also arrange combined tours with other Alexandria museums and historic properties.
Elementary Age Lessons 
The Potter's Art: Alexandria Stoneware Pottery Designs – Recommended K – 2nd
Who made this pot? Learn to identify Alexandria's potters by their designs on salt-glazed stoneware pottery. Activity Sheet 
The Sugar Trade in Alexandria – Recommended grades 2nd – 5th
What is a Sugar House? Examine artifacts from a site in Alexandria to learn how sugar was made in the 19th century. Learn how archaeologists identify and classify artifacts. Activity Sheet 
Archaeologists Set the Tavern Table – Recommended grades 4th – 6th
How do archaeologists relate artifacts to historic documents? Use tavern keeper Mary Hawkins' 1777 inventory and artifacts excavated from Gadsby's Tavern courtyard to bring an 18th century tavern to life. Activity Sheet  Visit Gadsby's Tavern Museum on a combined tour.
Ship Science – Recommended grades 4th and up.   
Why would a ship be found underground?  Use dendrochronology and other scientific methods to uncover the mystery behind Alexandria's 18th century ship discovered along the waterfront.
Hayti: Uncovering an African American Neighborhood – Recommended grades 6th and up; limited to 12 students per program.    
Who lived in Hayti in the 19th century? Weave together maps, census records and artifacts from a free black site to understand the people who lived there. Visit the Alexandria Black History Museum and Freedom House Museum on a combined tour.  Activity Sheet
Alexandria Archaeology Summer Camp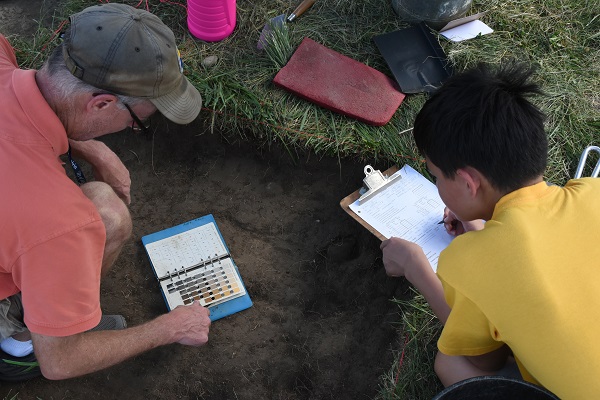 Summer Camp provides an opportunity for 12-15 year-olds to work on a real archaeological dig. Each July, campers spend a week helping Alexandria's City archaeologists excavate a real site. Learn professional excavating, recording, and artifact processing methods. Uncover Alexandria's buried past while protecting the City's valuable historic resources.
Read our 2019 Summer Camp Newsletter.
Internship Opportunities
Internship opportunities (unpaid) are available on a limited basis to students who will receive credit through their colleges or universities, or students who have graduated no more than twelve months before the application deadline. It is the responsibility of each student to make the arrangements to meet their program requirements to receive this credit. Students usually come from departments of Anthropology, American Studies, Historic Preservation, History, Museum Studies and Museum Education.
Interns are selected based on the availability of projects and staff supervisors. If your interests and experience meet current Alexandria Archaeology needs, we will reach out to you for an in-person or virtual interview.
Fall Internships - Currently accepting 2022 applications
Application deadline: June 1 Extended until position is filled
Decision notification: July 1 Extended until position is filled
AAM Reaccreditation Internship: Fall 2022
Start date: Week of September 5
Alexandria Archaeology is looking for an intern for the fall semester to help the museum prepare for reaccreditation by the American Alliance of Museums (AAM). This rare opportunity will provide real world, hands-on experience in navigating the AAM accreditation process. The intern will assist the collections manager with a number of tasks including, but not limited to, inventorying collections, gathering and inputting environmental data, and assessing and improving collections' housing. The student will also have opportunities to develop plans for future storage improvements, be part of strategic planning sessions, and gain experience in communicating with the public.
The ideal candidate will bring:
Be an undergraduate or graduate student in history, anthropology, museum studies, or other related field

Strong organizational skills

Attention to detail

Ability to communicate clearly both verbally and in writing

Knowledge of museum collection management practices and artifact handling procedures

Interest in learning more about archaeological repositories
This position is part-time for a minimum of two days/week. Monday or Tuesday availability is required. The internship is unpaid, but a stipend of $2000 will be provided. Apply by using the application link at the bottom of the page. Specify the AAM Reaccreditation Internship in the Internship Proposal section of the application. 
Spring Internships
Application deadline: November 15
Decision notification: December 15
Summer Internships
Application deadline: March 15
Decision notification: April 15
To apply, please submit an Internship Application along with your current resume. Applications can be mailed to the address at the top of the application, or emailed to: archaeology@alexandriava.gov.
Some internship opportunities that may be available include:
Conducting documentary research using primary and secondary sources on specific properties or on specific aspects of the City's historic development
Assisting in museum education programs, designing exhibitions, or developing new programming or activities that interpret archaeological and historical information to the public
Conducting archaeological laboratory work
Assisting in collections management of artifact collections and their documentation, including field notes, records and photographs