Museum Collections
The City museums are stewards of more than 30,000 objects, in addition to more than two million archaeological artifacts and 25,000 archival documents. View online collections and learn about the collections of each of the Historic Alexandria museums.
Page updated on
July 6, 2023 at 11:52 AM
Museum Collections
The historic structures and collections managed by Historic Alexandria reflect the diversity of centuries of Alexandria history and provide a context for understanding the broader scope of regional, state and national history. 
The Office of Historic Alexandria is currently engaged in collecting initiatives focusing on current events: The Legacy of George Floyd: the Black Lives Remembered Collection and Chronicling the Pandemic: Alexandria's Story.
What do the Museums Collect?
Below is a brief description of each museum's collections. See their collections pages for more information on the collections and each museum's collecting policies.
Historic Alexandria Collections Online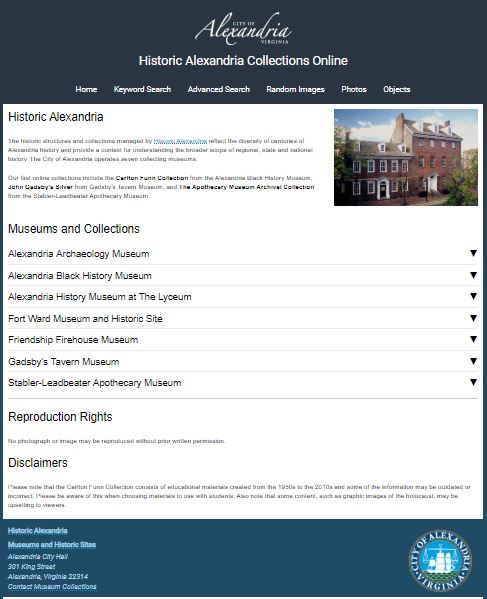 Historic Alexandria Collections Online showcases select portions of our vast collections in an online database. From silver to samplers, photos to forks, over 30,000 items are held in Historic Alexandria's museums. To offer a taste of this variety, tour the different collections available now. Can you find Carlton Funn's posters on Crispus Attucks, John Gadsby's wine cooler, and a student chorus photograph from Parker-Gray High School? 
The Alexandria Black History Museum is a proud recipient of a $243,356 grant from the IMLS Museum Grants for African American History and Culture. This highly competitive and generous grant is enabling the museum to digitize, interpret, and make four important archival collections publicly accessible. Documents, photographs, objects and other material from Alexandrian activists Ferdinand T. Day and Annie B. Rose, Washingtonian opera singer Ben Holt, and public relations icon Moss H. Kendrix will be digitized as part of this grant. 
The following collections can now be viewed online. We will continue to add specific collections or collections' highlights as their catalogues become available. 
Learn about these collections on the museum's collections webpages, above, or go directly to the database at these links.
Alexandria Black History Museum
Gadsby's Tavern Museum
Stabler-Leadbeater Apothecary Museum
How to Donate Your Objects or Collections
If you have objects that you may want to donate to Historic Alexandria Museums, please contact the appropriate museum, or contact the curator on Alex311, or at Alexandria History Museum at The Lyceum, who can direct you to the right place.
Gifts to the Office of Historic Alexandria's historic collections and libraries become the property of the City of Alexandria, Virginia. They are held by the Museums in public trust, to be preserved and used as a resource and legacy for future generations of residents, visitors and researchers. Gifts are tax deductible to the full extent of the law; see your tax accountant for more information.
Each museum follows a Collections Policy that includes a Scope of Collections statement in determining what objects to bring into the collection, so that objects can be used and cared for in the most appropriate setting. 
See below to learn what each museum collects.
Alexandria Archaeology Museum
Alexandria Black History Museum
Alexandria History Museum at The Lyceum
Fort Ward Museum and Historic Site
Fort Ward Museum collections objects that broadly interpret the history of the site, the Civil War Defenses of Washington, and local history related to wartime Alexandria.
Freedom House Museum
Alexandria Black History Museum (above) administers collections that may be relevant to the history of the building and the slave trade, and that may be displayed and interpreted at Freedom House Museum.
Friendship Firehouse Museum
Alexandria History Museum at the Lyceum (above) administers the Friendship Fire Company Collection. The collection includes materials related to Friendship and other Alexandria historic volunteer firefighting companies.
Gadsby's Tavern Museum
Gadsby's Tavern Museum collects objects in accordance with its Historic Furnishings Plan, to authentically furnish the buildings known as Gadsby's Tavern Museum, to be relevant to the interpretation and understanding of the stated historical period (1785-1810), or to reflect the subsequent history of the two buildings.
Stabler-Leadbeater Apothecary Museum
Stabler-Leadbeater Apothecary Museum may add objects to the permanent collection that are relevant to the interpretation and understanding of the historic site. Adequate history of the object must be established before it is accepted into the permanent collection.