Celebrate Virginia Archaeology Month
The City of Alexandria has a long history of archaeological stewardship, built on decades of community-based archaeological efforts. Join the celebrations this October by attending free events online, throughout the city, and in the Alexandria Archaeology Museum.
Page updated on
November 1, 2022 at 2:00 AM
Virginia Archaeology Month Events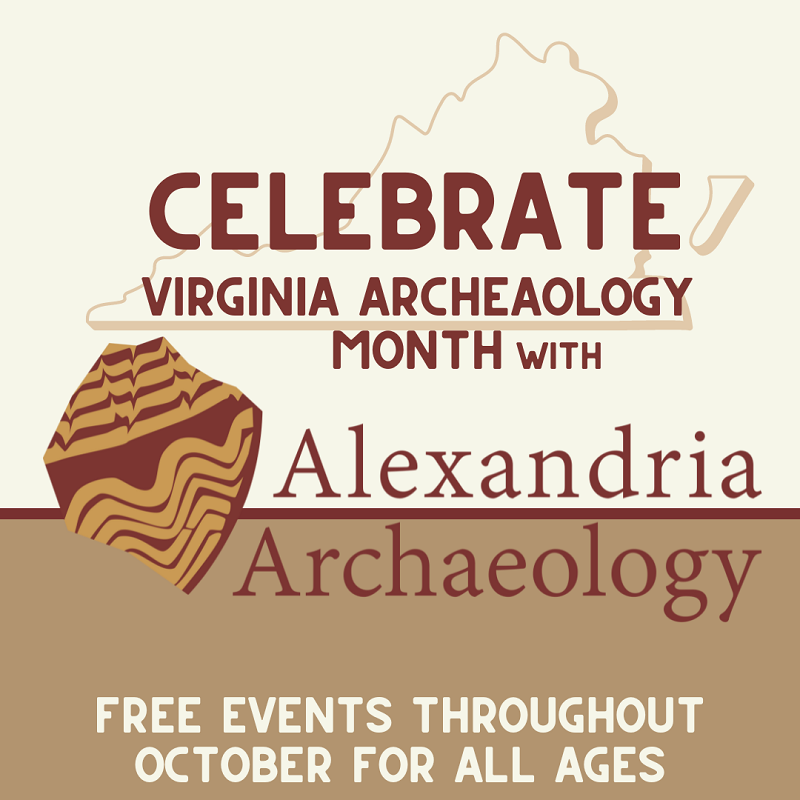 SeeWorthy Archaeology Festival - CANCELLED due to Hurricane Ian
Saturday, October 1 (weather permitting)
11 a.m. – 3 p.m.
Ben Brenman Park
Free
Celebrate Archaeology Month at Ben Brenman Park! Meet City archaeologists and learn more about why ship timbers excavated from the Robinson Landing construction site were submerged in Ben Brenman Pond this spring. Archaeology enthusiasts of all ages will find out how wooden ships were reused in the 18th and 19th centuries as landfill with Shoreline Engineering, discover the physics behind moving large ship timbers with Mini Forklift Hydraulics, and meet other maritime and terrestrial archaeologists working in the region. This event will kick off with a ribbon cutting of three new signs that tell the story of the ships' journey from river to pond!
Indigenous People's Day - New Exhibit Case 
Tuesday, October 11
11 a.m. – 4 p.m.
Alexandria Archaeology Museum
Free
For thousands of years, Native Americans moved through the region, trading and drawing resources from the land and river. A new exhibit case at Alexandria Archaeology maps past and present Native American tribes and nations and shows how archaeologists learn more about the lives of people living in the past by studying changes in stone projectile point technology. A virtual unveiling of the exhibit case will happen on social media and the museum website on Monday, October 10, and will be on view in the Alexandria Archaeology Museum on Tuesday, October 11. This exhibit case was made possible by Friends of Alexandria Archaeology. Learn more about Alexandria's First People. 
Ben Brenman Awards
Tuesday, October 11                                                             
7 p.m.
Alexandria City Council Meeting
The annual Ben Brenman awards are given by the Alexandria Archaeology Commission to individuals and groups who have demonstrated high quality work, innovation, commitment, or extraordinary efforts in preservation, research, protection, enhancement, creation of historic parks and open spaces, documentation, education, public appreciation, and advocacy in relation to the archaeology of historic Alexandria. The winners of the 2022 Ben Brenman Archaeology Award were announced on October 11. 
Archaeology Along the Waterfront
Saturday, October 15 (weather permitting)
12:00 p.m. – 4:00 p.m.
Guided Tour Times: 12:30 p.m., 1:30 p.m., 2:30 p.m. and 3:30 p.m. (30 min each)
7 Pioneer Mill Way
Free
Celebrate Virginia Archaeology Month with Robinson Landing and Alexandria Archaeology! The current site of Robinson Landing included one of the two original deep-water landings in Alexandria, and was later added to during the late 18th and early 19th century banking-out process that created new land along the waterfront. Test your 18th-century engineering skills and figure out a way to make new land without having it wash away into the Potomac, take part in block-wide Scavenger Hunt, and join City archaeologists on timed walking tours of Robinson Landing. The event is free and open to the public, but tours are limited. Reserve guided tour slots here.
Art Safari - Discovering Maritime Archaeology
Saturday, October 22 
12:00 p.m. – 4:00 p.m.
Torpedo Factory Art Center
Free
An Alexandria tradition for more than a quarter-century, Art Safari returns for an in-person day of art and hands-on activities from Alexandria Archaeology! Great for kids ages 5+. Younger children may need some extra help, but will still have a lot of fun!
Virtual Lecture: "A City Built on Ships: Reconstructing 18th-Century Ships Excavated from the Alexandria Waterfront" with Dr. Chris Dostal  
Wednesday, October 26 
7 – 8 p.m. 
Free, but registration is required here.
Between 2015-2018, construction crews excavating along the Alexandria waterfront revealed the broken remains of four 18th-century wooden ships in what was once the shoreline of the Potomac River. To study them, each ship was disarticulated and the individual timbers were laser scanned, allowing researchers to virtually reassemble the ships and develop theoretical reconstructions of how they would have looked when they were in use. These highly accurate digital timber models were 3D printed and assembled by a master ship model maker, further informing these reconstructions. The four ships are now on two different preservation journeys. The Hotel Indigo ship was sent to the Conservation Research Laboratory at Texas A&M University for conservation by freeze drying, and the three Robinson Landing ships were submerged in a pond at Ben Brenman Park this spring. Hear the latest findings and discover what was learned through digitally reconstructing the four ships.  
Christopher Dostal is an Assistant Professor with the Department of Anthropology's Nautical Archaeology Program at Texas A&M University, where he is also the Director of the Center for Maritime Archaeology and Conservation, the Conservation Research Laboratory, and the Director of the Analytical Archaeology Laboratory in charge of scanning the four 18th century ships excavated in Alexandria. He holds his degrees from Texas A&M University (Ph.D.), and the University of Colorado at Boulder. His research and work includes historical maritime archaeology of North America and Western Europe, the conservation and long-term preservation of waterlogged archaeological artifacts, preservation and documentation techniques for underwater archaeological sites, X-ray fluorescence elemental analysis of archaeological artifacts, and digital imaging and 3D modeling of archaeological artifacts.