Celebrate Virginia Archaeology Month
The City of Alexandria has a long history of archaeological stewardship, built on decades of community-based archaeological efforts. Join the celebrations this October by attending free events online, throughout the city, and in the Alexandria Archaeology Museum.
Page updated on
October 3, 2023 at 4:56 PM
Virginia Archaeology Month Events
Celebrate Virginia Archaeology Month with events and programs highlighting important archaeological sites and resources from the West End to Old Town and everywhere in between.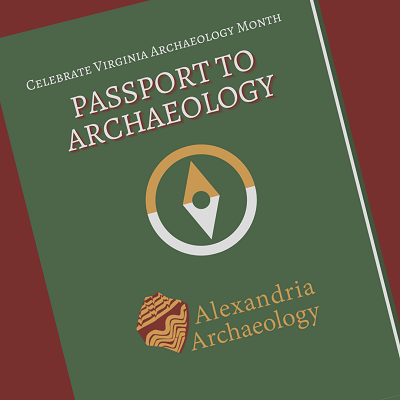 Southern Towers Farmer's Market
Saturday, October 7 
10 a.m. – 1 p.m.
4901 Seminary Road
Free
Southern Towers is surrounded by history! See artifacts from nearby archaeological sites, meet City archaeologists, and try your hand at an archaeology challenge.
Ben Brenman Awards
Tuesday, October 10                                                              
7 p.m.
Alexandria City Council Meeting
The annual Ben Brenman awards are given by the Alexandria Archaeology Commission to individuals and groups who have demonstrated high quality work, innovation, commitment, or extraordinary efforts in preservation, research, protection, enhancement, creation of historic parks and open spaces, documentation, education, public appreciation, and advocacy in relation to the archaeology of historic Alexandria. The winners of the 2023 Ben Brenman Archaeology Award will be announced on October 11. 
The Great Pottery Puzzle
Wednesday, October 11 
3:30 – 4:30 p.m.
James M. Duncan Branch Library
Ages 6 - 12
Free, no registration required
How do archaeologists study the past? Sort artifacts, learn about archaeology methods and tools by reading Kid Scientist: Archaeologists on a Dig, and create a pottery puzzle of your own. 
Archaeology on the Waterfront
Saturday, October 14 (weather permitting)
12:00 – 4:00 p.m.
Guided Tours (30 min): 12:00 p.m., 1:00 p.m., 2:00 p.m. and 3:00 p.m.
7 Pioneer Mill Way
Free, Must register in advance for guided tours
Celebrate Virginia Archaeology Month with Robinson Landing and Alexandria Archaeology! Archaeologists excavated a full city block ahead of the construction of Robinson Landing. Learn what used to be at the site, including Hooe's 18th century warehouse and store, the 19th century steam-powered Pioneer Mill, and the remnants of three merchant ships. Register in advance to take a free guided tour of the waterfront highlighting stops along the African American Waterfront Heritage Trail with an archaeologist, or explore the area as a family with a self-guided scavenger hunt. The event is free and open to the public, but tours are limited. Reserve guided tour slots here.
Alexandria Forum
Friday, October 20
9:00 a.m. – 5:00 p.m.
Alexandria History Museum at the Lyceum
$60/person, $40 reduced rate for members and volunteers
This day-long symposium will explore the theme of revisiting the history of the Alexandria Waterfront through new research lenses, technologies, excavations, and sources. Presentations will weave together the many strands of historical evidence currently under examination, from deeds to store ledgers, from manifests to material culture, to provide new insights.
Slip into the Past at Art Safari
Saturday, October 21 
12:00 – 4:00 p.m.
Torpedo Factory Art Center
Free, while supplies last
Experiment with 19th century ceramic slip designs, like marbling and dendritic patterns, and apply your own temporary tattoo in the style of transfer printed ceramic. 
Science Underground
Wednesday, October 25 
3:30 – 4:30 p.m.
Ellen Coolidge Burke Branch Library
Ages 4 - 7 
Free, but limited to 20 participants
How do archaeologists study the past? Sort and identify artifacts using archaeological tools and methods.