Collections at the Alexandria Archaeology Museum
The Alexandria Archaeology Museum has an extraordinary collection of well-preserved artifacts from excavations in the city of Alexandria, Virginia.
Page updated on
March 21, 2023 at 9:32 AM
About the Collection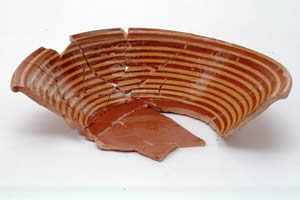 The Alexandria Archaeology Museum has an extraordinary collection of well-preserved artifacts from excavations in the city of Alexandria, Virginia. The collection plays an important role in relating the history of Alexandria and the history of every-day life in America to students, Alexandria residents, and visitors from around the world. The breadth and depth of this collection make it one of the foremost collections for use in comparative studies in historic and urban archaeology.
The collection contains over 2,000,000 artifacts and associated records, collected since 1965 from over 230  archaeological sites in the City of Alexandria, Virginia.
The collection includes artifacts dating from Native American past through the early 20th century. Historic records allow us to relate artifacts from many sites to individual people, homes and businesses. These sites represent a diverse cross-section of Alexandria society. Sites include an entire waterfront neighborhood complete with ship remnants; the houses of free African Americans, enslaved people, Quakers, and white Alexandria merchants; early taverns; Civil War camp sites; pottery manufactories; glass factories; an apothecary; and a sugar refinery.
Some of the best preserved artifacts are excavated from deep features such as wells and privies. Preserved leather, wood and cloth from water-logged contexts include hundreds of shoes, textiles including gloves and stockings, wooden toys, and furniture pieces. The glass and ceramics collections include thousands of restored vessels, and many more thousands of fragments. Alexandria is reported to have the largest collection of Staffordshire wares in North America. There is also a large collection of earthenware and stoneware manufactured in Alexandria.
Around 2,000 artifacts are used in the museum in exhibitions, study collections, and hands-on educational programs, or are on loan. The remainder of the collection is stored systematically in a secure, climate-controlled storage facility, ensuring it remains accessible for continuing research, education, and exhibition. 
Collections Policies
The Alexandria Archaeology Museum abides by a Collections Policy in acquiring and caring for collections. Historic Alexandria Museums work together to develop a set of collections policies that define the scope of each museum's collections and set policies for caring for the unique needs of each collection.
Scope of Collections: The research and collection goals of Alexandria Archaeology are centered upon the investigation, interpretation and preservation of archaeological sites within the current city limits of Alexandria. Alexandria Archaeology is responsible for the curation of archaeological materials and associated documents that the City holds in title or trust. These materials, because of their important research value for the City and for the field of archaeology, should be preserved and protected in perpetuity as a resource and legacy for future generations.
Alexandria Archaeology is the official repository for all archaeological materials collected within the current City limits of Alexandria. Artifacts, biological remains and geological samples which comprise the collection are acquired primarily through excavation and survey conducted by the staff of Alexandria Archaeology. Donations will ordinarily consist of artifacts that have been collected by staff on private property or by professional archaeologists or institutions. Donations of artifacts resulting from chance finds or other excavation activities will be carefully considered by staff for their archaeological merit including relevance and importance to the history of Alexandria as well as the degree and quality of documentation. It is recognized that materials of historic interest but without archaeological context will be best collected by other programs within the Office of Historic Alexandria.
The City recognizes the importance of context with regard to archaeological materials, and will thus maintain and preserve field notes, catalogues, research data, reports and other supporting materials in perpetuity along with the artifact collections.
Acquisitions: Donations of artifacts to the Alexandria Archaeology collection must meet the following criteria:
Provenience: Objects must have been discovered in an archaeological context within the current City limits of Alexandria. The actual provenience must be made known by the collector or donor.
Title: The donor must have free and clear title to the objects. (Normally, this means that the donor owns the land on which the artifacts were found.)
Documentation: Materials will preferably derive from scientifically controlled and recorded excavations and will be accessioned as a unit consisting of all materials collected on a site and with all related field notes, catalogues, reports, and other supporting documents.
Access for Researchers
The Alexandria Archaeology collection is the property of the City of Alexandria and held in public trust. The City encourages study of the collection and accompanying documentation by responsible scholars and will make every effort to accommodate research requests. Access to the collection is subject to restrictions required by the availability of staff to provide adequate supervision and resources. Access may be denied to parts of the collection put aside for exhibition or for active research by staff members. Records regarding the location of archaeological sites may be restricted in order to protect surviving sites.
Scholarly and Professional Access: Students and scholars requesting access to the collection shall submit a proposal of their planned research project, including collections and data to be examined, objectives, publication information, proposed timetable and schedule of hours to be spent at Alexandria Archaeology. The Director of Alexandria Archaeology has the authority to allow access to the collection on the basis of the professional qualifications of the individual, feasibility and merit of the project, the applicability of the collection to the project, and/or the ability to provide adequate staff supervision and resources for the completion of the research.
Public Access: Public access to the collections and resources of Alexandria Archaeology through exhibition and education programs may be supplemented by individual or group tours by appointment, at the discretion of the Director. Members of the public not engaged in approved research will not be permitted to handle artifacts in the collection without the permission of the Collections Manager.
Caring for the Collection
The Alexandria Archaeology Museum cares for the collection following best practices and the standards for Curation of Federally Owned and Administered Archaeological Collections, 36 CFR part 79.
Artifact Processing: All artifacts are washed, labeled, and catalogued in accordance with our archaeological standards. Artifacts resulting from development projects are processed by contract archaeology firms and those resulting from Museum excavations processed by volunteers, students and staff.
Artifact Cataloguing: Artifacts are catalogued using a computer database. Individual artifacts are categorized, described , and organized by site/provenience. The Alexandria Archaeology Laboratory Reference Book (revised June 2010) establishes cataloguing protocols, and includes a common lexicon and illustrated glossary. Contract archaeologists are encouraged to use our Laboratory Reference Book as a resource when working on a project.
Box Inventory: Most artifacts are stored in archival record storage boxes, allowing them to be easily transferred between the museum and storage facility. Each box is assigned a unique record number and entered into the collections management  database. Information recorded includes the site and proveniences, a description of the artifacts, storage conditions, conservation needs, and storage location. The artifact catalogue is linked to the box inventory, to track the location of individual objects.
Archaeological Conservation: The goal of archaeological conservation is to stabilize objects for long-term preservation. Preventative conservation, includes proper storage use of archival materials and proper climate control and is sufficient for many artifacts. For some artifacts, professional interventive conservation may be needed to curtail active deterioration, or so that an artifact can be exhibited. Conservation is usually required for waterlogged wood, leather and cloth, and for unstable metals. Conservation may include such methods as chemical treatment, air-abrasion and/or mechanical cleaning. A conservation survey conducted in 1990 helped to set standards for storage and treatment. The museum contracts with professional conservators for ongoing conservation needs.
Packaging: For long-term preservation of the artifacts, it is important to use stable, archival packing materials. We use polyethylene zip-top bags, acid-free labels marked with water-proof pens, and Hollinger style archival record-storage boxes. ethafoam, mylar, and acid-free tissue paper are among the materials used for padding.
Micro-environments: Metal artifacts require a drier environment than the rest of the artifacts, in order to prevent active corrosion. Inexpensive micro-environments are created using air-tight polyethylene boxes containing packets of silica gel. The silica gel absorbs and holds moisture. When the blue indicating crystals turn pink, the silica gel can be dried out in an oven for re-use.
Storage Facility: The Alexandria Archaeology Storage Facility was created in 1990, with assistance from the City of Alexandria, the National Science Foundation, and the Institute of Museum Services. The 1,500 square foot facility is located in a City building just over a mile from the museum and can hold a total of 3,564 boxes. The facility provides the environmental conditions necessary for long-term preservation of these important collections. A dedicated HVAC system maintains stable temperature and relative humidity levels, avoiding fluctuations that could hasten the artifacts' deterioration. The space was designed using stable materials for equipment and packaging that do not "off-gas," or give off harmful fumes, The storeroom is also equipped with smoke detectors, a sprinkler system, and a separate security alarm.
Compactor shelving was used to maximize space. This shelving moves on a track, allowing nearly twice as much storage capacity as regular shelving. One pound of pressure can move 900 pounds with this mechanical assist system.
Archaeological Standards
The City of Alexandria Archaeological Standards provides detailed guidelines to be followed for all projects within the City of Alexandria. The Collections section of the Archaeological Standards (revised 2021) provides information on processing collections and associated records and on the Alexandria Archaeology Storage Facility.