King Street Place Pilot
King Street Place is the pedestrianization of the 100 block of King Street from May to Septemberr.
Page updated on
July 29, 2022 at 11:04 AM
News
City to Expand Old Town Pedestrian-Only Zone between Memorial Day Weekend and Labor Day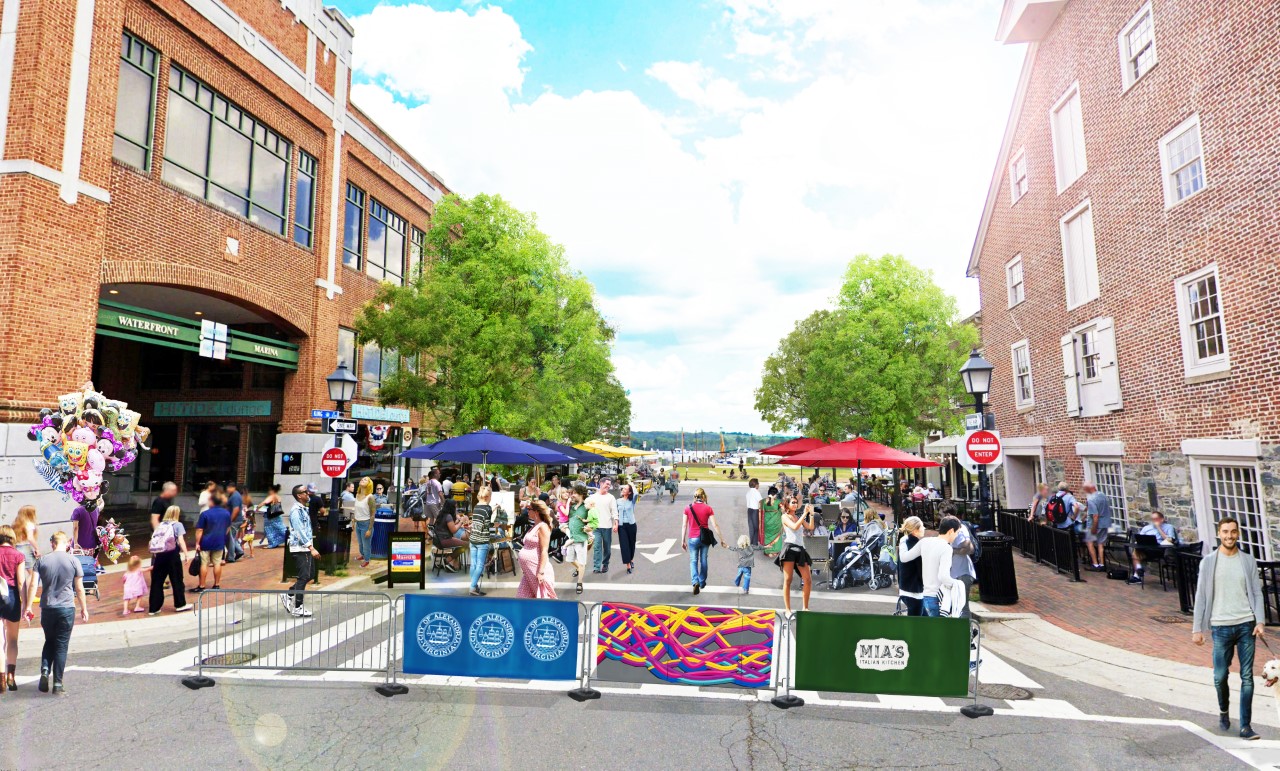 In response to business requests, the popularity of the treatments to the 100 block of King Street, and increased activity along the Waterfront, the City of Alexandria will conduct a pilot project to temporarily convert the unit block of King Street (between Union Street and the Strand) and the northern portion of the Strand (approximately between Wales Alley and King Street) to a pedestrian zone from Memorial Day Weekend through Labor Day. These areas will feature in-street dining, similar to the 100 block of King.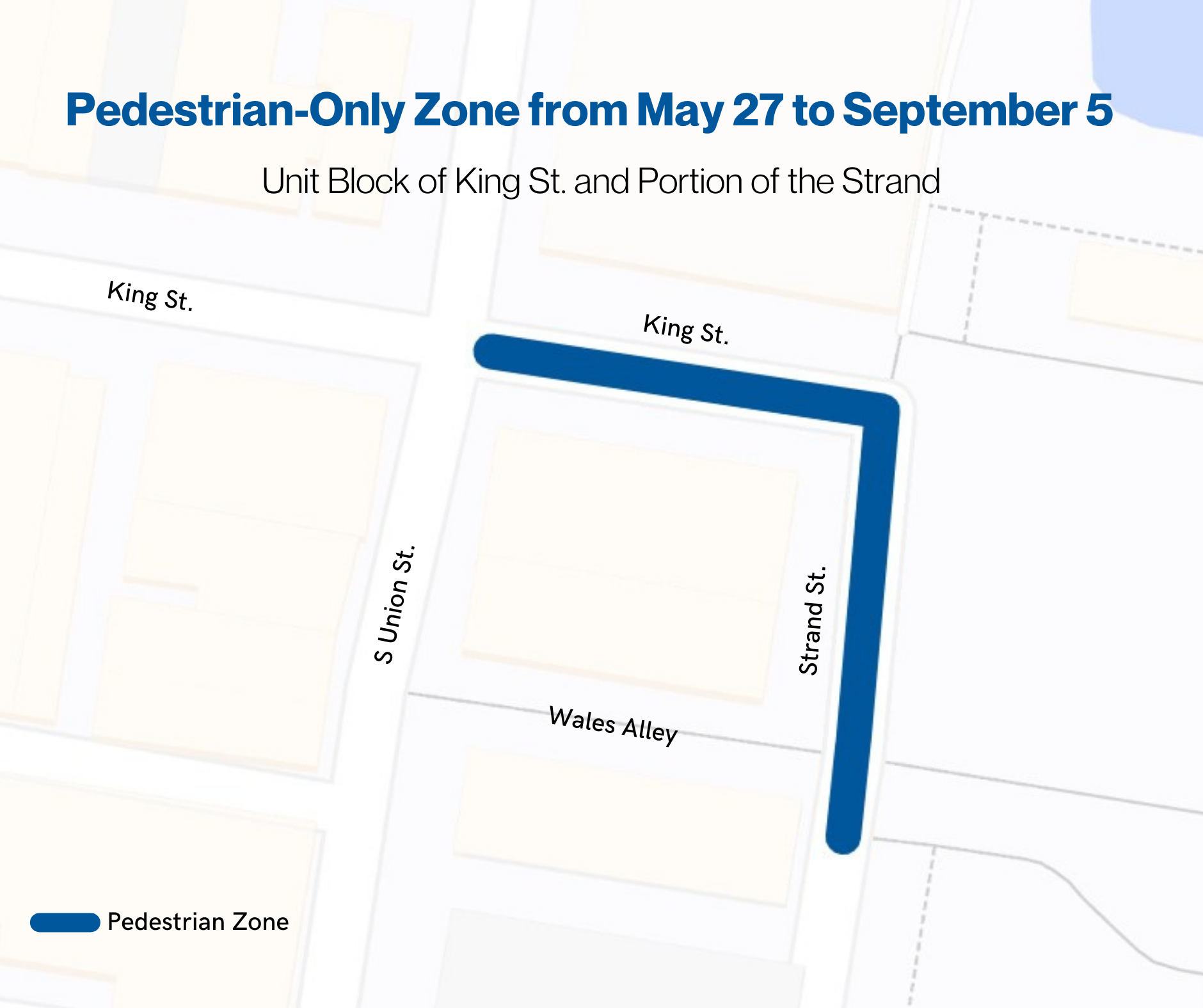 During the pilot, which runs from Friday, May 27, through Monday, September 5, the pedestrian zone will be closed to all vehicular traffic (except emergency and municipal maintenance vehicles). Read the City's news release about the pilot to learn more and see below for background about the City's King Street pedestrianization project. 
Background
City Council has requested that staff include a pilot program for the pedestrianization of the 100 block of King Street in their FY 2020 work plan. This project was originally discussed with the community through an extensive community engagement process in 2015 during the Lower King Street Multi-modal Feasibility Study.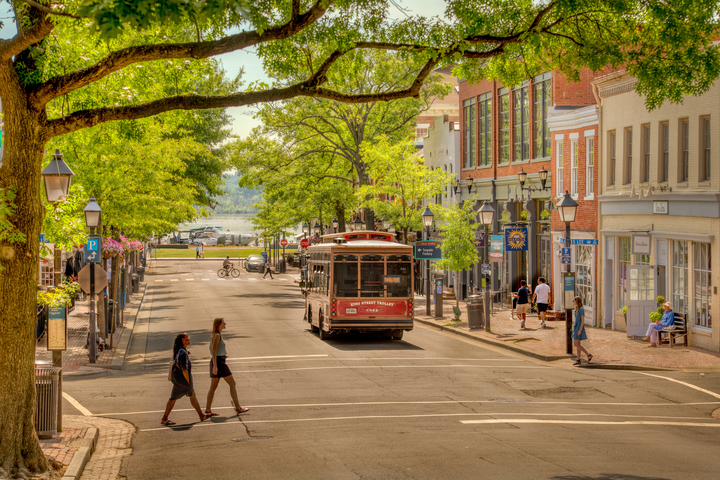 Staff provided an oral update to City Council on March 10 with the intent of getting feedback on the proposed plan. The concept development has gone through many iterations based on discussions with the resident and business communities, and a one-way traffic flow option with expanded outdoor dining on the south side of the block was proposed to Council. Due to social distancing orders related to COVID-19, full implementation of the Pilot Program is being placed on hold.  Staff will provide a proposal to City Council in the fall to implement this project in Spring 2021. In the meantime, City Council endorsed the City Manager's action for the pedestrianization of the 100 block of King Street as an interim measure to help with COVID-19 recovery efforts and in response to overcrowding near the waterfront. 
Outreach and Engagement
The City, in partnership with Visit Alexandria, has been meeting with the impacted businesses to hear their concerns and get feedback on various design ideas. Staff is also working through the Waterfront and Transportation Commissions to get input on the project that will ultimately inform the proposed pilot program. Additionally, the project has been discussed at the Old Town Business and Civic Associations. 
Community Engagement & Process