Reduce Holiday Waste
On average, household waste increases by more than 25% from Thanksgiving to New Years. Help reduce waste during the holiday season.
Page updated on
February 27, 2023 at 11:39 AM
Reduce Holiday Waste
On average, household waste increases by more than 25% from Thanksgiving to New Years. Help reduce waste during the holiday season with these simple tips.
How to Dispose of your Christmas Trees
Natural Christmas Trees
Residents who receive City collection may place natural Christmas trees at the regular yard waste collection point, on the collection day between Tuesday, January 3-Tuesday, January 31, 2023. The trees will be composted.
 
To prepare trees for collection, residents are reminded to:
Remove all ornaments, tinsel, lights and stands.
Do not place in plastic bags.
Place the tree at your regular yard waste collection point by 6:00 a.m. on your trash collection day.
To prepare natural wreaths and roping for collection, residents are reminded to:
Separate the greens from the wire. Wire damages shredding equipment and contaminates the mulch. If wires cannot be separated from the natural wreaths and garlands, please place them with your regular trash.
Artificial Christmas Trees
If the artificial Christmas trees are in usable condition, please consider offering or donating prior to disposal. If you receive City collection, please set out your artificial tree next to your trash container on your collection day.
Households Served by Private Haulers
If you or your building uses a private trash services, please check with your trash hauler for instructions on disposal of natural and artificial Christmas trees.
Reduce Holiday Waste Tip
Wrapping Paper Recycle Guide
Purchase wrapping paper made with recycled materials that will also be recyclable and reuse tissue and wrapping paper. Remember, metallic/glitter wrapping paper are not recyclable.
Keep Tanglers Out of the Bin
Please remember to keep items that tangle out of the recycling bin this holiday season. Reuse ribbons & bows or place them in the trash.
Recycle Shipping and Gift Boxes
This holiday season, remember to empty, flatten, and recycle your shipping and gift boxes. When you flatten boxes in makes more room in your recycling bin.   
Recycle While Cooking
Cooking this holiday season? Did you know items such as milk cartons, aluminum cans, and baking sheets can be recycled. Just make sure they are rinsed and dry before placing in the bin.  
More Reduce Holiday Waste Tips
Use Natural Materials in Your Holiday Décor
Decorate using real greenery. Natural wreaths and garland decor can be composted with your other yard waste after the holidays. Just remember to remove any wires, lights, or ribbon. For more information about recycling yard waste, visit our Yard Waste Recycling page.
Give Experiences Instead of Stuff!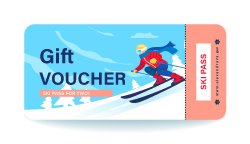 Tickets to a show, dinner for two, or movie coupons are all great gift ideas that require no packaging. Give an alternative gift that may benefit charities, especially those that have been impacted by the pandemic. Remember memories can last longer than things.
Shop With a Reusable Bag
Remember to carry your reusable bag during holiday shopping. Throw a few in your car, backpack, or purse to always have one handy. And you can save money by avoiding the 5-cent bag fee when shopping at grocery stores, convenience stores, and drug stores by bringing your reusable bag whenever you shop. For more information on the City's Plastic Bag Tax, visit alexandriava.gov/waste/plastic-bag-tax.
Gift in Reusable and/or Recyclable Containers
Get creative this holiday season! Reuse boxes from online purchases as gift boxes. Or give existing materials a second life as gift wrap. These can include newspapers, magazines, and bags. Pro tip: The "funny papers" or comics are terrific for children's gifts.
Safely Dispose of Batteries
Many holiday gifts and toys require batteries to operate. Rechargeable batteries (with a charging station) can also be a great gift option. But did you know that improper disposal of rechargeable batteries is one of the leading causes of truck fires in the waste industry?
Do not throw away rechargeable batteries in the recycling OR trash bins.
Please help us keep our workers safe by dropping off and safely disposing of your rechargeable batteries, NiCd, NiMh, Lithium-Ion, Button, and batteries greater than 9 volts. For more information, visit alexandriava.gov/waste/safely-dispose-of-batteries.