Contraband Hospital and School
Two residences at 321-323 S. Washington Street were used as a hospital for Contrabands -- former slaves who made their way to freedom in Union territory.
Page updated on
May 13, 2022 at 2:26 PM
History of the Contraband Hospital and School
321-323 S. Washington Street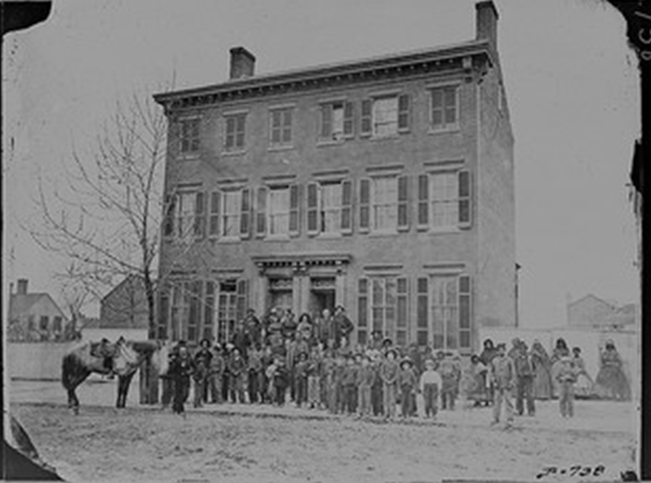 The two side-by-side residences belonged to two members of the Society of Friends: Elisha Miller, who left Alexandria when the war began, and his brother Robert, who remained in Alexandria but refused to sign an oath of allegiance to the Union.
As the number of African American former slaves, known as contrabands, grew, health became an issue. Relief workers Julia Wilbur and Harriet Jacobs used part of the building to store clothes and other supplies for them.
In February 1863, Military Governor John Slough ordered one part of the building to be turned into a hospital for contrabands. As reported by Julia Wilbur, getting organized took a while.
On the 26th of February a house was appointed for a hospital and the Provost Marshall ordered it to be immediately recognized as such. On the first of May, no such recognition had been made. A part of these hospital stores had been sent to the small pox hospital, the rest were piled up in this house with the exception of about half a dozen beds, which were occupied by about as many sick women. Up to this time only ten persons, I think, had been brought to this house. Only one, and she an inexperienced woman, was employed to do the work and take care of the sick, and during the two months she was in this house no bed was provided for her and she slept on a blanket on the floor. Piles of beds and bedding, so generously provided by Government, were lying unused, while these poor people, for whom they were intended, were sick and dying in those wretched tenements, with nothing but a few old clothes or a single blanket to lie on.

The surgeon in charge was authorized to fit up a hospital equal to the best military hospitals, and employ competent nurses, &c., and I never heard any good reason why it was not done. The Assistant Surgeon was absent for a time; after his return things assumed a much better shape. The house is now [September? 1863] filled with those for whom it was intended, a competent matron and nurses are employed, and I thank God for the blessed change.  
The U.S.A. Hospital for Contrabands, Alexandria, was also known as the Contraband Hospital, Bigelow's Hospital (after the surgeon in charge), the Colored Hospital, or the Hospital at the corner of Washington and Wolfe Streets. Wilbur continued to complain about conditions and about Dr. Bigelow. In her diary she wrote (May 7, 1863):
"…a loathsome place. Those poor women are dying from neglect. I can hardly be civil to Dr. B"
Originally intended for African American soldiers, it was clear the hospital was not large enough. At that point, L'Ouverture Hospital was built to the northeast of the Contraband Hospital. With the closing of the hospital, the buildings had several uses, including a school for African Americans.
Historic Image
Photographer: Mathew Brady
Image Date: ca. 1863
Medium: Glass plate negatives
National Archives Local Identifier: 111-B-738
National Archives Rights Advisory: No known restrictions on publication.
Quartermaster Map
No Quartermaster map available.
Location and the Site Today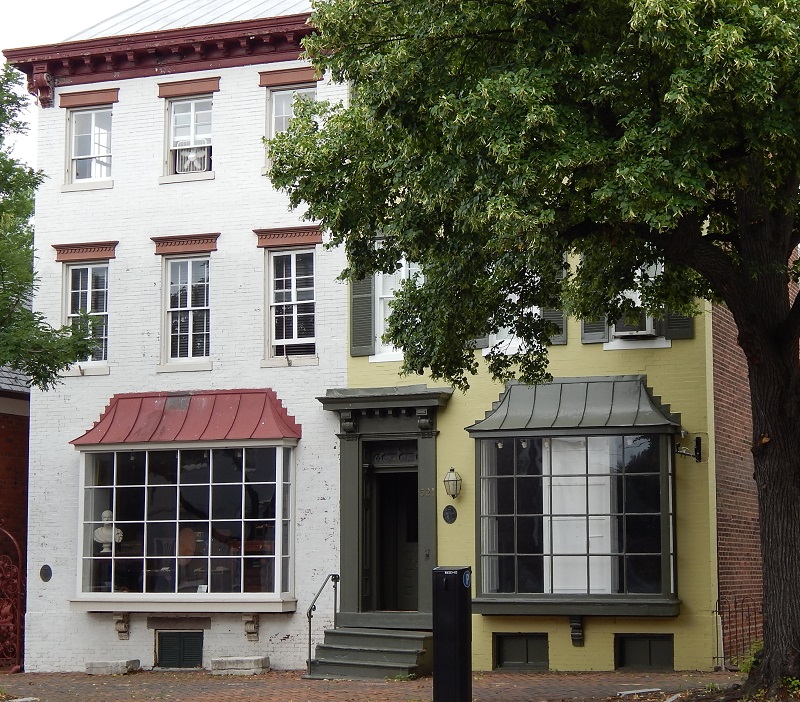 The building still stands today at 321-323 S. Washington Street. It is now a multi-family residence with retail space on the ground floor.