History of Del Ray and the Town of Potomac
Learn about the history of the streetcar suburbs of Del Ray and the town of Potomac.
Page updated on
February 7, 2023 at 11:57 AM
Del Ray and the Town of Potomac
The community of Del Ray grew up around the railroad and could be considered one of the first commuting suburbs in the area. As the 19th century was ending, the new neighborhoods of Del Ray and St. Elmo were being planned north of the Alexandria city limits. The communities were laid out in grids of long blocks and served by a light railway that could take residents to Washington, D.C., in minutes.
When Potomac Yard opened in 1906, the population of greater Del Ray began to grow significantly. In 1908, Del Ray and St. Elmo formed the incorporated Town of Potomac, with its own mayor, council and police and fire service. The City of Alexandria annexed the Town of Potomac in 1930 and the town ceased to exist. The Town of Potomac was added to the National Register of Historic Places in 1992.
Del Ray celebrated the 100th anniversary of the Town of Potomac in 2008.
For more information about the history of Del Ray and the Town of Potomac, please visit these sites:
Interpretive Signs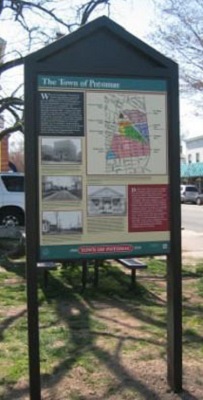 As you walk, bike or drive around the Del Ray neighborhood, discover more about Del Ray's heritage through these interpretive signs, erected for the anniversary of the town of Potomac.
Art Deco Walking Tour
A self-guided architectural walking tour, produced by the Del Ray Citizens Association, features 16 structures built between the 1920s and 1950s. They include commercial buildings, warehouses, a public utility building, garden apartments, and a school. The tour takes place largely on or just off Mount Vernon Avenue.
The City's Department of Planning and Zoning researched all 15 Art Deco & Streamline Moderne buildings in Del Ray. These buildings contribute to the architectural character of the neighborhood and are part of the commercial identity of the community.
Oral History Project
As part of the 100th Anniversary celebrations, an oral history project was conducted with long-time residents. Transcripts are available below.