Grace Church General Hospital
Grace Church General Hospital at first treated only white soldiers, and became a hospital for black soldiers after November 30, 1864.
Page updated on
January 10, 2022 at 11:39 AM
History of Grace Church General Hospital
Grace Church was consecrated in 1860, as a new congregation formed when two existing Episcopalian churches joined together. The new church was seized in June 1862 for use as a hospital. It was used as a hospital for the Second Division beginning in September 1862.
Grace Church Hospital treated only white soldiers until November 30, 1864, when the white soldiers were transferred to Sickel Barracks General Hospital and 43 black soldiers were admitted. When the hospital closed, the remaining patients were sent to L'Ouverture Hospital. According to the records, most African American troops were admitted on three dates: November 30 and December 6, 1864, and March 6, 1865, suggesting large numbers arrived on transports from elsewhere. Grace Church Hospital closed April 29, 1865.
A list of African American patients treated at Grace Church Hospital can be found in African American and American Indian Patients in Grace Church Branch, Second Division Hospital, November 30, 1864 to April 29, 1865.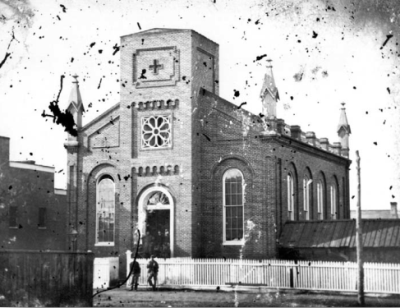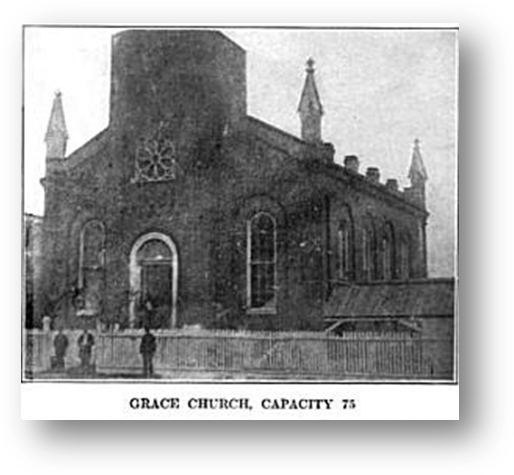 Historic Images
Image 1: 
Title: Grace Church
Image Source: William Francis Smith Collection, Alexandria Library, Special Collections
Image Date: 1860s
Medium: Tintype photograph
Rights Advisory: Obtain permission of Alexandria Library, Special Collections.
Image 2: 
Title: Grace Church
Image Source: The Photographic History of the Civil War in Ten Volumes. Francis Trevelyan Miller, Editor in Chief, Volume Seven, Prisons and Hospitals. New York, The Review of Reviews Co., 1911. P. 235.
Image Date: 1861-1865.
Medium: Photograph
Rights Advisory: Out of Copyright
First Person Accounts
First Person Accounts from the Union Hospitals
William Wallace was a member of the 3rd U.S. Wisconsin Volunteer Infantry injured at the Battle of Cedar Run. He wrote three letters to his wife, on August 15, August 22 and September 1, 1862, from Grace Church Hospital. Wallace was then transferred to Camp Convalescent, so other patients could take his place at Grace Church. His letters to his wife, Sara, depict miserable conditions and his own worsening state of health.
August 15, 1862
August 22, 1862 
September 1, 1862 
"William Wallace's Civil War letters: the Virginia campaign" Wisconsin Magazine of History. Volume 57, Issue 1, 1973-1974
Quartermaster Map
The Quartermaster map shows Grace Church General Hospital along with a kitchen and mess house.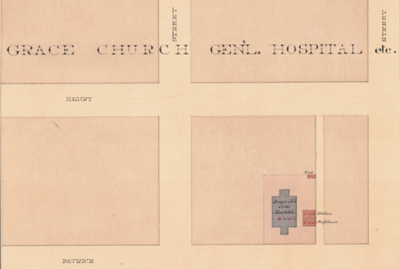 Location and the Site Today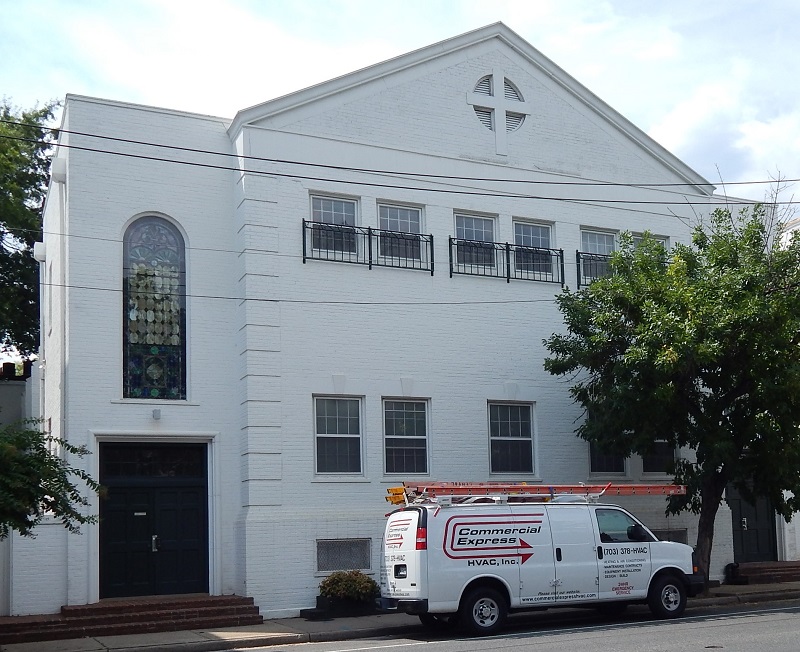 The old Church building, at 207-209 S. Patrick Street, is now used as condominiums. Grace Episcopal Church is today located at 3601 Russell Road.