L'Ouverture Hospital
L'Ouverture Hospital was built for the care of African American troops and contraband civilians.
Page updated on
January 10, 2022 at 2:49 PM
History of L'Ouverture Hospital
Block bounded by Prince, Duke, S. Payne and S. West Streets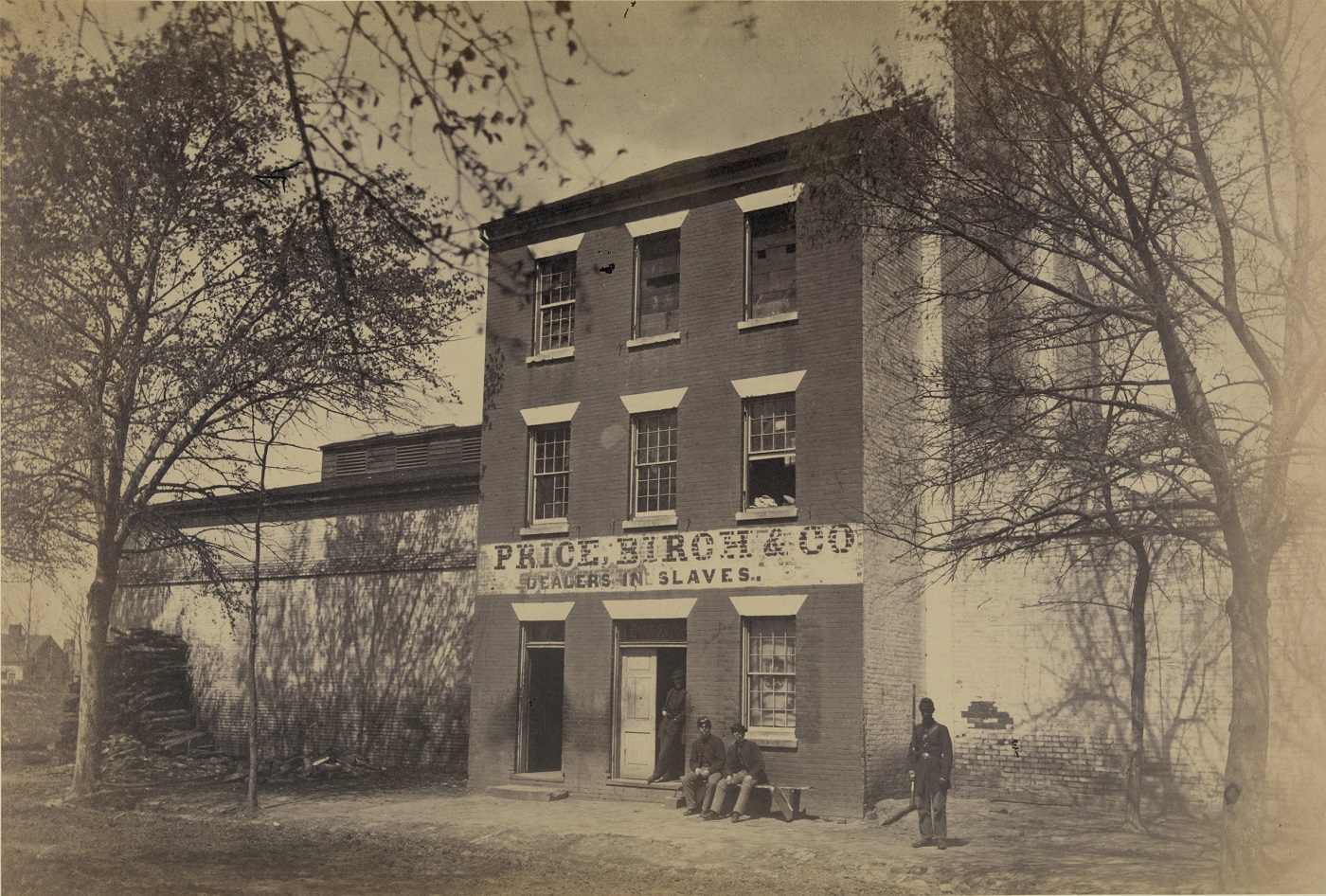 Built in 1863, L'Ouverture opened in February 1864 for African American troops and contraband civilians and was outside the divisional structure of the other hospitals in Alexandria. It was named for Haitian revolutionary leader Toussaint L'Ouverture. As depicted on the Quartermaster's map, buildings included barracks, cookhouse and mess room, linen room, office, sutler's store, deadhouse, and a dispensary. Long canvas tents allowed for ventilation and separation of patients.
Hospital administration used an existing residence as their headquarters. This building, a private residence with an historic plaque, still stands at 219 S. Payne Street. The historic Slave Pen was used as a jail, and stands today at 1315 Duke Street, as the Freedom House Museum and the headquarters of the Urban League. Buildings constructed during the war were dismantled by 1867.
Observations about events and conditions at L'Ouverture include reports by Chaplain Chauncey Leonard, letters from relief workers Julia Wilbur and Harriet Jacobs, and an account of the successful petition drive to ensure the deceased soldiers were buried as military men at Soldiers (now Alexandria National) Cemetery. Some excerpts are included here.
Patients at L'Ouverture Hospital
In 1864 and 1865, about 1,400 patients were admitted to L'Ouverture. The hospital was built to accommodate up to 600 at a time, but a December 17, 1864 census of Washington area hospitals indicated that 617 of its 717 beds were occupied. The patients' records with names, dates of admission, causes for hospitalization, and resolution (release, transfer, death) have been transcribed by the Alexandria Archeology Museum. Most were admitted because of disease, and many patients stayed for weeks and months at a time.
The following observations are from the chaplain Chauncey Leonard, and from relief worker Harriett Jacobs.
I am gratified that such complete arrangements have been made for bathing and that our patients enjoy an occasional bath, which makes them clean and healthy. Major Bentley [the surgeon in charge] and his assistants aim to promote the physical and moral interests of all under their charge.

Chauncey Leonard to Adjutant General Lorenzo Thomas (May 31, 1865)
The chaplain at the L'Ouverture has opened up a school for the soldiers. It is well attended. They need a building for this purpose. Could you see the young men with one arm and one leg, with their book and slate, crowded into a small room. I know you would suggest something better for these brave boys.

Harriett Jacobs, January 13, 1865, trying to raise funds for a school. Jean Fagan Yellin, editor. Harriet Jacobs Family Papers, Volume 2, p. 611. University of North Carolina Press, 2009.
Slavery and Freedom
On the same block as L'Ouverture stood one of the largest slave traders in the South. Located at 1315 Duke Street, the Slave Pen is now the Freedom House Museum. During the Civil War, the building's basement, built as a holding area for enslaved people being bought and sold, was used as a jail.
On August 1, 1864, Freedom Day (marking the emancipation of slaves in the West Indies) was celebrated at L'Ouverture. The highlight was the presentation of a flag to Dr. Barker, surgeon in charge, by Harriet Jacobs. Jacobs also used the occasion to highlight the conditions of the "contrabands," or escaped and freed slaves, who made their way into Alexandria.
Jacobs was by then a well-known writer, teacher, and abolitionist. She was best known for her book Linda, or Incidents in the Life of Slave Girl, in which she described exploitation, hiding, and eventual escape. Jacobs and her daughter came to Alexandria in 1862. According to her biographer, she spent much time preparing her remarks, which included the following:
Physicians, Soldiers and Friends:

For the first time in Alexandria, we have met to celebrate a day made historical in our race—the day of British West India Emancipation….

Dr. Barker in presenting this flag to you for L'Ouverture Hospital--you, the soldier's physician and friend--you, who have by your many acts so endeared yourself to all within this place; upon you and this institution I invoke the blessings of Almighty God.

Soldiers, when you return from the field of blood and strife, sick, wounded and weary, you will find a welcome here. We will bind up your wounds and administer faithfully unto you. Then take the dear old flag and resolve that it shall be the beacon of liberty for the oppressed of all lands, and of every soldier on American soil….

Jean Fagan Yellin, Harriet Jacobs: A Life, Basic Civitas Books, 2004, p. 181. 
Lewis Curtis Perry, "Harriet Jacobs and the 'Dear Old Flag,'" African American Review, Fall-Winter 2008)
A Petition from the L'Ouverture Patients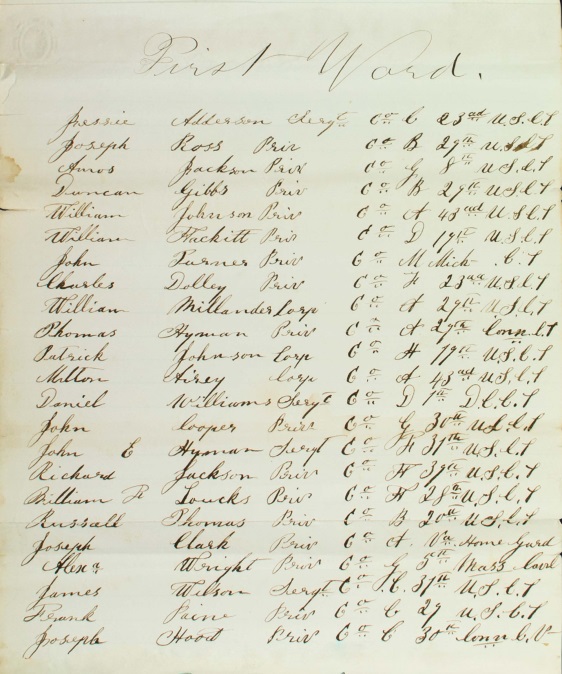 In 1863, a cemetery for the military dead was opened near a number of cemeteries used by the city's churches. By the end of 1864, the African American soldier-patients at L'Ouverture stated that those among them who died deserve burial there, rather than in the Contrabands and Freedmen Cemetery.
Events came to head in late December, 1864 when the hearse carrying Private Shadrick Murphy was diverted from the military cemetery by Rev. Albert Gladwin, the Supervisor of Contrabands. In response, L'Ouverture patients wrote and circulated a petition. It was presented to the Surgeon in Charge and made its way to the Quartermaster for Alexandria, and up to the Quartermaster General of the U.S. Army, Montgomery Meigs. 
As a result, African American soldiers were buried in Alexandria National Cemetery, and those who had been buried at Freedmen's were disinterred and re-buried with their military brothers.
December 27, 1864

We the undersigned Convalescents of Louverture (sic) Hospital & its Branches and soldiers of the U.S. Army, learning that some dissatisfaction exists in relation to the burial of colored soldiers and feeling deeply interested in a matter of so great importance to us, who are a part and parcel with the white soldiers in this great struggle against rebellion, do hereby express our views, and ask for consideration of the same….

We learn that the government has purchased ground to be used exclusively for Burial of soldiers of the United States Army, and that the government has also purchased ground to be used for the burial of contrabands, or freedmen, so called, that the former is under the control of Capt. Lee, A.Q.M. U.S.A The latter under the control of Rev. A. Gladwin, Superintendent of Contrabands. We are not contrabands, but soldiers of the U.S. Army, we have cheerfully left the comforts of home and entered into the field of conflict, fighting side by side with the white soldiers, to crush out this God insulting, Hell deserving rebellion.

As American citizens, we have a right to fight for the protection of her flag, that right is granted, and we are now sharing equally the dangers and hardships in this mighty contest, and should shair [sic] the same privileges and rights of burial in every way with our fellow soldiers who only differ from us in color….We ask that our bodies may find a resting place in the ground designated for the burial of the brave defenders of our countries flag.

NARA Record Group 92, Records of the Office of the Quartermaster General, Entry 576, General Correspondence and Reports Related to National and Post Cemeteries.
The USCT and Alexandria National Cemetery includes a list of the USCT buried at the cemetery.
Historic Image
No historic images were found of L'Ouverture Hospital.
Quartermaster Map
This Quartermaster map  of L'Ouverture Hospital identifies new buildings constructed during the War, including hospital, attendant's room, barracks, cook house and mess room, hospital mess and cook rooms, wash shed, linen room, office, covered walk, sutler's store, dead house, sinks (privies), surgeon's dispensary, ward tents, Contrabands barracks and school room "for colored pupils."  These were dismantled or destroyed after the war. The map also identifies an old house taken for headquarters, and an "original slave pen, now jail."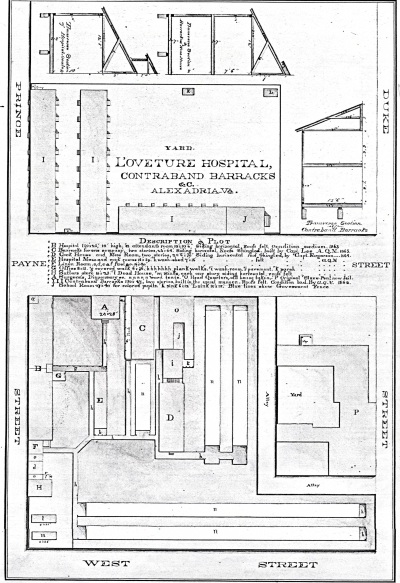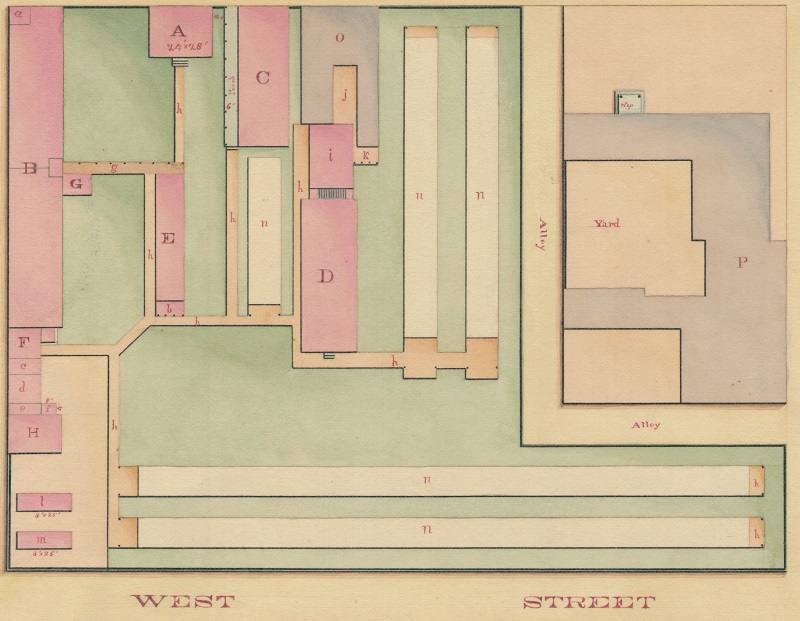 Location and the Site Today
The hospital was located on the block bounded by Prince, Duke, S. Payne and S. West Streets. Today, this block includes the Freedom House Museum, in the old Slave Pen building at 1315 Duke Street.