McVeigh Hospital
The McVeigh Hospital occupied the home of a wealthy Alexandria businessman and Confederate sympathizer.
Page updated on
May 3, 2023 at 2:09 PM
History of McVeigh Hospital
Northeast corner of Cameron and N. St. Asaph Streets 
The McVeigh Hospital opened on November 20, 1862 in the home of a wealthy Alexandria businessman. It was part of the the 3rd Division General Hospital, and operated until February 25, 1865. William N. McVeigh and his family left the city for Richmond, and he was tried in absentia in 1863 for secessionist activities. There is information on two African Americans who worked at McVeigh Hospital. Hezekia Ages, a former slave, worked at "policing" (ie., cleaning) the McVeigh Hospital in early 1863, and later worked for the Freedmen's Bureau at the Contrabands Cemetery. Mary Ann Thompson, a nurse, worked at McVeigh Branch Hospital in 1864, and later at Slough Barracks and L'Ouverture Hospital (Dennee 2008).
McVeigh Hospital is mentioned in the accounts of several Union Soldiers, including Jerome B. Satterlee, of Albany, NY. Satterlee enlisted in the 44th NY Volunteer Infantry, known as the "Ellsworth Avengers," in 1861. He was captured at Gaines' Mill in June 1862, and held for three months at Libby Prison. He lost nearly 50 pounds from illness while imprisoned and was hospitalized several times. In letters home, he mentions that while at McVeigh Hospital, he recovered enough to serve there as a night watchman and male nurse. (Satterlee 1961-65).
After the war, Mr. McVeigh returned to Alexandria and was involved in two court cases that were brought before the Supreme Court. The first, The United States vs. McVeigh, in 1871, related to the taking of his home under the Civil War Confiscation Acts (Syrett 2005). The second, in 1878, Bank v. McVeigh, related to promissory notes where the endorser left his home to live within the confederacy. (See Justia.com.)
Historic Image
There are no known images of this building.
Quartermaster Map
The quartermaster map shows the buildings including the hospital, dead house and privy.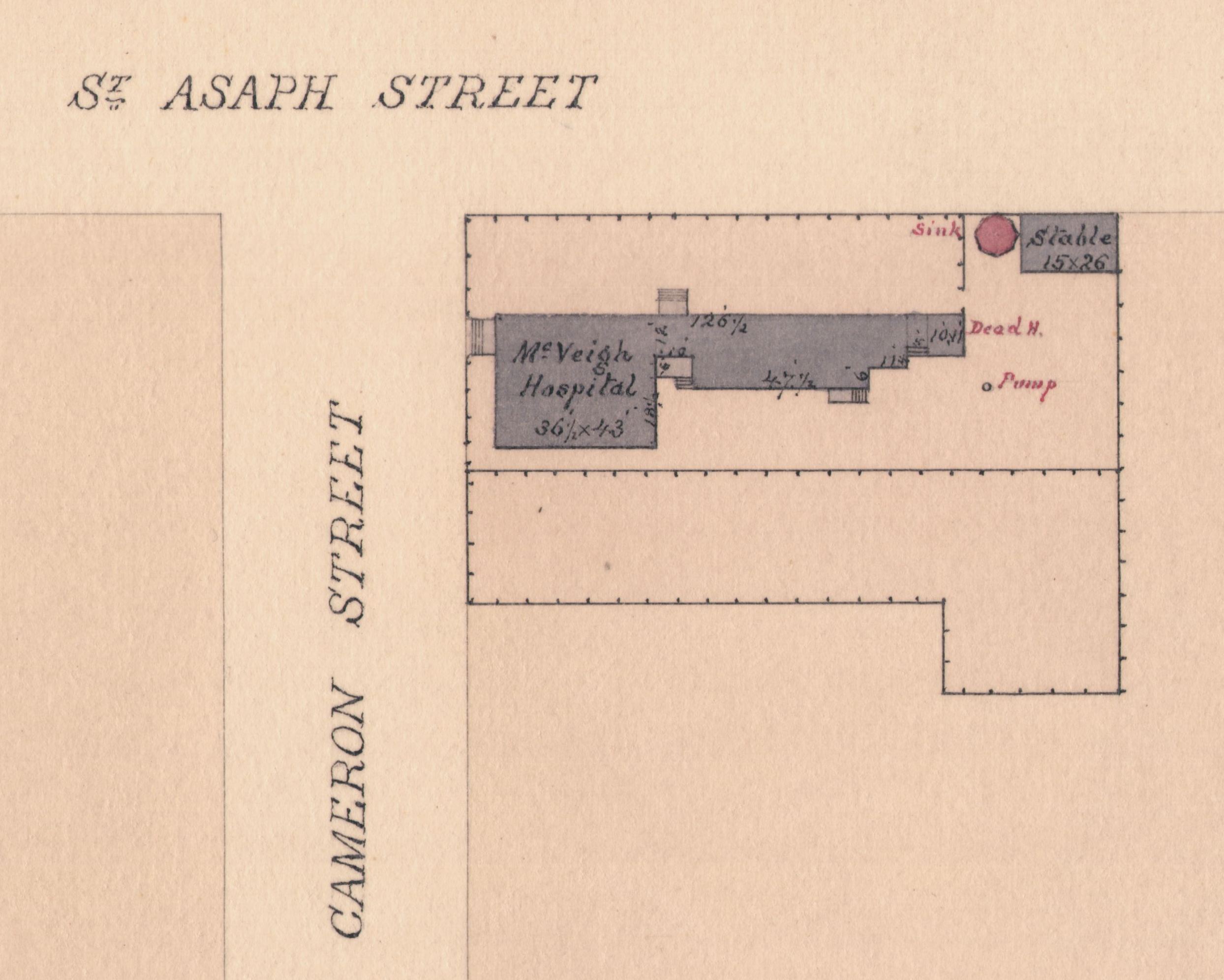 Location and the Site Today
McVeigh Hospital was located on the Northeast corner of Cameron and North Saint Asaph Streets, now a parking lot.