Adult Learning in Historic Alexandria
Historic Alexandria offers a number of public programs and special events throughout the year.
Page updated on
December 29, 2021 at 10:42 AM
Adult Learning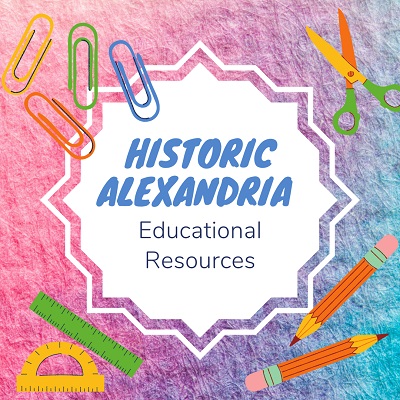 No matter your age, you never stop learning. Whether you want to explore Alexandria's history on your own or with an organization you are part of, there are plenty of ways! Check the calendar of events for upcoming in-person and live virtual opportunities. 
Education Resources in Historic Alexandria include:
Learning from Home
Traveling History Program
Have Historic Alexandria come to you! Our educators and activities travel to schools, out-of-school-time programs, libraries and community centers, neighborhood groups, and other educational venues in our area. 
Lectures: 
Length: One hour, including questions.
Cost: Starting at $100 per presentation, additional donations welcome.
Travel costs: Please note travel costs are based on the round trip mileage from 301 King Street to the program location. Cost is 55 cents per mile. 
Virtual programs: Presentations can be presented virtually with no travel cost.
Historic Alexandria currently offers the following presentations. For specialized programs, please contact the museum education team for availability:
Wicked Apothecary with the Stabler-Leadbeater Apothecary Museum
Learn more about the Stabler-Leadbeater Apothecary Museum, with a special spotlight on poisons in the collection. Presentation includes a virtual tour of the historic apothecary, whose medicines were often plant-based, with a deeper dive into collection items connected to poisons.
Tour the Stabler-Leadbeater Apothecary Museum
Learn more about this family-owned and operated business that lasted 141 years. Dive into evolution of the apothecary and medicine through time, products sold, and the process of making medicine at this location. Whether you've visiting the museum before or this is your first time learning about it, you'll be sure to learn something new.
Gadsby's Tavern Museum and the Birthnight Ball
Gadsby's Tavern has hosted numerous events through the centuries, but none as famous as the Birthnight Ball in celebration of George Washington's birthday. Enjoy a brief virtual tour of the museum, then delve into this tradition, including a chance to see the historic ballroom alive with 18th-century dancing.
18th Century Taverns and the Making of the New Nation
As places of business, politics, and socialization, taverns provide a glimpse into the formation of the United States. Learn about the people of Alexandria and the national events they experienced through the lens of the two taverns that make up Gadsby's Tavern Museum.  
Past Historic Alexandria lectures are available to view online.
Bring History Home
Looking for something to do without going out? These resources help you connect to history from home. 
Recipes
Cocktails
Cooking and Baking
Hamilton Watch Party
Gather your supplies together for a Hamilton Watch Party! Don't throw away your shot to make a hat, write a toast, and prepare your snacks, all inspired by the 18th century.
Attend Lectures or Watch Online
Historic Alexandria offers a variety of lectures throughout the year across its historic sites. These lectures feature local authors, historians, and topics related to Alexandria's history. Visit the calendar of events to attend upcoming lectures. 
Select recordings of these public lectures are made available online after the event.
Explore Alexandria
Take a walk, bike ride, or drive and learn more about Alexandria! 
How to do Research
Interested in doing research about Alexandria or genealogy? This page will help you get started. To learn more about Alexandria's history in general, start here.