Emma Green and Frank Stringfellow: Alexandria's Civil War Sweethearts
Emma Green and Frank Stringfellow, portrayed in the PBS series "Mercy Street," were real Alexandria residents during the Civil War. Learn more about their real-life story below.
Page updated on
December 27, 2021 at 3:08 PM
Introduction
On May 24, 1861, after Virginia voted to secede from the United States, Union troops crossed the Potomac and entered the City of Alexandria where they would occupy the city for the duration of the war. In July of that year, after the First Battle of Bull Run, also known as First Manassas, Union medical facilities were desperately needed for the wounded and many of Alexandria's buildings were quickly converted into military hospitals.
In October of 1861 the Surgeon-General of the U.S. Army reported to the Secretary of War that he had "proceeded to Alexandria and … selected the Mansion House [Hotel] in that city, from its commodious and enlarged accommodation, its perfect ventilation and proximity to the railroad, as the best adapted site for a hospital for the wounded and sick soldiers…. It will accommodate about one thousand patients …." James Green, the owner of the hotel, accepted the government's offer of $750 a month in rent and the Union Army took over the building on November 11, 1861. (James Green never received payment during his lifetime, but compensation to the family was ultimately paid in 1883.
(Information from Index to the Reports of Committees of the House of Representatives for the First and Second Sessions of the Forty-Sixth Congress. James Aarons 1880.)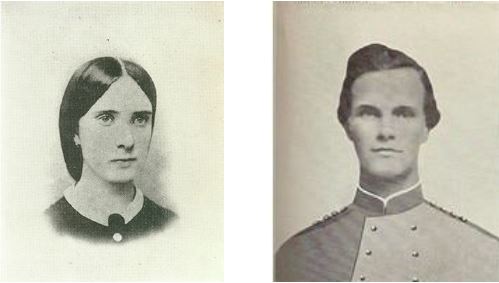 The Greens and the Stringfellows
James Green, born in Sheffield, England, came to Alexandria with his parents as a teenager. He became a successful entrepreneur and owned the grandest hotel in Alexandria which he filled with elegant furniture from his furniture factory at the corner of Prince and South Fairfax Streets. His family lived in John Carlyle's historic 1753 mansion which was concealed behind the hotel on the 100 block of North Fairfax Street (today it is known as the Carlyle House Museum).
James was also the father of nine children. His daughter Emma Frances Green was born February 9, 1843, so she was still a teenager when the Civil War began. By 1861 she had already made the acquaintance of Benjamin Franklin "Frank" Stringfellow. Two of Emma's older sisters were married  to Stringfellow men, one sister to Frank's cousin Horace Stringfellow, and one sister to Frank's older brother, Robert Stanton "Stant" Stringfellow. (The Stringfellow boys were true southerners. Horace was from Petersburg, Virginia. Frank and Stant grew up in Raccoon Ford near Culpeper, Virginia, at their family homestead known as the "Retreat.")
Frank and Emma during the Civil War
Frank had attended Episcopal High School in Alexandria, but when the Civil War began, he was teaching Latin in a school in Mississippi. He immediately returned home and attempted to enlist in the Confederate States of America Army (C.S.A.A.). Due to his youth, diminutive size and frail appearance, Frank was repeatedly turned down. Determined to serve, Frank scouted out a Confederate encampment, captured 3 soldiers at gunpoint and presented them to the commanding officer as prisoners. Thereafter, Frank was sworn in as a Private in the 4th Cavalry of the C.S.A.A. and was soon serving under the South's legendary Maj. Gen. J.E.B. Stuart as a scout and spy.
One of Frank's first spying missions placed him in Alexandria. He longed to see Emma again, but avoided contacting her so as not to put her in danger. Frank posed as a dental apprentice by day and secretly combed the newspapers by night. (Northern newspapers regularly published Union troop movements and personnel lists, but the papers were no longer available behind the Confederate lines.) Quietly, every evening Frank would put his newspaper clippings in an envelope and place it in a drop box hidden outside the dentist's office under an eave. Every morning the envelope would be gone.
One day at work at the dentist's office, Frank happened to be standing in the waiting room when Emma arrived escorting an elderly relative who needed to see the dentist. Surprised and delighted to see her sweetheart standing there, she exclaimed, "Frank!" Knowing his reaction could cause suspicion and exposure, Frank kept his composure and told the young lady she was mistaken. That was not his name and he had never seen her before in his life! Emma caught on immediately and apologized for mistaking Frank for someone else. She waited quietly while her relative saw the dentist and there was no further interaction between them. Amazingly, at the time of the encounter, a Pinkerton detective was sitting in the waiting room, but apparently, his suspicions were not aroused.
Frank stayed with the dentist through early 1862 but avoided any contact with Emma. Fearing the dentist or his wife might expose him to the authorities, Frank went back behind enemy lines, donned his gray uniform and continued as a scout. But there were other occasions during the war when Frank was sent back to Alexandria or Washington on a spying mission.  
In 1863 when the Confederate forces were planning their invasion of the North, J.E.B. sent Frank to Washington to gather intelligence and recruit new agents. Emboldened, Frank took this as an opportunity to see Emma. He had many allies on both sides of the Confederate and Union lines, including a store owner in Alexandria, who agreed to allow Frank to pose as his new assistant. Shortly after Frank arrived, the storekeeper left Frank in charge while he ran an errand. Much to Frank's surprise and delight, he returned with Emma and the two sweethearts were happily reunited.
It was the first of many meetings of the two lovers, though danger of discovery lurked over every rendezvous. Frank used the name R.M. Franklin and was able to travel into Washington where he recruited more agents. Later in his life, Frank recollected that there were "many happy days" during this time.
Still in Alexandria, the happy days ended when Frank was recognized while walking down the street. He literally bumped into a Federal captain he had previously taken prisoner and a chase ensued. Frank ran through the city streets headed for the home of someone he knew would protect him. He bolted through the front door and found the lady of the house (a friend of his mother's) sitting at a table mending a tablecloth. She lifted the edge of her hoopskirt and Frank crouched underneath and out of sight. Frank's pursuers followed, the captain (now accompanied by Union reinforcements), and were told by the woman that indeed a man had run in through the front door but left through the back. Nevertheless, they made a search of her house, but finding nothing, apologized and left.
Frank took this narrow escape as a signal it was time to leave Alexandria.
Back with the Confederate Army, Frank could see that his network of communication in Washington was working. Frank's escapades and adventures continued and Frank's reputation (and rumors about him) grew. After J.E.B. Stuart was killed in May of 1864, Frank reported directly to Robert E. Lee, who used Frank before and during the Wilderness Campaign where Frank claimed he was close enough to spy on Grant and overhear him speaking with his staff. Frank would have had a clear shot at the U.S. General but could not bring himself to shoot a man in the back.
Jefferson Davis sent Frank to Washington in March of 1865. It is said that Emma moved in with family friends in Washington so she could be near him and their relationship continued. Upon learning that Richmond had fallen, Frank decided to leave Washington and return to Virginia. By the time he arrived, he learned there were rumors that he was involved in Lincoln's assassination. Frank realized there was no place in Virginia that was safe for him, or in the United States, so he decided to flee to Canada.
By the summer of 1865, Frank had reached Hamilton Ontario, presumably due to his knowledge of the lines of Confederate secret couriers and location of safe houses that provided him safe passage as he traveled northward. [There is no evidence that Frank was ever involved in the plot to assassinate President Lincoln.]
Frank and Emma after the War
While in Canada, Frank and Emma corresponded. Their deepest wish was to be together and marry. Finally, in 1867 Frank returned to Alexandria and on January 23, the two were wed. Frank entered the Virginia Theological Seminary and became an ordained Episcopal Priest! He went on to lecture about his experiences in the Civil War to help raise money for the church.
Both Emma and Frank lived into the 20th century. Frank died in 1913 and Emma in 1929. They now rest together at the Ivy Hill Cemetery in Alexandria and their tombstone, in the tradition of all Confederate soldiers' graves, is pointed at the top to prevent Union soldiers and Yankee sympathizers from sitting on it.
Some details of Frank Stringfellow's Civil War experiences are taken from Spies of the Confederacy by John Bakeless (©1970. J.P. Lippincott Co., Phila/NY; 1997 republished by Dover Publications, NY.) Further information from Voting Viva Voce website at and Ancestry.com.