Black History Month in Alexandria
Black History Month is an annual recognition and celebration of the history, culture, achievements and contributions of African Americans and persons of African descent in U.S. history.
Page updated on
February 28, 2023 at 5:28 PM
Black History Month in Alexandria
Black History Month is an annual recognition and celebration of the history, culture, achievements and contributions of African Americans and persons of African descent in U.S. history.
For Black History Month 2022 the Office of Historic Alexandria once again celebrated virtually, with special events and activities throughout February.
For Black History Month 2021 the Alexandria Black History Museum hosted several virtual events. Recording of some of the lectures and performances are available to view online. Find the links in the Resources from Home section at the bottom of this page.
Explore more Black history experiences on Visit Alexandria's website.
What is "Black History"?
Black History is American History. It is the story of struggle, of triumph, of excellence, of the ordinary, of celebrated firsts and of the stories never before told.
Why is there a "Black History Month"?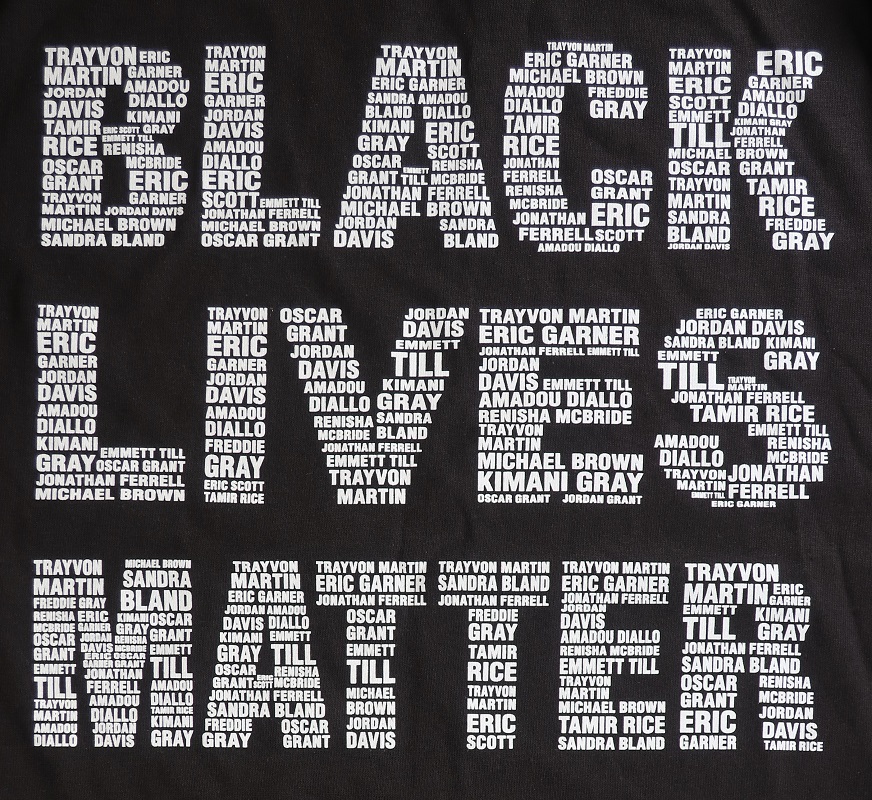 Black History Month originated as "Negro History Week" in 1926. In 1915, historian Carter G. Woodson and Minister Jesse E. Moorland founded the Association for the Study of Negro Life and History (ASNLH). Now known as the Association for the Study for African American Life and History (ASALH), the organization is dedicated to researching and promoting the achievement of African Americans and all people of African descent. In 1926, the Association sponsored national "Negro History Week." To encompass the birthdays of both Abraham Lincoln and Frederick Douglass, they chose to celebrate on the second week of February. Schools and communities were encouraged to hold events, lectures, performances and other celebrations of the history and culture of African Americans and the African diaspora.
By the 1960s, on many college campuses, the week had grown into a full month of celebration and recognition, fueled in part by the work of the Civil Rights movement.
In 1976, President Gerald Ford officially recognized "Black History Month," calling upon the public to "seize the opportunity to honor the too-often neglected accomplishments of black Americans in every area of endeavor throughout our history."
Why do we still need a "Black History Month"?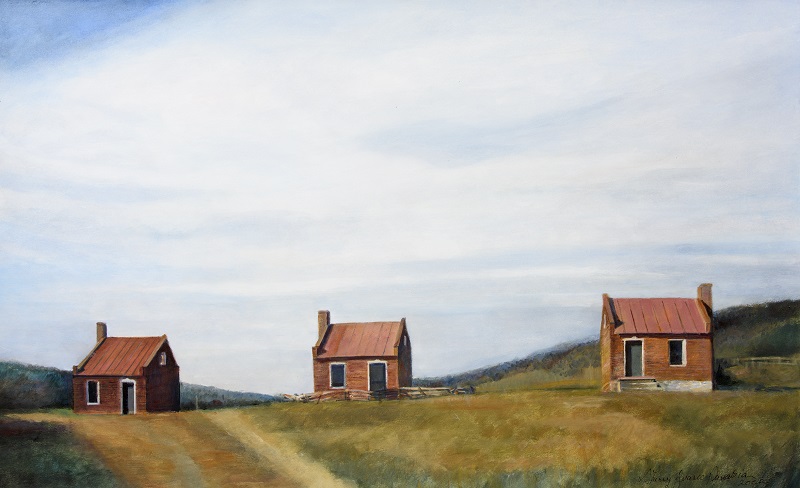 The history and legacy of African Americans is still underrepresented in many museums, classrooms and textbooks. The preservation of African American historic sites is still more limited than other sites. It was fearing the loss of some of these African American structures from the landscape that motivated artist Sherry Sanabria to capture the spirit of the places and the people who inhabited them in her series of paintings, "Sites of Conscious." The Alexandria Black History Museum is fortunate to have 23 of her works in our collections. Many were featured in our "Before the Spirits are Swept Away" exhibition and all 23 of them can be viewed at our Historic Alexandria Collections Online portal.
Reflecting Diversity in the Media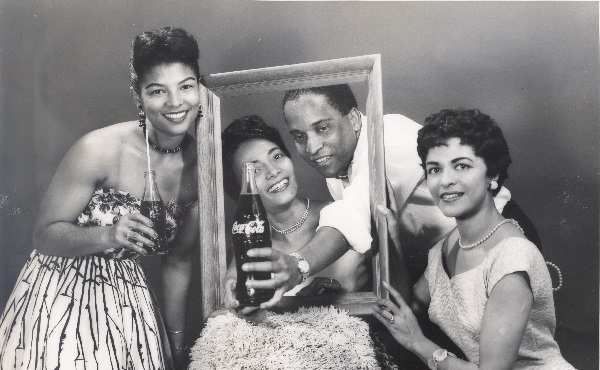 Representation of diverse populations in advertising remains an ongoing concern. In the middle of the last century, Moss Kendrix worked to promote the African American consumer to white corporate America, and created non-stereotypical images of African Americans in national advertising campaigns. He paved the way for the increased diversity of actors and models who today are featured in print ads and commercials. Although many stereotypical brand mascots have been discontinued in the last few years, there is still more work to be done to reflect the true diversity of the America population within the media. The Museum is privileged to have a collection consisting of approximately 41 linear feet of archival material, including over 900 photographs and a small number of 3D objects relating to Kendrix's business and private interests.
Alexandria's African American Historic Sites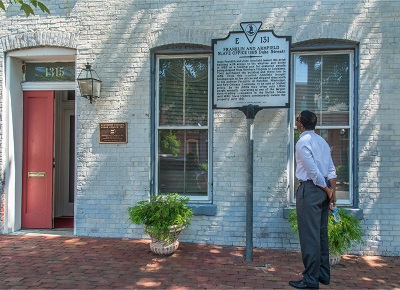 Alexandria is fortunate to have many historic sites preserved, such as Freedom House, the Contrabands and Freedmen Cemetery, Alexandria African American Heritage Park, and the segregated Robert Robinson Library, now the Museum's main gallery space. But there are also many sites that embody the twentieth century African American experience in Alexandria that have already been lost to damage and urban renewal. The Parker-Gray School sites on Wythe and Madison Streets, the Johnson Pool, and the Ramsey Homes have been lost to history as physical structures. Objects, photographs, film and oral histories collected and cared for by the Alexandria Black History Museum help to preserve and bear testimony to the stories, memories and the legacy of these sites and those who worked, lived, played and grew up within their walls.
Photographs and trophies from the Museum's Parker-Gray Collection are now available to view at our Historic Alexandria Collections Online portal and more details about our collections can be found on our collections page. As more objects, photographs and archives are digitized by the Museum, they too will be made available in our Historic Alexandria Collections Online portal.
The Importance of Teaching Black History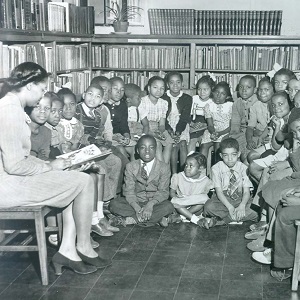 The Alexandria Black History Museum's collections are rich in African American history, from the founding of Alexandria in 1749 through today. The Watson Reading Room, our non-circulating research repository, focuses on issues of African American history and culture. While it is vital to teach African American children and adults the important legacy of the contributions of African Americans, it is just as important that this history is taught to all, for it is an integral part of the interwoven tapestry of America and the world's history. In the Alexandria Black History Museum's Collections, this ethos is no better captured than in the exhibition boards and collection of educator Carlton Funn, Sr., a native Alexandrian. Mr. Funn's work started as a supplementary black studies collection for his 7th grade history classes in 1950s Alexandria, but it grew into a celebration of the importance of diversity and self-worth. His nearly 1,500 display boards are digitized and available to view on our Historic Alexandria Collections Online Portal.
The Flags in Market Square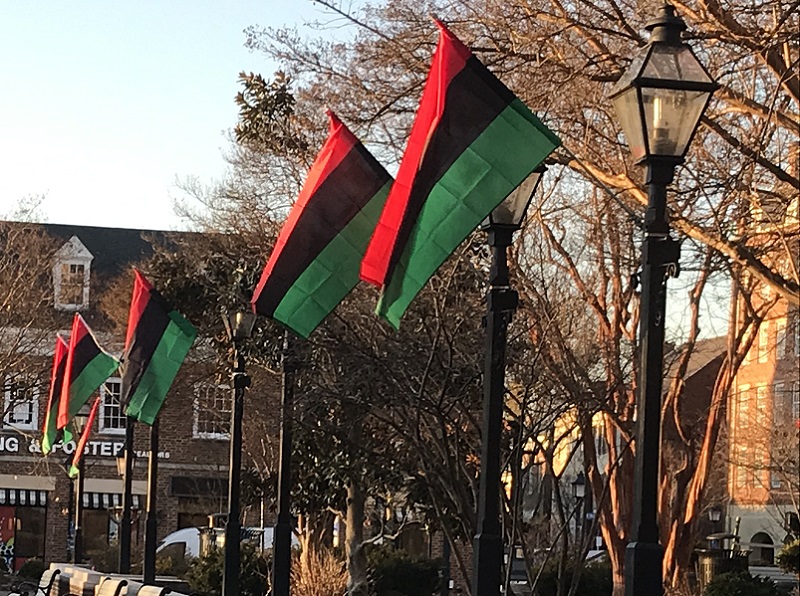 We fly the Pan-African flag on Market Square in celebration of Black History Month. The red, black and green Pan-African flag, created in 1920, became an emblem of Black pride during the 1960s.
The flag was adopted by the Universal Negro Improvement Association (UNIA) in 1920, in direct response to racism and a racist folk song. UNIA leader Marcus Garvey talked about the need for a flag as a unifying symbol for people of the African Diaspora and to symbolize Black liberation. Historian and Garvey scholar Robert Hill noted that Garvey framed the need for a flag in a political context, and that it was seen as a "manifestation of black aspirations, black resistance to oppression." During Civil Rights protest of the 1960s the flag was used as a unifier and an emblem of Black power. The red, black and green stripes of the Pan-African flag became the basis of flags used in many African countries as they gained independence. Today the flag is widely used in Black neighborhoods, on Black-owned businesses, and at rallies, parades, protests and celebrations.
According to the UNIA, the colors of the flag represent:
Red: The blood that unites all people of Black African ancestry, and shed for liberation
Black: Black people whose existence as a nation, though not a nation-state, is affirmed by the existence of the flag
Green: The abundant natural wealth of Africa
Contemporary Collecting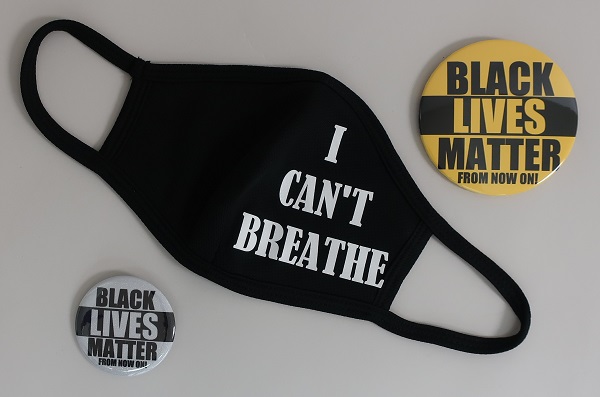 The Alexandria Black History Museum is dedicated to not only collecting the story of Alexandria's past, but also documenting its present for future generations. In 2020, this contemporary collecting captured two diametrically opposed events. Following the tragic murder of George Floyd on May 25th, 2020, the Alexandria Black History Museum put out a call to the community to record their feelings, thoughts, artwork, photographs, and objects that would help us to document the legacy of the Alexandria community's response to this tragedy and the wave of peaceful protests and vigils that followed. While we did receive and collect some tangible objects, by far the greatest volume of donations was of digital photographs.
These have been added to our collection and are available through our Historic Alexandria Collections Online portal. Some are works of art, hauntingly beautiful and poignantly sad. Others are the snapshots mid-marching at vigils and peaceful protests. Many document the signs of solidarity and allyship that sprung up in the windows of shops, restaurants, and homes throughout Alexandria. And a few are of a proud father and his young daughter standing beneath the Black Lives Matter Plaza street sign.
Toward the end of 2020, another set of signs and pins were being collected by the Alexandria Black History Museum. These were to document the campaign of a Vice Presidential candidate, a woman of color who would break more barriers, shatter more glass ceilings, and take the oath of office in January 2021.
Resources from Home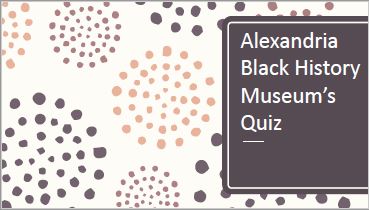 The Historic Alexandria webpage has a number of resources to learn more about Alexandria's African American history, from the African American Heritage Trail to our Collections Online portal. You can even test your knowledge with our quiz and take part in the 30-Day Challenge: